Hands-on: ASUS ZenBook 3 brings the fight to Apple with less bulk, more power
New super-slim ASUS laptop is lighter, thinner and more powerful than the latest MacBook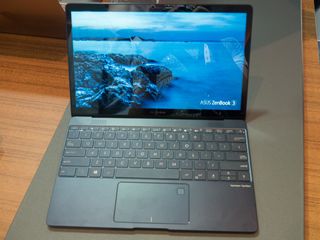 Just when we thought traditional laptops couldn't get any thinner or lighter, ASUS comes along and changes the game. The Taiwanese firm unveiled its latest ZenBook 3 at Computex 2016 in Taipei today — a new notebook that aims to out-Apple Apple, with a thinner, lighter and more powerful piece of technology.
Coming in three color options — royal blue, rose gold and quartz gray — the ZenBook 3 cuts a striking profile. The aerospace-grade aluminum body is anodized in the primary color — blue, pink or grey — while more ostentatious gold accents can be seen in the outer trim and ASUS branding. The back is also etched with ASUS's trademark circular pattern, which gives it a unique shimmer when it catches the light.
Beneath the lid there's a 12.5-inch Full HD IPS screen — a step down from the 2304 x 1440 offered by the Apple-made rival, but still a perfectly great display with bright, vivid colors and ample pixel density for most day-to-day tasks. That's surrounded by a 7.6mm slim bezel, with a minimal amount of dead space. The same is true of the main body — it houses a keyboard which stretches to the very edge of the laptop, with keys that provide a reasonable amount of travel considering this thing measures in at just 11.9mm closed.
ASUS has been pretty bold in directly taking on Apple in one of its strongest areas, and on the inside the ZenBook 3 is engineered similarly to the new MacBook, with multiple batteries dispersed throughout the chassis to make efficient use of the internal space. As for battery life itself, ASUS promises a respectable 9 hours per charge, a claim we'll have to test when we get our hands on the new ZenBook for a little longer.
Image 1 of 5
Unlike the MacBook, however, the ZenBook 3 is actively cooled, with an incredibly thin cooling fan and heatpipe inside. That in turn allows the manufacturer to crank up the horsepower, shipping the ZenBook 3 with Intel Core i7 processors, with are paired with up to 16GB of RAM, meaning there'll be plenty of computational oomph at your disposal.
ASUS is also keen to play up its advantage in memory and storage speeds compared to the lower-specced MacBook, and at its Computex presentation the firm showed a handful of benchmarks demonstrating that, unsurprisingly, a laptop running an i7 is faster than another with a Core M. And when it comes to storage, the move up to PCIe (from SATA) should provide a noticeable boost in disk-intensive tasks.
But there are trade-offs to such incredible thinness. The ZenBook uses just a single USB Type-C port for charging and data transfer, and that means you'll need to start plugging in adapters and hubs if you want to connect more than one peripheral. ASUS includes its Mini Dock in the box, and also offers a Universal Dock if you're hankering after even more ports.
Image 1 of 3
Other notables include a five-magnet speaker system tuned by Harman/Kardon a fingerprint scanner included in the large trackpad for Windows Hello support — neither of which we're able to judge after just a few minutes with the ZenBook 3 in Taipei today.
With prices starting at $999, the ASUS ZenBook 3 will be a tantalizing proposition for PC and potential Mac converts when it starts shipping later this year.
Get the Windows Central Newsletter
All the latest news, reviews, and guides for Windows and Xbox diehards.