A first look at the new Microsoft News app for Windows 10
Microsoft News had seen better days. Now, a recent refresh brings it more in line with a more modern Windows 10.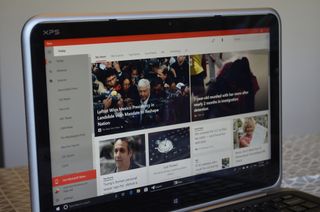 While the News app on Windows 10 didn't look terrible, it was looking dated. A newer version has rolled out to Windows Insiders which brings it more in line with Windows 10's Fluent Design.
This comes shortly after the rebranding and refresh of Microsoft News on iOS and Android, which is a great sign that Microsoft is keeping the app up-to-date across all platforms.
The app is only available to Windows Insiders, but I was able to get the latest version by electing to receive app updates without having to upgrade my PC to a new build.
As I usually do with preview software, I won't be reviewing it but will break down the changes that have already happened and list what I'd like to see changed before the app's public release.
Modern news
The core feature set of Microsoft News hasn't changed. You can personalize your feed by entering your interests, browse content by category, or view specific sources. Microsoft uses a combination of AI and hundreds of editors to curate the news that populates your feed.
News has always earned high marks from us because of its clean layout and ability to view news from multiple sources. You can also get breaking news alerts to keep you in the loop.
A more visual change that comes with the new version is the introduction of Fluent Design and a name change to Microsoft News. While there isn't much of a difference between News, MSN News, and Microsoft News in my eyes, it keeps the branding in line with the app's iOS and Android counterparts.
The Fluent Design makes a visual change for the better and moves it further away from the metro designs of the past. That being said, the transformation isn't complete.
Lots of little gaps
While transparency is nice, it takes more than that to make a Fluent Designed application. These requests might come off as nit-picks, but Microsoft is the one pushing the design language so they should be fully committed.
The app currently lacks reveal effects that change depending on where your mouse is over an icon. It also has a back button in a location that goes directly against Microsoft guidelines.
Apart from the design, I'd also like to see an option to continue reading an article on another device. I'd love this to work in both directions as well to create a seamless reading experience.
Some of these might be changed before the app is publicly released. Redstone 5 is still off in the distance, and a few of these features are simple fixes or utilize features that Microsoft has worked out within other applications.
Overall thoughts
Microsoft News is one of the better first-party apps available on Windows 10. It presents news from a variety of sources in an attractive layout. That's only gotten better with the addition of transparency and gives me hope that the app will continue to be updated over time.
There are some gaps with the app at the moment, but that's understandable given this is a preview version of Microsoft News. Hopefully, these are improved upon and fixed before its public release.
Windows Central Newsletter
Get the best of Windows Central in your inbox, every day!
News Writer and apps editor
Sean Endicott brings nearly a decade of experience covering Microsoft and Windows news to Windows Central. He joined our team in 2017 as an app reviewer and now heads up our day-to-day news coverage. If you have a news tip or an app to review, hit him up at sean.endicott@futurenet.com (opens in new tab).
Overhaul is overhaul no matter how small.

The latest News design sure looks a lot like the Windows Central app I'm on right now, right down to the "back button in a location that goes directly against Microsoft guidelines". 😉

Still better placed than what their thoughtless "new guidelines" says so for the sake of another thoughtless half baked Sets which completely goes against their Fluent Design. Their is a lack of coherence in their thinking ability. And what is this "Fluent Design is an evolving process"? A PR term for Perpetual Beta™?

ugly af and cant add rss feed myself. useless ugly crap

App design looks like a half baked joke and shows how much Microsoft is committed to their "Fluent Design" thing. They are struggling to find a proper placement for the back button with hamburger menu and the Sets title bar which completely destroys the common back button and the seamless design in apps like Settings and Groove. And why did they have to put a highlighted permanent ad in the hamburger menu? You should not perform your thoughtless experiments at user's expense.

Personally, I hate the stupid hamburger menu. Give me the ellipses.

Did anyone ask for this new design?

I didn't, but I would've like to see more control of the curated content and make ik easier to add my sources and feeds to the app, which was possible in the early days of the app all the way back in windows 8.0. After 8.1. the content was more heavily curated.

What can I say? I much prefer the Metro experience, hands down.

Definitely the better tablet UI. If only people hadn't b**ched and complained about the missing start button, who knows?