Check out QuizIt in action, an upcoming QuizUp client for Windows Phone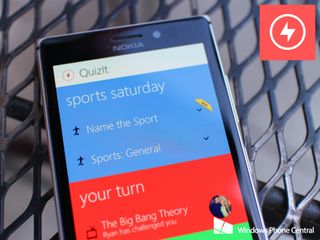 QuizUp is a very popular iOS quiz game that let's friends compete against each other in real-time. Not only can you play against friends, but you can play against strangers and rank up points. Another great feature in QuizUp is that those games don't have to be played in real-time. You can challenge a friend to a game, play and complete it, and they can play that same game later when they have time. We don't have an official QuizUp app on Windows Phone yet, but we will have one soon thanks to Windows Phone developer Daniel Gary. He's working on QuizIt, a QuizUp client for Windows Phone. Check out the video of the current state of the app.
As you see in the video, the core game functionality is working. The demo he made shows off Quizit running on a Lumia Icon versus QuizUp on an iPhone. Gameplay is working fine in QuizIt, but he still has a little more work to finish before making the app available via a public beta. Sound effects and sound social features still need to be added to QuizIt on Windows Phone, after Daniel anticipates a public beta in 1 to 2 weeks.
We can't wait to play. Anyone else looking forward to QuizIt on Windows Phone?
Via: @danielgary
Windows Central Newsletter
Get the best of Windows Central in your inbox, every day!
Looking forward to this. He makes great apps so I'm sure this one will be great. Bring on the beta!

We'll definitely let you all know when the public beta goes live. Looking forward to this too! He's got a bit more work to do with the UI and stuff. He's mainly been focused on getting the game mechanics perfect first. Then he'll worry about the coat of paint / layout.

Is it out yet brother? I have played this game on my friend's android phone. It is very good. I want it desperately on windowsphone. Please tell if it's out, can't find..

Sadly, it isn't out yet. It's been 8 months.

I love Windows Phone and the developers, im just a lil tired of these non-official clients. #alilcomplaining

I don't see why you would be except for the delay in release. The non official clients tend to blow the officials out of the water. 6tag > Instagram Official Mehdoh > Twitter Official Metrotube > Joke of a YouTube App Then there are non official apps for things that have no official app on any platform, and WP8 sports the best of them ReadIt - Best Reddit app out there 8list - Best Craigslist app out there ProShot - What other phone out there gives you this much control of it's Camera I've got an iPad, I have an Android tablet that's become a doorstop since I Bluestacks came out, but I still don't use them as often as Windows. I probably play QuizUp on the iPad and that's it.

I agree that Readit is the best Reddit app out there on Windows Phone but the best on any platform? No. Alien Blue blows every Reddit app out of the water.

Nice. Really looking forward to this game.

Very much looking forward to this! #beatandroid

Seems like he has been working on this forever, but I am psyched to try it out.

I agree I've been working on it for a while(this year). Here's why it's taking so long. Unlike previous apps, I don't have an Android app to tear apart. That means a ton of guess work and digging through diassesmbled iPhone code. Not the easiest chore. Windows Phone has very poor WebSocket support and there was no existing Pusher.net library for it. Had to port one over. I've never used Pusher or WebSockets before, so a new service had to be learned New controls had to be created: See the clock in the game? That's very difficult to do in Windows Phone. There's no out of box control that does that and I couldn't find one that anyone else has built(not saying there isn't one, but I never found one). Synchronizing timing between iPhone and Windows Phone. Very difficult, and it's still not perfect, but not bad either. But mostly, this is still something I'm just doing at nights. I'm married and have two kids. I'm working on it as much as I can and still be a good father. I will say it looks like I might be their Android release, so... :)

Hey Danel, thank you for developing such an awesome app!! :) Keep 'em coming!

Great job Daniel. I'm definitely getting this when you publish.

Very awesome, keep up the great work! I can't wait to play this! (I think the Round 1/2/3 text should be a little bit bigger and a progress bar for the game like iOS, but so far so good)

Thanks!!! I look forward to it's release!

Hi Daniel, Is there any chance of you collaborating with the QuizUp team? I mean they should be totally glad to have you develop a windows phone version for them.

Sounds good, not heard of it.

It should be awesome. He's a really great guy too, down to earth. I think he's overlooked as a dev because of Rudy But I think everyone is haha. His apps always work smoothly and look great.

Looks nice! I will give it a try for sure.

That's fantastic! Thanks, for the incredible work, Daniel!

I've been waiting for this for sooooooo long!! That's one of the few games I played on my friend's iPhone that I wished I had!

Makes sense. I've supported many of your apps so far and I don't see why this one will be any different. Can't wait to get my hands on it.

Quiz games are my life. BRING THIS!

The game looks soooo much better on the Icon than on the iPhone.

The "home page" already looks a thousand times better than the iPhone's. I love metro.

Is QuizUp the new Flappy Bird?

This is probably one of the best games I've ever played. Played this before on iOS and its fun. Thank you for making it possible on windows phone.

Do you know how longer until release?
I can't wait... <3

We cant wait for it :D please get the beta soon :D

Yeah i cant wait for this to come out, i hate having to ask my mates if i can go on their quizup. Hi, Daniel, do have any targeted release dates for the app? Because im sure people including myself are probably wandering when it will come out. Also i just want to say the preview that i have seen, looks pretty amazing, so well done for that and keep up the good work, Thanks :D :D :D

Expected release :P been 2 months :-(

Love this game on Android. Can't wait for the WP version!

What happened to this? When is it coming out?!?!

What happened to the public beta its been 5 months

Still no sign! Guess Daniel Gary is busy working on other Projects and isn't dedicating any time to quizup/quizit. Or there could be other challenges he's facing which are not known publicly. This is one of those parts where WP8 feels like a let down.

He's usually very good with apps, but its been 6 month's now, I've got a gs4 now but I still like to keep up with my old windows phone ecosystem.