First Windows Phone 7 officially certified microSD card announced: Sandisk 8GB?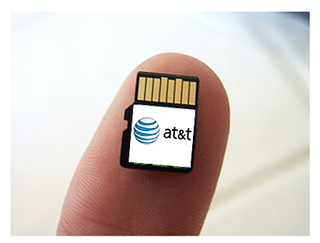 The tale of expandable storage on Windows Phone 7 is certainly convoluted. We know that they take them, but we also know it's very finicky. When we met with Samsung on October 11th, they told us it wa a permanent change to the device and that once you insert that card, that's it, there's no going back. We wrote back then:
Engadget recently confirmed this, noting that the cards were unusable and cannot even be reformatted. Going further, AT&T changed their tune saying don't add any memory to the Focus, not yet at least. The problem is waiting on specific cards that were "certified" to be used on our devices, cards that met certain performance standards.
Today, Samsung moved very quickly (1 week, not bad) to the controversy and said that Sandisk 8GB Class 2 cards will work on our devices. The bad news is that their support (opens in new tab) doesn't seem to know that the Focus only has 8GB on board, not 16GB. Going further, this sounds kind of iffy at best. While we don't doubt the 8GB Class 2 cards will work, the whole "officially certified" thing sounds like it is still weeks away from happening.
If you want data based on user feedback, MobilityDigest did a whole list of cards that supposedly work and don't work, which we reprint after the break.
Sources: Samsung Support (opens in new tab), Engadget, MobileTechWorld, MobilityDigest
Confirmed Working(Data remains after soft reset):
Kingston 4GB Class 4
Kingston 8GB Class 4
Kingston 32GB Class 4
Microcenter 16GB Class 2
SanDisk 8 GB Class 2
SanDisk 16GB Class 2
SanDisk 16 GB Class 6
Currently Unstable/Unsure:
SanDisk 32 GB Class 2 (Confirmed working by Rok17 )
Confirmed Not Working(Data gone after soft reset):
A-Data 4GB Class 6
A-Data 16GB Class 6
Lexar 16GB Class 6
Transcend 8GB Class 6
Transcend 16GB Class 6
Confirmed Working(Data remains after soft reset):
Kingston
Kingston 4GB Class 4
Kingston 8GB Class 4
Kingston 32GB Class 4
Microcenter
Microcenter 16GB Class 2
SanDisk
SanDisk 8 GB Class 2
SanDisk 16GB Class 2
SanDisk 16 GB Class 6
Currently Unstable/Unsure:
SanDisk 32 GB Class 2
Confirmed Not Working(Data gone after soft reset):
A-Data
A-Data 4GB Class 6
A-Data 16GB Class 6
Lexar
Lexar 16GB Class 6
Transcend
Transcend 8GB Class 6
Transcend 16GB Class 6
Daniel Rubino is the Editor-in-chief of Windows Central, head reviewer, podcast co-host, and analyst. He has been here covering Microsoft since 2007 when this site was called WMExperts (and later Windows Phone Central). His interests include Windows, Microsoft Surface, laptops, next-gen computing, and for some reason, watches. Before all this tech stuff, he worked on a Ph.D. in linguistics and ran the projectors at movie theaters, which has done absolutely nothing for his career.
I have a Sandisk 32GB Class 2 card in my Focus and it has been working flawlessly.

GTK, updated list with that info!

My SanDisk 16GB Class 4 is working great in my Focus. On another note, I find it hard to believe the card is "unusable." I imagine that Windows Phone 7 uses a different partition table format from PCs in order to support the disk spanning/striping that it is doing, and a simple fdisk in Linux would fix a WP7-formatted card right up and ready to accept an exFAT or FAT32 formatting again.

I installed a Kingston 32GB Class 4 MicroSD card from NewEgg (MRG2+SDC4/32GB) into my Samsung Focus on release day. I haven't had any issues with it at all. -e.B

Thanks for the information e.blue thats very good to know Assuming I get a wp0 it will be tghe focus and I am thinking that a 32gb microsd will be the way to go once I upgrade nex year.

Saturday, November 13th, I went to my local AT&T store and bought a Sandisk 32GB Class 2 card, under the condition that the store reps swore I'd be able to return it if I had problems with it. I had the rep format the disk and factory reset the device to recognize it, etc. etc. I quickly loaded at least 25 GB worth of data on the phone, to ensure that I would definitely have the OS hitting the card. It's Tuesday, November 16th, and it was working fine... until the last two days. I started to notice random sluggishness with a few apps. I wasn't sure if this was just bandwidth latency or not, until this morning when the device factory reset itself. This time, it came up recognizing only 16GB of storage, and all settings and traces that I had ever used the phone gone. I then soft-reset the phone, to see if it would recognize the full 32 GB of the card; this time the device came back with all my data, settings, etc. I'd class this as "instability", and based on what I've read to be possible with an "incompatible" MicroSD card, I'd say the Sandisk 32GB Class 2 card is a no-go. I plan on returning to my local AT&T store tonight to return the card for a refund (as I was promised.)

I had a 16 gig Sandisk class 2 that worked perfectly fine for over two weeks, and then up out of nowhere i restart my phone casue the marketplace wouldnt load and boom. Nothing. This is after i went and purchased the sandisk one after finding out my A-data one failed to load after a soft-reset. Im not very happy right now, i just got my phone the way i wanted it.

I had a brand new Sandisk 32gb Class 2 card with me when I went to at&t store on Launch Day, had the at&t store employee insert and format the card before starting the phone for the first time. It seemed to work fine for 3-4 days, then I noticed the phone was at factory settings (no email accounts, no downloaded apps). I power reset the device, and all my apps and data were back. Assumed it was just a quirk. Happened 2 more times over next 3 days. Now yesterday (8 days), it reset 4 times in 8 hours. I have removed the card, reset the device, and so far have been ok, but only 8gb.

Ok 32gb class 2 by SanDisk is a no go. definitely unstable. I have tried 2 different ones. bulk from amazon and consumer packaged from newegg. the newegg one was the exact part number that is on this list of "approved" cards. http://wmpoweruser.com/certified-windows-phone-7-microsd-cards-appear/ however, this one also exhibited the same sporadic restarting, with the occasional restart into having no settings, (fixed by restarting again as mentioned in previous posts) Registered just to let you know. i like this list, we should keep it going. i've returned both cards and am going to try the 16gb ones. i don't trust the Kingston 32gb either. going ot wait for official products for the 32gb before investing that kind of money again.

I have a Brand new Kingston 32 gB class4 (C32G). It seems to it is formatted in FAT32.
When i insert it in my focus, nothing happens. Nor Zune nor the phone recognize the extra memory.
I read on this forum that it is suppose to work. Am I suppose to delete the FAT 32 partition before inserting the card? Thank you for help. Regards

Try your luck in the forums:
http://forums.wpcentral.com/
There are several original Focus upgraders that could surely assist you.
Windows Central Newsletter
Thank you for signing up to Windows Central. You will receive a verification email shortly.
There was a problem. Please refresh the page and try again.