The first YouTube uploader app for Windows Phone 8.1 gets a nice update, more to come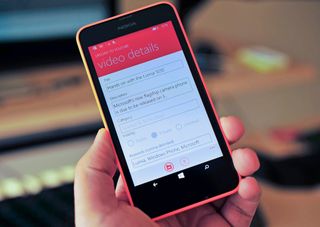 Sending your video recording to YouTube on Windows Phone has always been a bit of a kludge, especially since Google doesn't play nice with Microsoft. Luckily we have some dedicated third-party developers to fill in the gaps.
'Upload to YouTube' is a relatively new app designed from the ground up for Windows Phone 8.1. Can you guess what it does? Being built for Windows Phone 8.1 gives is the ability to grab videos right from the Camera Roll for easy sharing to the app. That means you can just select your recording, share and fill in the details without any complications.
Version 1.1 of the app went live today, bringing with it some nice looking fixes and features, including:
New languages
More detailed status while uploading
Removed video length limit
Transparent tiles
Option to run under lock screen
If you had some complaints before, a lot of them should be fixed with this update, which just went live.
Upload to YouTube is a free, ad-supported app. But if you want to remove those ads, you can plonk down 99 cents to remove them and regain some screen space. The app has unlimited video uploads, whichever way you go.
Rumor also has it that a certain video editing app that is very popular right now will be interconnected with a certain YouTube uploading app, making it a one-stop edit station with a companion app powering the upload. Would such an integration interest you? If so, stay tuned as something may come about sooner than later!
Pick up Upload to YouTube for Windows Phone 8.1 here in the Store. Free, with optional in-app purchase to remove ads
Daniel Rubino is the Executive Editor of Windows Central, head reviewer, podcast co-host, and analyst. He has been covering Microsoft here since 2007, back when this site was called WMExperts (and later Windows Phone Central). His interests include Windows, Microsoft Surface, laptops, next-gen computing, and arguing with people on the internet.
It has to be better than the Nokia video upload which fails 99% of the time. I always revert to using the desktop.

I never had a problem with Nokia app.

Same here. Not sure why. In my case, I upload the videos, it shows videos uploaded successfully as well but then I go to my uploads only to find nothing has been uploaded...

Yeah it sucks! I had problems with it to.

hi, you can try our http://forums.wpcentral.com/developers-beta-testing/290298-youtube-silen... that also can upload on background without "do not leave the app" :)

Toib should merge with this app as one. Thus making the YouTube experience on WP excellent.

Hmm.... I wonder what this app would be used to do? /s

Hey @Daniel what with the title and description. Lumia 1030? getting released in June? July? Are you hinting at something? hmm...

Nice catch, i would say they already have their hands on it.
and as soon as this phone is released the videos will come from nowhere

lol, no. Honestly, that's just me trolling you folks and having some fun. I have heard zero things about a Lumia 1030, and I'm being serious there.

Hmm, I don't believe u until the months of June and July have passed

So no Lumia 1020 successor? So nothing worthy of replacing my 920 yet? How sad.

I think the 930 is a perfect replacement for the 920

Same storage, with no microSD. Yeah, no...

You forget better and bigger screen
Better camera, more ram, better CPU and 8.1 out of the box

That's true, but storage is a huge deal breaker for me. If they made it EXACTLY like the 1520, just 5 inches, that would've been better. They made many compromises with the Icon/930 that they should've, including Glance.

Well, yeah I would actually love to see a mini version of L1520 so if I won the hidden gems contest I will choose it :D

You forgot uglier, bigger, no glance screen, looks way to thick when compared to other high end phones (M8, LG G3, Z2).

It's bit uglier, I actually like it more than any phone design.
Way more thicker ? How many mm ?

I don't. I guess it up to design personal taste but the lack of micro SD just kills it for me. My 920 will be the last phone I own without SD card.

please. it would be a waste if 1030 is real this year... i just got a 1020!!! i will be sad coz i didnt wait enough to own the best camera phone to land on may hands

My take is some of 'us' do not use Google services? Well I do use gmail since 2006. MS scroogled, bad karma.

Lol...that pic with 'Lumia 1030.....getting released...'

Daniel is trolling us. LOL

Aaaaaaaand blocked! /s I hope not!

Do we have any app to do a flipagram yet? my son keeps bugging me about it, got him a 925 and he loves it but he only want that app.

Can't wait for the 1020 successor! Hope they don't take too long and that it's actually worth the wait. I couldn't care less about some unnecessary 3D gesture gimmick just give me a 82 megapixel camera ;)

I think they should turn this app in a YouTube client and make it a full featured awesome youtube app with all feature available.

I should keep video for uploading and it should be uploaded by the time I attack some one on cloud raiders,its such a dumb is architecture that I have to keep app in front......its not app that is hindering wp progress it is retarded multitasking which keeps this phone in dumb phone category rather than smart phone

I need a real Youtube app that supports captions and annotation. Why isn't there one yet?

There isn't even one on iOS/Android...

Great news from WPCentral.

Well GOOGLE we just got something much better than your stupid APP Alright

Hey everybody. You'll be happy to know that I have background uploading successfully working in beta! I'm working on a good UI to manage your uploads, then I'll be dubbing this v2.0! Standby!

please make it available for wp7.8...Developers are concentrating on developing apps for wp8 .what about wp7.8?? We too need updates we too need apps.these apps are good to use .. we bought our phones at high costs yet we aren't getting any good apps for wp7.8..we are suffering even after spending lots of money on phones(wp7.8)..please make good apps like these availible on wp7.8

An app like this cannot be made available for 7.8 because the APIs in 7.8 still don't allow access to videos on the camera roll. Sorry :(
Windows Central Newsletter
Get the best of Windows Central in in your inbox, every day!
Thank you for signing up to Windows Central. You will receive a verification email shortly.
There was a problem. Please refresh the page and try again.