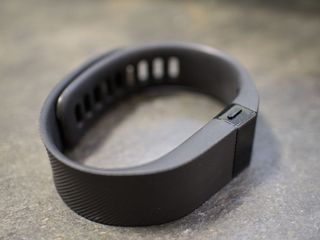 The new Fitbit Charge has hit the streets and is ready for action. It was announced along with the Charge HR and Surge, both of which will be available for purchase in a few more weeks. The Charge is essentially a revamped Fitbit Force, so anyone that had (or still has) one should be very familiar with the Charge. We'll give it a full review soon after we play with it for a bit — but for now — let's unbox it!
The Charge brings along the standard Fitbit features like step counts, calories burned, steps climbed, and active minutes. It also grabs some data while you're sleeping, so you can scope out your total sleep time, times awakened, and even set a vibrating alarm to wake you up.
You can view all of your stats on the built-in OLED screen right on the device, or you can check things out in the companion app on your smartphone. The Charge even has caller ID so you'll be able to see who is calling you when your device is connected to your phone.
Hit the video and check out our unboxing — and stay tuned for more on the Charge as we put it to the test!
By day, Adam is a writer for multiple Future Publishing brands with over fifteen years of experience. He's expertly researched and written hundreds of articles ranging from mobile phones to mobile homes to baby mobiles. By night, he's a gadget geek, avid disc golfer, 80s nerd, cord cutter, cook, husband, dad, and memory collector.
Saw a Surge model in best buy today, very disappointed.

Well that's surprising because it even not for sale yet until early 2015.

He is right guys. The Surge already has a demo on display in Best Buy even without a release date.


Whenever someone says anything that anyone person does not agree with they are immediately attacked and called a troll. That's they type of behaviour you'd expect from a 10 year old yet it is mentality of too many on these sites. Grow up!
The Surge is on display at Best Buy. Posted via the Windows Phone Central App for Android

Microsoft Band...The best by far, continued waiting for Microsoft's available for sale soon. Greetings from Spain. Thank anyway Fitbit Team.

Surge beats it hands down due to 700% more battery life. :(

I just read the info on Surge in official Fitbit page. It says notifications and music controls are not supported on Windows Phone. Go download the Surge supported phones PDF and confirm yourself... While the Surge appears to be a decent product, it will be a flop for us Windows Phone users because it will not offer a SINGLE feature more than Charge HR!

Yes, that's correct but they are working on it with Microsoft. Just like the caller id function.

So it'll be another "coming soon" scenario. Kind of had my fill of those especially when a solution already exists in the Band. So no thanks.

But no color display tho.

Battery life over colored display for fitness related gear all the time. Imagine doing a marathon with band on...

I do get 2 days of battery life out of my Band. On the other hand, our Zip gets 3 months when it should last for 6 (I don't always sync it every day). The Flex gets about 3 even though it should get 5.

Still the bottomline is More battery life still wins for any fitness gear. Imagine having a 4 hr gopro in a 12 hour skiing session.

Microsoft band has two day battery life that's more then enough. It has more features and is made by a more reputable company. I mean fit it might be a good company. But they haven't been in the business for a tenth of the time Microsoft has. Give me the band or give me death. But don't try to pawn off a lesser product and try to make it sound better. Plus the band has Cortana integration.

Mijacs...My Band gets 2 plus without gps. My Fitbit Flex also got 3 days and not anywhere near 5. Posted via the Windows Phone Central App for Android

Senrir...How do you know? You have not even seen the Surge remember because it's not in stores yet and anyone who says it is is a troll. Just going by specs? You have already determined it beats Band hands down? What are your absolute comments based on? Who really is the TROLL? Sorry to all but I am so tired of this type of behaviour. I saw it constantly on Apple based sites over the years and it was one of the reasons I started dumping my Apple products. I got tired of the mentality. Sorry to see it's obviously across the board. Posted via the Windows Phone Central App for Android

Read comments twice before replying. My conclusion is solely based on the battery life with GPS on. This is a fitness band and is ment to be used to collect data when you're doing fitness activities. For me its skiing which usually stretch out to 12 hours sessions something msft band will not be capable of, with the battery rating in mind.

No need to read twice. It's the same ABSOLUTE statement the second time around. Have good day! Posted via the Windows Phone Central App for Android

I wanted to love my Band but instead I like it at best. It really is uncomfortable and the notifications are pretty clunky. If you read a message on your phone it still shows as un read on the Band and vice versa. This goes for all notifications. I do get almost 2 days battery out of it but that's still not great. Needless to say it leaves a lot to be desired.

This drives me absolutely ballistic on my phone, it would frustrate me even more on a secondary device.

Cannot wait for the Charge HR.
But great unboxing, curious to see the review.

I really want the HR too, wish that was avaialble now. I'll give this one a spin in the meantime :)

Yes, the HR is especially handy for non step based activities. And because I'm taking the bike every day the school, yes a HR function would be handy.

Fitbit's website says 2015 for the Charge HR but this article says in a few weeks. Which is it? lol

Well technically 2015 is almost a month and half away lol

No. I just checked on Fitbit page.

But they are working on it with Microsoft.

Sounds good, but do you have any proof of that? I would love to know such a thing because I finally decide which fitness tracker is the best "fit" for me.

It's on the Fitbit community pages. I believe under the help -> Windows Phone app page.

Fitbit's caller id does not support Windows Phone. They are working on it but no ETA as of yet. The only reason I'm not saving a little and going with the Charge. Just waiting for the medium Microsoft Band to be back in stock.

I just returned my Force. Getting a refund since it's recalled. Thinking about getting a band.

I have a Flex, and considered getting the Charge, but it doesn't seem to offer much in the way of increased usability for me, especially not with Windows Phone. Going to hold out and get a Microsoft Band later instead.

Anyone see the Jawbone UP3 that's supposedly getting released soon? It looks pretty good. The article in USA Today said that they will be releasing a windows phone app as well....but I'll believe that when I see it

I bought Jawbone's original Up band that was recalled. I still have mine, but I enjoy my Nike+ Fuelband much more. The Up bands don't ave a screen on then, so it is useless as a watch or to track your daily progress. You need to syc to see your progress which will drain the battery quickly if you do it daily. The Up wraps around your wrist with a little overlap, but it is very easy for it to slip off of your wrist. Mine has can snc data through the headphone jack, but the cap covering it stoped staying on after 3 months. I guess I'm saying don't get the Jawbone Up bands. I was ging to get the MS Band, but it does seem like a good proof of concept like the original Surface was. I hope MS comes out with a version 2 in the next 6 months that is a bit slimmer, better battery life, and more features out of the box. Righ now the Charge HR is looking like my next fitness band. I'm getting rid of my Fuelband because Nike haulted development on the device.

The UP3 has a strap instead of the wraparound like the old UPs (I believe). I might buy it for my wife because it's water proof (up to 10 meters) and has a 7 day battery life. I'll probably buy the Microsoft Band for myself and then regret it when the second gen comes out. The only things I'm not a fan of is the battery life and that it seems a little bulky (but I can definitely live with that). The only thing negative about the UP3 is the lack of a screen. Other than that it seems like a solid device.

I'd love to get a msft band, but no waterproofing means its a no go, for me - the surge has 5 atm resistance! Shame, as my 1520 and the band would tie up so well. I want those notifications! Anyone knows of a new variant will come out with waterproofing?

Can you liquipel the Microsoft band? That would be a workaround solution

I wonder if the Surge's smartwatch features will eventually come to WP since the 2 companies seems to be working closely.

Senrir = diehard Surge fan

Nope. Just know the value of battery life. I'll gladly jump to another gadget with better battery life with wp support any time. :p

Wow. The surge best bring more to the table. My MS Band is now tracking in Japan, so by this time together is will be sorting that. Can't wait to get started in that.

Microsoft band just raised the bar... Not looking back!!

Why is this here? If it uses MSs health platform then I understand, but it doesnt seem that way

So fitbit or Microsoft band?
Windows Central Newsletter
Get the best of Windows Central in in your inbox, every day!
Thank you for signing up to Windows Central. You will receive a verification email shortly.
There was a problem. Please refresh the page and try again.