Fitbit Tracker (Beta) for Windows Phone 8 looks outstanding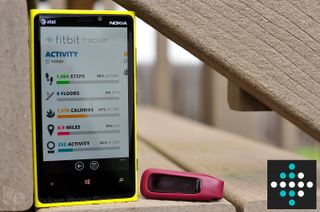 While we still don't have an official Fitbit app for Windows Phone, developers have made quite a few unofficial ones for the popular fitness tracker with varying degrees of success. Now Shane Chism has made his own because frankly, he wanted a fully optimized one for Windows Phone 8, including HD graphics.
Fitbit Tracker is just that app and it's now available as a public beta. That means you can download it now and give Shane feedback on things you would want to see implemented for the final release.
Before you ask, no, the app cannot sync directly to your Fitbit device as the company has not released the APIs for that syncing (and Bluetooth 4.0 is thought to be needed as well). Having said that, in a thread over at Reddit he notes that he is "…currently researching ways of doing Bluetooth sync so you can read the status of your Fitbit on your phone. However, until Fitbit provides the needed APIs, we'll be unable to save the data to your profile."
Other than that, the app is extremely fast and fluid, especially for swiping to the different screens. By holding down on individual categories e.g. Steps, Floors, Calories, etc., you can pin those as individual Live Tiles to your screen, all with different colors. It's a pretty great usage of Windows Phone and we approve.
Users can also log activity (not food quite yet, though that's on his to-do list), change days and do pretty much what the Fitbit API allows one to do but with an excellent, fluid design and HD graphics for us Windows Phone 8 fans.
If you use Fitbit (and the Flex band just went on sale this week), then definitely give a go. Don't forget to leave Shane some feedback here in comments and that Reddit thread if you have app suggestions—it's only through your participation can Shane make a better app!
Pick up Fitbit Tracker for Windows Phone 8 (Public Beta) for free here in the Store.
For more info on Fitbit, follow our Fitness Month discussion on the device (including comparing it to the Nike Fuelband) and their Aria scale.
Via: Reddit
Daniel Rubino is the Executive Editor of Windows Central, head reviewer, podcast co-host, and analyst. He has been covering Microsoft here since 2007, back when this site was called WMExperts (and later Windows Phone Central). His interests include Windows, Microsoft Surface, laptops, next-gen computing, and arguing with people on the internet.
No no, its "I feel the need, the need for speed"

Sweet My Fitbit Flex preorder just arrived today!!!

Damn, not letting me sign in. Says something is wrong with Fitbit servers. Also BMI isn't a percentage as far as I know.

Hey 4Tiles, You're right on both counts! The first is a known issue when encountering certain stride lengths. I've already fixed the bug and it's currently being processed by the app store. In the mean time, I've posted a workaround here. On the BMI: whoops! I'll correct that :). Thanks for the feedback, it's always appreciated!

whose start screen is in the picture??
looks beautiful, rich in colours

Or we will have to wait for nokia and M$ to enable bluetooth 4.0 on L920

Yes, I wonder why this hasn't happened yet. Not that Fitbit would ever allow syncing to WP anyways, but still...

Currently wp8 doesn't support Bluetooth 4.0

Wow this is a fantastic app! Love being able to pin individual stats to start.

Daniel have you gotten your flex yet?

Didn't pre-order one and waiting 4-6 weeks is so...meh. Will wait until it's more widely available.

Great app. I like the display of data here more than Fitbit Companion. I have two suggestions.
1. Allow you to use theme color for pinned tile.
2. Give option for light or dark theme in app. Other than that, great app! Lets hope Fitbit allows tracker syncing in their API soon!

The review for the flex havent been very good from what ive heard

Actually nzrocketman the Fitbit Flex is really awesome....I got my Flex last Friday so I've been using it for about a week. It's very comfortable, the pc app tells you a ton of useful information and it has been an amazing motivational tool for me. I already workout every day but now that I wear my Flex 24 hours a day I have a constant reminder of my fitness goals and it pushes me to walk a few extra laps around the office hallways and to take the stairs instead of the elevators. I never used to do these things until I had the Flex...Now I want to not only meet my goals but to exceed them....I'm not someone who needs the motivation because I have always loved doing my P90X and Tapout XT workouts for the past few years and I enjoy working out unlike many people I know...Listen, even without the official Fitbit app for my Lumia 920 I am still blown away by how amazing it is!!!...It's only going to get even better once Fitbit releases the app and gives us the ability to sync on the go...Oh, and one of my favorite features are the alarms that wake me up by vibrating my wrist each morning...My girlfriend doesn't get woken up every morning by my cell phone alarms anymore....She loves the Flex as much as I do because of that!...If you love to work out or are just looking for some motivation to work out you should definitely pick up a Flex...Well worth the $100 in this guys opinion!!!

thanks for that review. i wasnt saying it was bad. Hey i even got mine pre-order expected in june. just from want i read there seem to be alot of people complaining about the accuracy vs the fitbit one.
Thats not my concern as this will be my first fitbit product so i got comething to compare to.
really hope they will bring a syncing with WP8 out (if its possible)

Yours SnootchyBoochys inventor and proprietor of Fitbit Flex :-/

I've heard plenty of good things and then a tiny group of people complaining that sleep mode doesn't work/inaccurate step counts(like 500 steps off). It doesn't matter much to me. I've been having a blast with my flex. Don't even notice it's there during my day. I just wish it displayed the time. Haha. Can't wear a watch and a flex on the same wrist...

For another $100 you could get the basis watch. I'm in the opposite dilemma. I want the basis watch over the flex, but I already have a nicer watch that I wear everyday. So I'm getting the flex.

Sleep mode is working for me and the steps are close to being accurate.

https://help.fitbit.com/customer/portal/articles/1140292-flex-accuracy-faqs check the links out in regards to the accuracy of fitbit flex

I asked FitBit support yesterday about an official app and this is the response i got... "Thank you for your interest in syncing with your Windows phone. Fitbit is the first connected fitness device to offer Bluetooth Smart syncing with your Android and iOS devices. Wireless sync has been a frequently requested feature from our Android and iOS users, so we've been eager to get support out as quickly as possible. While many devices have a Bluetooth 4.0 chip, not all devices are able to be accessed by apps like the Fitbit App. To see the latest list of supported devices, please go to https://www.windowscentral.com/e?link=https2F2F... If your device isn't listed, you can check the above link at a later date to see if device support has been added. For more details on Bluetooth syncing support, you can also see our recent blog post here: http://blog.fitbit.com/?p=665 We appreciate your patience while we work to improve this experience, and encourage you to let us know if you have any additional feedback on this and other features. We appreciate your time with this. Let us know if you have further questions. Sincerely, Juan Andres Martel Diaz and the Fitbit Team"

I have a very smart second cousin! Congrats, Shane on your achievement!! So exciting to see you so popular! lol

Great app Thnx keep up the good work. All my suggestions have already been mentioned in previous comments so no need for redundancies!

Will replace the other Fitbit apps i was using. :D
Can you add sleep tracking to the app?

This app looks amazing. Have downloaded as a reminder for when I get the Flex.

This app crashes when signing in on my Lumia 920, there also is one review posted in the Swedish store that indicates that the app crashes on Lumia 920.

Yeah, same problem here. Using L920.

Hi j0cke! If your phone is set to a Non-English language and crashes when first trying to load data then what you're experiencing is a known issue. There's an app bug present when attempting to convert Fitbit's data to the native language of your device. I've made this fix and submitted it to the app store yesterday. The WP Store team should finish certifying it by next Tuesday. I'm afraid the only workaround to this currently is to change your phone's regional format to the US or the UK (not ideal, I know). I'm very sorry for the trouble! I'll do everything I can to ensure this fix gets published ASAP. Please let me know if you encounter any more trouble!

Hi Shane,
Thanks for your reply! My phones language is set to Swedish. I'm still waiting for my fitbit device, if an update hasn't showed up by the time i get it, i will try out your app with language set to English.

This problem should now be fixed! Anyone who still encounters crashing: Please either reply to this comment or send me an e-mail/message and I will work with you to resolve the problem. Thanks!

Wonderful, works great now! Thanks! :)

Another suggestion is the ability to see cumulative stats (e.g. Total steps to date).

I'll look into it! Thanks for the feedback!

Hey Shane,
First off, I'm stoked you've made this app (if there were a donate button, I'd gladly click it). I'd love to see the sleep info populated.

YOU ROCK! And let me know if I can send you some $$$ for your hard work

How about setting silent alarms? I couldn't find that option when I installed the app.

Wow, this looks slick. I really hope Fitbit releases those APIs for sync though, it's a drag having to wait and do it from the computer.

Congrats Shane. I was in the process of doing the same thing only on wp7. And you beat me too it. I am glad someone had the same idea as me but got it done faster than me. Keep up the good work. Now I can start a new project

I'm not sure where to post feedback, so I'll post it here:
The app is great for just "viewing" my already synced data, however here's a few things that could make it even better: The live tiles for steps and distance should have the option to show the actual mileage and stairs when in the smallest mode (instead of just a percentage) I'd like to be able to see the sleep patterns in the app if possible as well Keep up the good work!

theres a petition here to get an official Fitbit app for WP
http://www.change.org/petitions/fitbit-inc-support-the-windows-phone-pla...

Is there any possiblity this App works with Windows 7 phones or there is some other option to sync and track Fitbit by Windows 7 Phone???
Kellie
Windows Central Newsletter
Get the best of Windows Central in in your inbox, every day!
Thank you for signing up to Windows Central. You will receive a verification email shortly.
There was a problem. Please refresh the page and try again.