Fitbit 1.7 hits the Windows Phone store with Mobile Run support and Mobile Badges!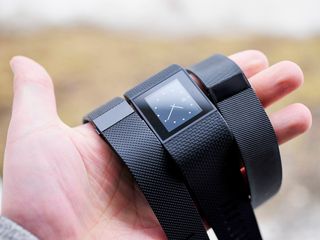 Fans of fitness and health tracker Fitbit will want to head to the Windows Phone Store. Version 1.7 of the mobile app for synchronizing with your wearable is now live and ready for downloading.
Like previous Fitbit updates, this one is bringing some new features, some improvements and general bug fixes. We have the full changelog and a bit more, so let's take a look!
Fitbit v1.7 for Windows Phone
Features
Mobile Run
Mobile Badges Support
Improvements
All-Day Sync (Background sync) has much-improved stability. Now enabled by default.
Bug Fixes
Mobile Run uses the GPS sensor on your phone to record and track the exact route of your run, as well as statistics like pace per mile, distance, and time. Just head into Track Your Exercise and tap 'Track' to start up the feature. Mobile Run can be used for a Run, Hike, or Walk and it should be a lot fun, even if you do not own a Fitbit wearable (and if you do have one, this will merge the data).
Additionally, if the user has SensorCore (found on some Lumias) and it is tracking steps using that Fitbit 1.7 can show how much the tracked activity has impacted your goals for the day.
Bonus: As a little Easter egg (hah!) this build also includes support for the next Surge software update. Once that update gets released for the Surge, users will be able to view their tracked bike activities. Finally, installs to the SD card have been blocked due to performance and stability issues, so main memory only!
Overall, this looks like a solid update. We have been using version 1.7 for a few weeks and indeed, background syncing is much better. It is still not 100%, but users should see fewer failure messages than before.
Download Fitbit 1.7 for Windows Phone 8.1
Daniel Rubino is the Editor-in-chief of Windows Central, head reviewer, podcast co-host, and analyst. He has been here covering Microsoft since 2007 when this site was called WMExperts (and later Windows Phone Central). His interests include Windows, Microsoft Surface, laptops, next-gen computing, and for some reason, watches. Before all this tech stuff, he worked on a Ph.D. in linguistics and ran the projectors at movie theaters, which has done absolutely nothing for his career.
It's a nice product just needs Cortana support.

It has Cortana integration, just not a microphone like the Band.

I knew it was Rubino's article as soon as I saw the "(hah!)" after the Easter egg mention(just started reading without looking at the author) Scrolled up and there his name was haha.

Yeah, we were hoping to get some Cortana integration into this feature. It's pretty complex to do it correctly. So it's on the list of things to do in the future. :)

Thank you so much for supporting WP! I'm sticking with Fitbit. I have a One but with our tax return, I'm getting my wife and I Charge HRs. FITBIT ALL THE WAY!

Agree thanks for supporting windows phone!

Thank you for your work and support. Know that you are all highly appreciated.

I got a fitbit flex free with the 830 for $200. I run a lot and was wondering How important the GPS feature on a MS Band for me since I'll more than likely have my phone on my runs anyways?

It will allow you to not have your phone with you. It also helps to keep the band accurate . Its actually how you calibrate the steps out of the box for the band. By going into run mode and taking a run or walk. The band has a heart rate sensor also

If you run a lot, something like a Suunto Ambit 3 would be much better than a Fitbit or Microsoft Band.

How does all-day sync work?

Just syncs periodically in the background.

Still can't get phone call info on the fitbit charge hr

Hasn't been implemented yet.

Hello Daniel any timeline on when this implementation mite happen?

Believe they said they are working on it, correct?

Notifications have been in process for 3 years. Everyone is voting with their wallet and not getting Windows phones. Think they are noticing?

Looking at getting a Charge HR, just need to get off my arse to the shop.
Anyway of updating the app so it shouts abuse at you where you're being lazy?
As long as it doesn't sound like my wife I'd probably listen.

I can ask the team to setup a script to send "motivating" messages at a random interval. Only to you of course. ;)

it's nice to have someone from the team here on the thread :) MS band and Charge owner here - I would love to buy the surge but am worried I'll break it given my activities. My MS band is ripping at one end thanks to the crossfit workouts. Any info on testing would be helpful. Thanks.

We have a lot of people here who do crossfit with the Surge and it's held up fine so far. Of course, it's hard to say for any individuals given use case. :)

Sorry I acidentally reported this - did not mean to! My apologies!! Using project spartan and the buttons don't show well. I'll get the surge and give it a spin. I am a pretty intense crossfit user. Need to figure oput a way to not have bars smash while doing cleans :)

Hahaha thanks. Seriously though, the quality of the app and the frequency of the updates are what helped convince me to go get one.

If you cant get your arse off to shop, this thing is not going to do you any wonders! Cheers mate..

Seriously? You can't tell a joke when you read one? I even added 2 more 'humorous' sentences after it.
Everytime I read a comments section I weep for mankind.

Don Rickles, ladies and gentlemen!

Still no caller id/text message notifications on surge and charge hr right? We have a Charge HR (wife) and an Aria - I had a surge for a week but for some reason it stopped taking a charge so I returned it - now I'm trying to decide if I want to get a MS Band instead. If I do, I'll likely pick up a MS Band for the wife too to replace her Charge HR - not sure if I can get the Aria info into the MS Health platform or not though.

Yes that is interesting... I get my Fitbit Aria data in Microsoft Health Vault after linking the account to my fitbit account. But that is separate from Microsoft Health used by the MS Band. Seems like these two apps should be merged, but they are not. Fitbit app shows everything on a single screen, which you can't beat right now. I also have a Surge (which works great) and my wife has a Charge HR. Remember, with the MS Band, battery life is only 2 days and it's worse if you display time continuously. Also, you think you want notification, but you might not. I had it on the MS Band and it was very annoying. You get notified for all e-mails or none. No white-list. Also, it shows very little on the screen, so frequently, you still have to look at your phone. Fitbit has committed to bringing notifications, so I am sticking with them.

Oh that's cool, I didn't know that they had committed to bringing notifications... that will definitely have an impact on my decision as I feel like the Band might be more uncomfortable and it would certainly be cheaper going with fitbit. If the Charge HR was swimming pool proof the decision would already be made :) I'm more interested in the text/call notifications than email (I'm assuming you can turn off email but leave the others on with the Band)?

A little off topic but: I was sure you could create a VIP list of up to 10 email address that are the only emails that would get sent to your MS band. Here is a link to the WC article on how to do it: http://www.windowscentral.com/how-to-microsoft-band-vip-list

I've been using a Flex for a few years. It was great, but I still had to track runs and rides in separate service. I just replaced it with a Band so heart rate and run is all in the same service. Had they come out with this just a little sooner, I might hve just gone with the ChargeHR instead. Ah well. Some folks will enjoy the update!!

So....would you recommend I get a HR or Band instead of use the flex I got for free a couple days ago?

Good question. The HR would save you $50. It has a longer battery life and is waterproof. The app tracks the activities and ties it with the heart rate info. With the Band, you get all the notification goodies, texts, Cortana, and a few others. My battery lasts me almost 3 days so far. Also the Band isn't water proof. In addition, Fitbit has social network tie ins were the Microsoft Health service doesn't. If I had to choose again, it would be a hard decision. I almost think I would go back with the HR to keep my social connections and get everything else except Cortana and texts on my wrist. If you just want basic activity and sleep tracking, keep the Flex and track your runs/rides with whichever service you like best. You can't beat free. ;)

Does the charge hr do rides? i thought it was only the surge.

Well, it would still record heart rate and would track the activity with the app. It just wouldn't have steps to go with it. I don't know what it would do with calorie data and such. The main reason the surge was off my list was the fact that it was another $50 or so over the price of the band. I guess it's odd how I'm willing to shell out $200, but draw the line at $250. ;)

The update wont install. Pending before failing.

Give it some time. That's a store related issue. :)

Hi Tristan, Can you comment on when we can expect notifications? Thanks.

East Coast USA, I just installed the update.

Can't say I want to signup for an account I get enough spam

Hmmm....looks like the install size of the app bloated back up too. Not really a problem though and I'll take the trade off for the noteworthy improvements to the app.

Yes!! I can't wait to try out the mapping feature this weekend. I'm so pleased with the support for this app.

I was tired of waiting for MS Band in Norway so I bought a Fitbit Surge, and so far I am very satisfied I now only wait for the firmware update that gives "Bike" workouts. Do anybody ( tristan.rice )know when this update comes ?

Soon! There are many factors that affect when we can release something, but you won't have to wait very long. :)

Thank you for your quick reply . Was going to buy the Charge HR but it was outsold in all shops in my town so i bought the Surge instead. And it is a great tracker/watch, just what I was looking for.

How does the Mobile Run feature work? Does the app always have to be open or can i lock my phone and still be able to track the data? thank you!

You can find out more information about Mobile run at the following link: https://help.fitbit.com/articles/en_US/Help_article/About-MobileRun You can lock your phone and when you open we'll still be tracking. :)

awesome! thank you so much, also does the phone save a GPX file of the mobile run?

I can asure that. Just tried it out on a little easter walk with may family through the city. Worked perfect and did't even effect the battery in comparrison to endomondo. The app is great anyway. I use it now for almost 5 month with myfitnesspal (better food libary) and endomondo. I really like it and helped me to lose already 9 kg. I want to by me a fitbit now but the HR is sold out and the Surge is not seen in Germany. I would realy like to get a hands on before buying. Does somebody knowmwhen it will be there? Anyway. Keep up good work and If notifiations even for whatsapp find their way on the fitbit I would deffinitly buy a Surge and wait some more.

Good to see Fitbit continuing support. Love this app.

@tristan.rice & team--thanks for GPS tracking/running support!!!!! I was just looking at other apps this week that would be able to track my runs. I couldn't be happier to have this feature! Now I need to go run and try this out!

Just wondering....... Does the fitbit app have hrm capabilities to recieve info from other devices like a polar h7? I understand obviously that it would work with it's own products (charge hr, surge) but wasn't sure if it would be compatible with the other various hrms out there.

When I see great apps/developers like this, it makes me want to get a Fitbit just so I can support the developers :)

I'm trying to get some help and make a search but the search 'feature' on my app on the SP3 isn't working AT ALL. And there is no contact us part of the app either. What is wrong with the app? And the links to apps are disappearing from the page sometimes. Lots of recent reviewers are having the same troubles but there is no way to contact the devs through the app. Everyone else has a contact us in the app. Frustrating.......

Are these issues with the Fitbit app? If so, please create a post on our community forums and I'll look into it for you! Thanks.

How do you connect the fit it app to motion data. That seems interesting!

If you have a support Lumia go to "Settings", "Setup a new Device" and at the bottom you will see "MobileTrack". Go through the setup process and it will help enable Motion Data and then begin showing that data in the app!

Neat, I'm afraid of double counting steps by using it. Really nice option to have though. Any chance of a lock/glance screen setting coming to the app?

You can now have multiple devices (including Mobile Track w/ Sensorcore) paired to the same account and we will do our best to reconcile the data. Let us know if you have any issues. I definitely want to do something with lock/glance at some point. It's on my list. We have other exciting things we are currently working on though, so it will have to wait a while longer. :)

Sounds like it is a lot smarter then I thought. I just figured it was steps taken with device A + Device B. I'll test it out and provide feedback. I'm intrigued by what else is coming...

Adding motion sense data is working out well. I'm not getting unearned steps and I have a backup if my fitbit battery where to die.

Cool! I love my new fitbit, and the app is great. I will certainly try out the mobile run (er, walk for me).

I moved my app from the SD card to the main phone on an 830 and it works much better now.

Lots of good info as I own a fit bit myself. Wondering if the integration of apps like Xbox music or Mix radio will be linked to the Fitbit app as I've seen other platforms.

You can control Xbox Music songs from Surge (Play, Pause, Fwd). Even Spotify. Don't know about Mix Radio

I started with a basic fitbit, then moved to a One. Now I have the Charge HR. I am really impressed with the Charge HR ability to acurately measure heart rate on the wrist. I also have a Suunto Ambit2 watch with chest strap and compared the two devices on a 30km bike ride. The heart rate count was practically identicle across both devices with the maximimum HR and average HR exactly the same. As I do a lot of bike riding, I am kind of sorry I didnt go for the Surge now that it has a bike mode. It would be good if a bike mode could somehow be added to the MobileRun feature.

I need to choose between MS band and surge, I am looking to track biking activities. I use Strava to track activity and performance. Which one is better?

If you'll be doing long rides, the band might not have the power for it. It drains power fast when gps is enabled. Hope ms implements the use of the fone gps same with mobilerun.

I just realized that I show up in my friends ranking in the app now, so I don't have to go to the website on my phone anymore. That's handy.

I've really been impressed with Fitbit's support of their Windows Phone app once they finally released it. It may have taken a while to get to us, but since they've released, it seems they're constantly trying to update and improve it! If only all companies could be so dedicated to multiple platforms!

Does SensorCore integration work for you, guys? Everyday I have same amount of steps, 1828 or something around that. Can't get it to work.
Windows Central Newsletter
Thank you for signing up to Windows Central. You will receive a verification email shortly.
There was a problem. Please refresh the page and try again.