This is Fitbit's upcoming smartwatch
Fitbit is nearing the release of its next fitness-focused wearable.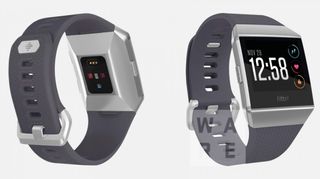 Fitbit went on a bit of a spending spree late last year, purchasing both wearable-veteran Pebble as well as nascent smartwatch maker, Vector. With both companies under its roof, a lot of users were curious to see just what Fitbit would do with them. We're now one step closer to knowing.
Wareable posted various photos of the upcoming watch from different angles, and it looks nice. There's a huge heart rate sensor on the underside of the watch, and the watch will also feature GPS and water resistance up to 50 meters. Wareable speculates the heart rate sensor may use a unique pulse oximeter to measure how much oxygen is in the user's blood, as well as a red sensor to provide a more accurate heart rate.
All of these components will be key to helping Fitbit compete with the Apple Watch and Garmin VivoActive line. There isn't any mention of battery life, but previous Fitbit fitness trackers have advertised five days of use, so we'll hopefully see close to that, too, especially given Pebble's legacy in that regard.
The photos show a silver case with navy strap version, as well as a rose gold case with lighter blue strap. There will also be a darker case with black strap option. While these don't look nearly as stylish as the round Vector Luna watch, they don't look bad.
I'm sure most folks could get away with wearing these to work to count their steps throughout the day. In fact, the smartwatch resembles the Fitbit Blaze, which debuted a couple years ago.
The fitness band market is crowded with Android Wear and the Apple Watch and the high end, Fitbit, Garmin and others in the middle and devices like the Xiaomi Mi Band at the low end. Time will tell how successful Fitbit's new watches are.
Are you looking forward to Fitbit's next watch? Let us know down below!
There's several glaring issues that Fitbit needs to address. 1) There needs to be some intelligence built in that allows the screen to either dim significantly, or not illuminate at all when a user is asleep, or during user specified hours. I can roll over in bed, move my arm, etc.. while I'm in bed, and the screen on the HR 2 practically lights up the room. 2) The vibrating notifications are so faint I never feel them. With the original HR I could be easily tell when it went off, now it's a crap shoot as to whether or not I notice. David

That could be device specific. The Blaze has a sensor in the top left corner of the bezel that senses the ambient light. I'm not sure if it stays off while I'm sleeping...because I'm sleeping, but I can say if I get up in the middle of the night the screen isn't blinding. A don't turn on feature would be interesting. I don't use my Blaze for notifications, but I've used it for alarms. It never fails to wake me, and I'm not a light sleeper. You definitely make valid points, and Fitbit could be more consistent with the user experience across their products.

The Blaze has been great for me and the newly enabled messaging is super nice howere, it would be nice to be able to respond via voice or messaging like the band did.

I am really pleased with my Blaze. More so, I am VERY pleased with Fitbit's (Tristan specifically) commitment to the Windows platform. If you carry Windows, help support FitBit so they will keep supporting us. They are one of the only companies left supporting us. Good on them!

Aww, thanks! The appreciation is absolutely mutual. :)

I am currently using a Garmin VivoActive HR and the Garmin Connect app on my Lumia 950XL and the app gets updated regularly. Just letting you know that Fitbit is not the only company left supporting the Windows platform.

Did they get the notifications with Windows Mobile worked out? Garmin also supports Windows (they have an app anyway), but I couldnt get my Vivoactive to sync reliably. I could remove it and set it up again and it would work for a few hours, then stop communicating.

Agreed. Tristan is great...

Is it too much to ask for them to provide a smart watch that actually looks like a classy, traditional watch, like the round-faced Vector Luna? While I am big into fitness, I don't want to be wearing an ugly fitness-styled band with fitness functionality all the time. I love the look of my Vector, but it is pretty much unusable with my Lumia 950 these days. I would really love Fitbit to bring something out along the lines of the Vector watches!

Fossil has fitness watches that look like regular ones. I looked into them last year when my third Band 2 tore. I wanted something that looked more professional. They do most of the same things, even sleep monitoring if I remember correctly. But they only have iOS and Android apps. Really nice looking devices though that look just like a watch.

No Windows support is a deal breaker for me. Though those watches do look nice. If/when Microsoft ever decalres Windows 10 on phones to be dead, I'll give them some consideration.

Check out the Garmin Fenix series. They arent cheap and Windows support has been spotty, but the GPS and HRM functionality is top notch, plus there's a decent ecosystem of 3rd party apps and extensions to customize it.

The Fenix Chronos looks pretty decent; maybe still a little bit more rugged than I am looking for, but definitely an option (though a very expensive one). Thanks!

You can get different metal bands for the cheaper Fenix models too so they look more dressy.

Why do you consdier it unusable these days with a Lumia 950?

The Vector seems to stop receiving notifications every few days, so I then have to go through the factory reset process and forget it from my phone and then get it reconnected. It also seems to drain my 950's battery even faster than it normally does (which is already pretty bad thesed days); I think I end up doing a full charge of my phone 3 times a day when the Vector is attached, when it is only twice a day needing a full charge without the Vector attached.

Pretty fugly. I miss the MS band!

I miss the Band too. What I don't miss about the Band is that it breaks too often. The best investment I made with the Band was purchasing the insurance. I had two and the both broke. After the first one stop working I used the second Band strictly for working out. I didn't use any of the other features in hopes that it would have lasted longer. But to no avial. My second Band stopped working too. Returned it and since they couldn't fix it they refunded my money. Loved the concept of the Band. Hated that it wasn't built to last. I'm sure there are those who didn't have any issues, but that no recharging bug was a killer!

I'm happy with my Garmin Vivoactive for now, but I would trade it in a heartbeat for a Band3 that didnt break. I miss being able to reply to texts.

Ugh...so so miss the Band. But the Charge 2 isn't too bad. Still gets more reliable notifications than daughter's Vivosmart. I'll support Fitbit if they keep supporting W10M. At this point I don't care how it looks as much as I care about consistent functionality.

I like the blaze more plus you can customise the blaze with straps bezel ect. Fitbit may stop Windows mobile app support as this Feature2 on Windows mobile is just for bug fixes and security patches. So won't be long till it's all dropped for the new Windows on Mobile.

No plans to stop support. :)

Looks pretty nice; now only if Microsoft got heir **** together and implemented all Fitbit features on Win10m.

What is missing that you'd like to have? I really like the W10 and W10m app. The Cortana integration is nice, but I see it as a gimmic. I can manually enter things faster than Cortana can do it.

I hope they make it with oled display.

It looks quite a bit thicker than my Blaze. I have no desire to have apps running on my arm. A watch, fitness tracker, and notifications are all I need. I don't use the music controls on the Blaze because it's faster/easier to use my headphone's controls.

still rocking my increasingly unreliable band 2 but hey this looks good as a replacement

Do what I did, return it to the Microsoft Store. I got almost double of what I paid for it.

There were rumors that this watch will be able to run standalone JS apps on it. Are they true? Will W10M users be able to install apps to watch? It will be possible to write own app and load it to watch (from W10M device without submitting to registry/store)? This might be greatest point in considering to buy this device as replacement for Band 2 (I like B2 and it is almost perfect watch for me ATM but looks like its strap won't last long).

a pulse oximiter as well as water resistance of up to 50 meters would be great. But I really like my charge 2.

Windows 10 Mobile support - check
Onboard GPS - check
Waterproof - check
Large community - check I'm in. Now if they can just keep the screen on during workouts I'm set.

Anxiously awaiting the reviews for this and the Misfit Vapor. Onboard GPS and the water resistance looks great. Charge 2 user.

If notifications work with W10M, then I'll buy it.

been using android wear for a while now and that all but seems dead so this might be a good option to move over to as fitness is all i really use a watch for anyway

I started with Fitbit, went to the Band, then Band2. Bought a reconditioned Band 2 off of Ebay when my original Band 2 got whacked in a car accident. It is still great. It still gets asked about all the time. I signed in specifically to ***** about Microsoft dropping products that are, in my opinion, perfect. I am going to use my 950 phone until it breaks or Microsoft actually releases another windows phone. After that, I will be on here alot looking for recommendations...ugh. I like the idea of the new Fitbit. water proof is good. It isn't nearly as big as the diving watch i bought to use on vacation snorkeling. I tried the garmin (waterproof one) when it came out. I wasn't impressed. I have always liked Fitbit, and will definately go back to them when my Band 2 dies.

The battery on my 950 is such that wwithout much use its run down to less than 40 % before noon and while I can recharge the battery at the office, in my car or at home its ridiculous that the phone battery is not optimized. And it's equally ridiculous in the 21st century for my phone to tell me that my battery is recharged and I need to take it off the charfger. It seems like keeping it on the charger overnight will cause problems for the battery. I charged all my earlier windows phones and did not get any message to take them off the charger because they were at 1005. I charged my 950 at night and once I'm asleep I'm asleep. Im not waking up to turn my phone off. I fin ally broke down and went Apple with a new to me iPhone 6S+. It has no trouble getting to 100% and doesnt tell me to unplug.

I have had a Pebble Time Steel for two years now (was a Kickstarter for it), and have been happyu with the notifications, the mic to which to respond to texts, the battery life (I get so many notifications because it is linked to my work e-mail that I recharge every four-five days), the screen (e-paper is great), the ability to replace bands (it shipped first with a leather band, but I have loved the steel band once it arrived), and the overall form factor (sure, the screen could be a bit bigger like the Time 2). After a couple of years, though, it feel like the springs in a couple of the buttons are getting a little worn, or they need to be cleaned out to respond better. Perhaps a jeweler could open it up and fix the buttons, but at this point, it might be easier to get a new watch. It looks like FitBit is beginning to incorporate some of what I liked into its newest device here. Having better band options would definitely be a better lure for me, because I just prefer metal bands on watches (no stretching, no cracking, no strange discolorations). Having Windows support is not a deal killer for me (carry an Android for work) right now, but it is attractive for my wife (950XL). Any company that supports Windows and Android (and Apple as long as the other two are supported, too) gets first dibs to my wallet.

When? Nearing release could mean a week or 6 months. Help us out Tristan.. before Christmas??
This is the exact thing I've been waiting for.. waterproof and GPS. Done.

I had a Fitbit before the Band, and I'm back to Fitbit post Band. Charge 2 is nice, but I'd give new this device a serious look. Fitbit's app is great in that I can enter data wherever I happen to be: work Surface Pro 4, personal Surface Pro, home desktop, or my Galaxy 8. It pairs with two of these devices without prompting and the others if I force it. I've check the heartrate monitor accuracy with the RNs in my doctors office and it is always within 1 beat of a pro doing it the old fashioned way. I find the vibration notifications to be sporatic or maybe just too faint that I don't always notice them, but that is my only dig on the device. For sleep tracking, the Band required you to manually start tracking if you wanted anything at all accurate, but the Charge 2 is much better at discerning the difference between mellowing out before bed and going to bed. My Charge 2 is my favorite bit of tech that is not a PC or tablet.

I have a new Blaze after being disappointed that MS withdrew support for the MS Band. Geez Ive spent some money on Microsoft products only to see support being withdrwan. Anyway, lets hope the Fitbit App is upgraded to allow caller ID and messaging details to work on my 950XL.

Being water resistant, this will see me leaving Garmin and it's unreliable software. As long as it is priced reasonable, this will be my next smartwatch.

I believe the Garmin vívoactive HR GPS is water resistant to 50 meters and I was just about to buy one... I really want to know when this will be out though because I don't like the Garmin shape all that much.
Windows Central Newsletter
Thank you for signing up to Windows Central. You will receive a verification email shortly.
There was a problem. Please refresh the page and try again.