Want to fix your Windows 8.1 battery issue on Surface RT? Turn your Bluetooth on!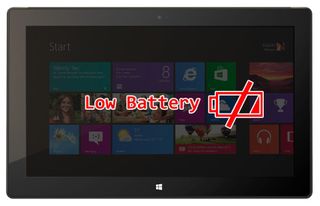 According to Microsoft's support forums, a user complained that his Surface RT running the latest version of the company's Windows 8.1 Consumer Preview was seeing an extreme power decrease while in standby mode. The user also noted that a driver known as "Microsoft UART V2" seemed to be causing the issue.
Microsoft's support team contacted the user and requested he try switching his Bluetooth to on to save battery life. Right away, this seems to be an odd solution; turning on your Bluetooth radio should decrease your device's battery life – not improve it. That being said, as soon as said user turned on his Bluetooth radio, his issue disappeared.
The folks at Microsoft explained why the issue fixed the problem:
As with all Consumer Previews and Betas, we expect to see a few bugs from time to time. It is very certain that Microsoft will fix the issue before Windows 8.1 is released to the mass public.
Have any of our readers been experiencing this issue themselves?
Indeed an "unusual" fix right? :P

Yeah and I was wondering what happened to my surface battery. Gonna try it soon.

I was definitely having the battery drain issue, but I've already gone back to standard Win 8.0 :(

Lately I've been having a different opinion about RT.. I think it just might work...

I Love U NIST.. Whatcha doin tonight baby❔

Baby? Really? Who are you? Tom Jones?

I'm telling you, if they can get RT down to $199 ($249 MAX) to compete with the Kindle, it'll sell like crazy.

Stop cheapening Surface .. Kindle & nexus are just 7 inch tablets, Surface is almost a size of a laptop with MS Office ..
Surface not selling has much more to do with apps & retail availability than with the price

Umm, you might want to throw awareness into that equation...

At YVR yesterday I saw a true Microsoft family. Two boys pulled out their Surface RT tablets, mom rocked a Toshiba laptop and HTC 8X. Made me want to show my L800 and Surface RT too. So awareness is increasing but prices do need to come down and the touch cover needs to be included in the price.

Ok, stop there.. I think we all need to admit to everything.. I agree that prices do need to come down for these tablets to be competitive.. Also, awareness is increasing, but hasn't increased to a point where it's not a issue.. Just like WP W8 tablets need to be hitting on all positive points of the market equally, and hard... There's no use in arguing about what's more important because no single issue has been solved yet.. Right❔

Google's second generation Nexus 7 is really priced aggressively and I thought Surface RT has not chance against a sub $250 tablet because people seem to like smaller tablets more than 10" ones.
But now I've come to realize the biggest RT competitor is Windows 8 itself. Why would anyone choose to go with RT when they can get an Atom based tablet that gives you access to a wealth of classic programs and performs almose the same?
That's why Microsoft needs to lower RT prices even more. There is no point in buying a $400 RT tablet when you can get a full Windows 8 based tablet for a hundred more, tops.
RT devices should be priced $200 to $250. Microsoft needs to fill the market with cheap tablets if they want to have any chance against Google who are practically giving tablets away for free.

Agree. All I needed was more or less internet Explorer on a touchscreen and in a portable way. Looked at RT as Im interested in office. At the time Asus Vivotab smart was available for not much more, so went with that one. Damn, that was an expensive web browser :p And I still miss Office... Anyway. The standby time and lack of battery icon made me reset to vanilla W8 today.

I love our RT. My wife hasn't touched her laptop since. The only thing missing in our world is Quicken for RT.

I've noticed the battery drain ion my Surface RT since upgrading to 8.1. I switched my bluetooth on last night and I'll check it later today to see if it drains less then it has been in standby.

Have this issue since 8.1. Take it off the charger and without using it, it drains within a day. Will try fix...

there is no way this update can go RTM in august unless they have made a shitload of fixes that are not reflected in the preview....and those would need to be tested as well.

I don't think he's joking. I've been using the preview 8.1 and it's not stable :(

The preview does not reflect RTM in any way. Duh...

If you think that all the fixes they apply to RTM will be applied to the preview as well, you are very uninformed...

Heard a lot about Windows 8.1 not being stable from my friends .. We always test new betas & previews.. The reason why I didnt install preview, will just wait for Win 8.1 release & I hope MS fixes issues

It is not that bad. Just a typical beta software.

Don't point out the obvious some folks still won't get it.

Took the words right out of my mouth. Betas aren't meant for the faint of heart. If having to work through buggy software scares you, don't download betas. They are not meant for you.

P.S. I love 8.1, still some issues but a great improvement over 8.

Yes, I have been having this EXACT issue. I'll turn on my Bluetooth and report back.

Well, in case anyone is watching my comment expecting an update, yes, this works. I turned on Bluetooth yesterday, and my tablet has been off the charger for over 24 hours and I still have lots of battery left (like, in the 80s). It's not as good as before, but what should I expect when I willingly beta test something. :D No complaints, I love 8.1 and can't wait for the official release.

Other than IE 11 screen bugs with WebPages not optimized for the new settings im good with 8.1

There r also some WiFi issues too, my friend's laptop takes almost a min to detect a Wifi network .. On Windows 8 it was instant

I've experienced this issue with my RT as well. It was amazing. A device that held a charge for days suddenly drained in one. The Bluetooth "fix" works and has slowed the worst of the drain, but my RT is still not back to how it operated prior to the 8.1 Preview. I think Outlook is also part of the problem.

Thanks for the article Michael! I've definitely noticed a decrease in battery life with 8.1. Hope this fixes the issue.

My bt is always on. I use the wedge mouse.

Next up: keep mosquitoes away by keeping wounds open. They hate the smell of blood!

This just in, mosquitoes aren't attracted by the smell of blood or open wounds.

Which is why it makes as much sense as turning on Bluetooth to save battery life...."it was joking, that is why it funny.". Bonus points if anyone knows the quote!

The explanation of the Bluetooth issue is for people who understand. Others, just follow what the article says.

I always leave Bluetooth on so I guess that's why I never had the problem

:O Could this be the reason of my battery's Sudden Death?? :O :( After upgrading to 8.1, my Sony VAIO battery got dead (Doesn't work at all) :( VPCEA42EG is my laptop's model... :'( It was working Fine since 24 feb'11, but after upgrading.. suddenly, it died.. :(

It doesn't die when you are working on it. It only shuts off if you let it sit for a while.

My BT always on, and I am experiencing the battery drain issue. If it is UART driver issue though maybe its because my keyboard is always attached. Or maybe its all due to the WiFi WLAN service failure?

Lots more on these issues over at Microsoft answers community site.
STill more questions than answers so far it appears and turning on bluetooth is not THE answer.


The issue here is not about battery drain, but Surface shutting off even with full battery. Turning Bluetooth on fixed it for me at least.

I did noticed thus as well. I was getting frustrated and I'm even thinking about buying my co workers nexus 7. He has the first Gen and wants to sell it for $100. The battery life and web browser on my surface have really disappointed me.

So you are complaining about beta software and not working, so you buy an old nexus 7?
Why not just go back to the factory software on your WinRT and not using the beta? Than you will not have this problem (and possibly others) from the beta.
When you run beta software, you should be aware that you will hit some bugs and live with it and report it to get it fixed. If you do not want to be involved with reporting, than just do not beta test.

Ok I should have given more info. Yes I'm talking about 8.1 but these problems have been going on since before I even updated to beta 8.1. I'm well aware of the problems beta programs bring to the table but I had hopes that IE11 would work better than IE10 but that isn't the case. I sold my iPad 1st Gen right before the surface RT was released and even that thing offered me better battery life. Trust me dude, I'm not here to troll on the Surface. I've tried everything to make sure it works properly and W8 is simply not working for me. The other thing that annoys the crap out of me is the People app. I've contacted their twitter support and I've even called and nothing. The app keeps crashing and its performance is laggy. I don't get how the people app on my Lumia works great but on my surface it sucks big time. I've reinstalled, updated, refreshed both the app and my surface and it still not performing well.

Are you talking about W8 or W8.1 preview?

I haven't had this issue but I keep Bluetooth on all the time on my Surface RT anyway.

It only shows up when you turn off the Bluetooth.

That's what I mean, I keep Bluetooth switched on all the time so I've not seen this issue.

Funny. Just had the issue and then saw this article. Awesome!

Glad to help - thanks for reading!

I got the 8.1 preview on my Samsung laptop it messed stuff so bad I had to the send the laptop to Samsung for full repair

So you didn't do a backup of the recovery partition BEFORE installing the 8.1 Preview like it tells you to do?

I had this problem as well, another solution was to reinstall the graphics driver. Some had success with that route. My problem cleared up a couple of updates ago.

Wow just tried this on my Lumia 920 and my battery has lasted 4 days so far!

I'd noticed great battery life since updating to 8.1 and yes I do keep BT on as I use a pair of Plantronic Backbeat Go eraphones.

Whoa - I kind of thought I might have had a battery drain issue lately. It just seemed like a lot of times I'd go to grab it and it was dead, and I was like "I thought I just charged this." I thought I might be crazy, but alas... there is an issue. Now can I convince my logical self to turn bluetooth ON?!
Windows Central Newsletter
Get the best of Windows Central in in your inbox, every day!
Thank you for signing up to Windows Central. You will receive a verification email shortly.
There was a problem. Please refresh the page and try again.