Flight Factory adds TripIt integration and more in latest update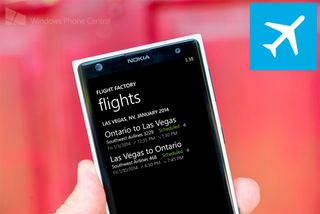 We're not jetsetters just yet, but we're working towards it. When we do travel to various conferences and events around the world we've got a handful of apps on Windows Phone that make the journey a lot easier. Flight Factory is one of those must-have apps for folks who fly on a somewhat frequent basis. The app was just updated with some killer new features, like TripIt support. Let's check out what all is new.
The last big update for Flight Factory we covered was back in mid-August. The update added detailed gate departure, take-off, landing and gate arrival times. It also added history for things like gate changes, schedule changes and much more. It was a substantial update, but the newest version of Flight Factory adds a bit more. Here's what new in version 1.6.0 of Flight Factory:
Automatically sync flights from TripIt
Flights are automatically refreshed when opening the app
Past flights are automatically removed when opening the app
Find alternate flights
Bug fixes
The biggest addition to Flight Factory is integration with TripIt. What's TripIt? It's a free web service from Concur Technologies that scans your email inbox for things like flight, hotel, and car reservations. It then automagically will create itineraries for your upcoming trips. Things like flight confirmation number, gate number, and more are all in one location. You no longer need to manually enter in your flight information by hooking up your TripIt account with Flight Factory.
I've been beta testing the TripIt integration with Flight Factory the past few weeks and have absolutely loved it. I was in Seattle a week and a half ago and didn't have to worry about entering in my own flight details into Flight Factory. You can see in the screenshots above an upcoming trip to Las Vegas (CES 2014!). I could have manually entered in the information like a Neanderthal (no offense to our long lost relatives, but Homo sapiens did win out) or allow the information from TripIt to automatically be included, which is exactly what I did.
The update to version 1.6.0 of Flight Factory also adds more than just TripIt integration. Anytime you open the app it will automatically refresh flight information and remove past flights. You can also find alternative flights within the app. And of course, there are bug fixes in this update.
We've been fans of Flight Factory for a long time and this update makes it even better. The app does cost $4.99, but that price is worth it. Why does it cost so much? Because Flight Factory relies on flight data from FlightStats, which isn't cheap. FlightStats also provides data to Bing, so you know you're getting quality flight data when using Flight Factory.
Pick it up in the Windows Phone Store, use the QR code below, or swipe to the right in our app. Have any questions? Sound off below!
Windows Central Newsletter
Get the best of Windows Central in in your inbox, every day!
I wonder if that Neanderthal comment will anger the Creationists? *grabs popcorn*

Damn I'm all out of popcorn! :P

Hey folks, this is Eric, the developer of Flight Factory. If you have any questions before downloading, please post them in the comments below or email me at flightfactory@outlook.com! TripIt syncing has been one of the most requested features for the app, so I hope you like it!

Not a fan of having my past flights deleted because I like the memories and stuff. Had a couple life-changing flights deleted as soon as I opened the app. You cab probably create a little button or category, specifically for past flights. It would make sense and it would keep everything clean as well. Nonetheless, your app is a jewel in our ecosystem and I bought it many months ago. I just hope you take the above into consideration. Keep up the great work!

Wael, I apologize for that inconvenience. I hadn't considered that some people may want to remember past flights. I hope you found the setting where you can turn this off so that they will not get removed automatically in the future. Thanks!

No need to apologize! I did find the setting, though I still think a separate category would be better. Something like "history", it shouldn't be too hard to implement, right? I can beta test for you. Out of 5 stars, your app is a 10. ;)

Really great app, bunch of us will be using it for CES.

Why don't Windows phone have flightstats app as well ?

Wow, Sam which part are you in Ontario? I'm in Mississauga

Ha. Sorry Ayman, different Ontario. That's for Ontario, California.

Will this app provide live flight updates and gate info without a tripit pro account?

A TripIt Pro account is not required to sync flights (the free account is sufficient). Once the flights are synced, they are updated in the same way as flights that are added manually. Most flights include gate info!

Have a free TripIt account and the MyTrips app on my Windows Phone. The free TripIt account does not monitor flights for schedule changes, etc. Does this app?

I'm not entirely sure what you mean by monitor flights for schedule changes, but the app currently does not contain push notifications.

This is what I mean: after I send the initial flight confirmation email to TripIt and set up my trip, oftentimes the airlines will change the flight schedule departure times, etc. Using the free version of TripIt, the flights are not "monitored" so when I look in my TripIt account, it will not show that there's been a schedule change. (I'm not referring to weather delays, cancellations etc.)

Once the flight is added to the app from TripIt, it WILL update with schedule, gate, airplane, etc. info. The flights will update when you open the app or press the refresh button. The flight info is not static after it syncs from TripIt -- it continues to update.

How does this differ to MyTrips? Also, how does TripIT scab your emails? I have just switched to outlook from Gmail, it doesn't seem to pick up my new email.

I believe MyTrips is more focused around TripIt (hotels, etc.), whereas Flight Factory is all about flights and has more detailed info about your flights. I personally don't have turned the scan feature turned on -- I just forward my flight confirmation emails to plans@tripit.com.

Thanks I will try forwarding them on.
Windows Central Newsletter
Thank you for signing up to Windows Central. You will receive a verification email shortly.
There was a problem. Please refresh the page and try again.