Flight Factory for Windows Phone gets updated, adds even more flight details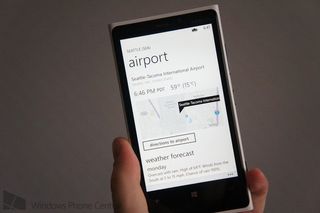 Back in late May we showed you guys an app called Flight Factory for Windows Phone. It pulls data from FlightStats, one of the largest, most accurate, and up-to-date supplier of flight information. It takes that data and puts it into a beautiful app for Windows Phone. The latest update improves on already great foundation. Let's check it out.
If you update or download Flight Factory for Windows Phone you'll see it at version 1.5 in the Store. With this latest version you'll be getting more flight details, including:
Detailed gate departure, take-off, landing, and gate arrival times
History of gate changes, schedule changes, and more
Enter your own flight details, including: seat number, confirmation number, flight label (ex: Business Trip to Seattle), and notes. Your seat number will even be added to your lock screen!
Improved start-up time, and other performance improvements
Bug fixes
While I don't fly as much as Daniel does, Flight Factory quickly became an invaluable asset for the handful of times a year I do hop on a plane. Pinning flights to your Start screen makes jumping to a specific leg of your journey super handy. This latest update makes the app better in a handful of ways. The new feature I'm looking forward to is the ability to add your own flight details. You can add things like seat number, confirmation number, flight label, and notes.
Now if only there was an event in late September I could fly out to. Like one where a certain company will probably show off a tablet.
Flight Factory is available for Windows Phone 8 devices. The app cost $4.99 with no trial. And while that may be relatively steep compared to other apps, we at least know why the app costs $4.99. Flight Factory is powered by FlightStats for the flight data and that data isn't cheap. But it's solid data, so solid that Bing uses it as their flight data provider in searches. The developer has stated in the past that the price you pay directly covers the costs for access to that flight data.
You can grab it in the Store, by using the QR code below, or swiping to the right in our app.
Like I'm going anywhere ;[

This app looks great. I'd like it but I don't think I would get much use out of it since I only really travel yearly at the moment.

I'm sorry for this stupid question: Is Flight Factory app available worldwide on any flights and destinations?

Considering FlightStats is one of the best data suppliers, if not the best, I would assume it tracks space flights too. :P It worked for me in Greece, so no worries.

Hey, this is Eric, the developer. It works for flights worldwide!

Oh wow, I got a reply directly from the developer, now Flight Factory app, take my $5.00.

Same here, will it work in Ireland?? I'll buy it if it does

It worked in Greece, besides, it's a flight tracking service that acquires its data from the best flight information supplier, like the article says. Trust it, your money will be well spent.

Hey, this is Eric, the developer. It works for flights worldwide so you'll be all set in Ireland!

Most of America must be still in bed lol

Extremely minor note, but I like that they use arrows instead of plane icons on the lock screen to denote departure and arrival. I always look at the icons and think "that angle is way too sharp; it's gonna stall".

I'm glad you like those arrows! I pay really close attention to the details :-)

Would be nice to be able to import your trips from TripIt. If it had a trial I would give it a go, for now Flight Aware will suffice for free.

Syncing flights from TripIt sounds like the perfect thing to add in the next version ;-)

I'll DEFINITELY get your app with TripIt syncronization support.

I was quite hesitant to pay the $5 back in May but I had already arranged a couple flights, I decided to bet on it and I could not be happier. This app is amazing, it already provided me with a bunch of information about my flight, I cannot imagine how much more awesome it is now. *deep breath* This awesome app will make you feel like you underpaid for it.

I'm so glad to hear you're getting great use out of the app, Wael! :-)

Keep up the great work, quality apps like this deserve all the support they can get!

What is that cool app on Droid that shows you a map of the world the planes moving around? But for WP8?! :D

That would be Flightradar24, Thank You for asking.

Looks cool! Sam, you have an extra "more" in your title - "more even more"

It's because the update offers so much more even more details :)

LOL. Geez. No more blog posts at 3am for me :)

Just bought it. Really cool! Works in India for those of you who are still wondering. Only wish they provided a trial. Not many people are going to fork out 260 rupees without knowing how good the app is.

Does anyone know if it has complete support for metric?
Wind speed, degrees, times and so forth.


Yes it does! See the attached image. http://epaps.com/ff/ff-metric.png

i love my lumia 920 best phone everrrrrrrrr!!!

Just purchased :) working good in the UK :)

Would be good if it told you when to board, is this possible guys

Unfortunately that data isn't available, but generally I've found that flights start boarding about 30 minutes prior to departure (at least for domestic flights in the U.S.).

It stills you when a flight is delayed or early so that's good enough. As for boarding, that's pretty much up to you.

Ok guys thanks for your comments , great app :)

Does it work in offline mode? I mean downloading the details prior to the flight(s) and using the app without internet afterwards. I've traveled to countries without roaming support from Vodafone... If only it had a trial to test it out

Yes, absolutely it does. When you add flights they are saved to your phone and you can view them in airplane mode, etc. Of course, you won't be able to update the information without an Internet connection.

I echo asking for Trip It support, then would totally pay $5.

As often as flights change at McCarran, I can attest to the timeliness of having this,app. Anyone that has to deal with Southwest gate shuffle game would be glad to have this app along.