Flight Unlimited 2K16 flies its way to Windows 10 PC, discounted to $4.99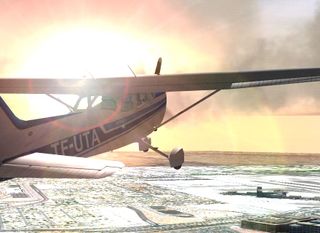 Flight Systems has released Flight Unlimited 2K16 for Windows 10 on the PC in the Windows Store. The flight simulator is normally priced at $6.99 but it has been discounted down to just $4.99 until June 30.
The sim game was previously released for iOS and Android. Here's a quick look at its features:
Soar across the beautiful skies of the San Francisco bay area, Las Vegas, and Switzerland. Flight Unlimited utilizes advanced streaming technology to provide some of the best visuals in flight simulation.
The HD scenery is a first in mobile flight simulation and covers an area over 10x larger than its predecessor. The scenery is so detailed you can even find your house.
The campaign tasks with you missions such as rescuing a prisoner from Alcatraz, B2 Bomber surveillance over the Swiss Alps, landing your Cessna on the Golden Gate Bridge, and more!
Over two years in the making, Flight Unlimited has been redesigned from the ground up by an aviation expert.
The game features Ultra high definition satellite imagery of the San Francisco Bay Area, Las Vegas, and Switzerland. Never before has this level of detail been provided in a Flight Simulator.
Buzz the Golden Gate Bridge, take a fly-by of Alcatraz, scream past Levi Field, and even take a look at the future home of the world champion Golden State Warriors.
In addition to the main game, it also has in-app purchases to unlock more planes. Be aware that while the site shows the game as supporting Windows 10 Mobile, it does not currently support phones.
Dowload Flight Unlimited 2016 from the Windows Store (opens in new tab)
Get the Windows Central Newsletter
All the latest news, reviews, and guides for Windows and Xbox diehards.
I'll wait for the phone support.

Definitely looks like that is coming soon. During startup it mentions support for 512MB devices and you can control with accelerometer. Update: A couple of minor bugs currently... Objective shows and then a menu shows behind it. Odd graphics after landing and rolling into the sea. To me this is an Islandwood conversion.

No. Definitely W10. And not so bad actually after playing a little. Generally ok with a couple of little 'ism's. Performance is good on integrated graphics. Should run fine on mobile.

Really don't understand the dislikes and snarky attitudes. It's been confirmed as coming to phones and I'm simply waiting it out =/

i'm not waiting - this game merits big screen of a Surface, surely. Phone would be limiting.

Oh I don't doubt. This would do more for me on my phone though.

Would be amazing if they made a companion app for the phone where you can control certain things like thrust, flaps, trim, etc.

Nice tpyo on their Store description: "One of the most gorgeous games in the Widnows Store"

Nice typo ('tpyo') in your post as well. :-\

lol you do realise that was intentional right? OP doesn't understand humor I guess...

You know if they have any plans to bring it to mobile?

Its been confirmed on Twitter.

Holy hell, I played this game when it first came out like 20 years ago! It was a great game back then.

Yes! I loved the detailed rendering of the Bay Area. Excited to see how this iteration works.

I'm curious, does this support a HOTAS? I've got a Thrustmaster I'd like to use with this game if it supports it.

There's nothing like using a thrustmaster on a hotas!

The creator of X Plane is being sued by a patent troll.

This looks cool! I'll definitely have to check it out for $5.

Seems funny to me to call something 2kXX like the k is saving time or space somehow. I know it's just to sound cool but still weird.

It's a little faster to say than "two thousand sixteen," but if you say "twenty sixteen" then I guess that's not a benefit either. ;)

I bought fsx for around this price nor long ago. I think I prefer fsx, but nice to see more games coming to the store

What even happened to Flight Simulator from MS? That was the standard of simple sims for years.

Satya saw that it was not cloud first so he axed it.....Just like everything good in microsoft.

It has been licensed by Dovetail Games, who are carrying it forward. The latest is available from Steam.

I miss Microsoft Flight. I know it wasnt a true sim, but that gamw was fun especially the Alaksa expansion.

That last bullet is a big nope. Go Cavs! ;)