Flipboard is finally coming to Windows Phone 8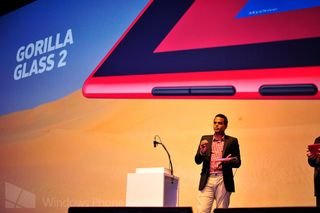 It's finally here, after being announced earlier this summer Nokia is finally showing off Flipboard for Windows Phone. The app has long been wanted on Windows Phone, but now the app is set to shine on the beautiful display of the Nokia Lumia 1520. This is Flipboard for Windows Phone.
Flipboard was announced for Windows 8 earlier this year at Microsoft's //BUILD/ developer conference in San Francisco. Unfortunately, that app has yet to materialize on Windows 8. A similar story on Windows Phone was unfolding as well for Flipboard. Nokia announced a plethora of apps this summer at their Lumia 1020 launch. Apps like Oggl, Flipboard, Path, Panagraph, Vine and more were announced for Windows Phone, but only a few have appeared on the platform.
You can now finally check off Flipboard on your watch list as the app will be launching with the Lumia 1520. We'll have hands on with the app as Nokia World 2013 unfolds. Stay tuned.
I've been using Flipboard for a long time on my iPad and I love. I'm so glad that WP is finally getting it

Finally!!! I loved Flipboard on my iPad. But Weave is also pretty good for me. :)

Weave is great! But it doesn't show articles not in mobile format...

http://www.wpcentral.com/path-prototype-windows-phone-video
???

It's a dumb app of a guy sitting on a board. You tap the screen and it flips over. The guy falls on his face, everyone laughs and you do it again. I don't know how it got so popular.

Flipboard is simply the best news reader app. Flipboard is the reason why I don't buy print magazine anymore. This is definitely the app I've been waiting for.

I believe everyone in Windows Phone Central is scrambling to write everything about Nokia's big event.. Hahaha..

It's news application that have very beautiful interface, i think it's frist application bring live tile technology to android and iphone but i rather use APPY GEEK instead of that but you feel free to choice

I wonder when vine will hit.

Or, you know, keep using Weave, built for Windows Phones since Day 1, not a johnny-come-lately.

+1

Speaking of, how soon can we expect the WP update to allow cross platform syncing that's in the Windows app? =)

Very soon :) Putting finishing touches on it the next few days.

I only bought Weave so I could stay up to date on news about Flipboard coming to WP.

If I did, I wouldn't be able to see this article, as all WPCentral articles return a unable to mobilize error. Hooray...

Turn the mobilizer off. We don't control the fact that mobilization is not currently working for WPCentral. You wouldn't see it mobilized in Flipboard either.

Flipboard won't cost £7.99 though...

Weave purchaser here...
In the app store world a rising tide lifts all boats. Pundits whine that the WP app store is missing key "official" apps, as that story starts to fade more users that were initially put off by such reports will give the platform a chance, giving Weave a chance to compete for new users even if Flipboard may be a little more well known. In other words, keep doing what you're doing.

The app I missed most from Droid

The guy said Windows 8, not Windows Phone 8...

That's what I thought too... Or is it on both?

Well, WPC was there while I wasn't. But if they're referring to the demo, the demo was clearly about bringing Flipboard to Windows 8.

http://conversations.nokia.com/2013/10/22/top-apps-from-nokia-world-2013/

One of the few apps I like on Android. Can't wait

Finally I can surrender my android to my son...

Most exciting announcement for me so far. woo

In time for Euronews. I asked on their FB page about an app, they tell me to go use Flipboard while they make an app for WP. Now I see this. Damn.

Hallelujah! Take that Windows Phone haters. +520

Let me guess though, only on Nokia Windows Phones?

Nice!!!! I've been using it on android for a long time. Instagram soon, raw support, there's no reason for me to consider any other OS anymore!

I'd like to see Flipboard in the Windows store too.

I've been waiting for Flipboard on WP8 for a long time. It will go really well with Windows Phone. Can't wait! :D

Literally have no clue what FlipBoard is or is used for :(

Really, no clue what FlipBoard is used for? Quite simply, it is a news reader, a virtual magazine, and a social media hub all in one app. It's spectacular, IMO. You decide WHAT you are going to push to the flip tiles. The tiles flip somewhat like WindowsPhone live tiles. You can have a tile for Twitter News Feed, Your Tweets, National Geographic, What's New Everwhere, Facebook, and ON and ON and ON. It's addictive, and it's superb. YOU design your own flipable magazine. Once you press on a tile, say, Twitter, there you have it. All the Tweets presented to you page after page. You can act on them just like in a Twitter app. Same for other tiles and pages. It seems limitless what you can do with FlipBoard. If you are in to social media, you can share anything on Flipboard to any or all of your social media outlets, and even to email or Text, with a simple few clicks.
Since I started playing with FlipBoard, you may find that you don't use other apps like FaceBook or Twitter. Maybe not, but I sure stopped using them. Plus, some pages(tiles) merge aspects of Flipboard. One Master Tile merges all top Flip Picks fo you.
Using Flipboard on my Nook Tablet (Android Based) got me hooked, and then I used it on my Droid. It seems made for WindowsPhone because of the nature of the "Flipping Tiles".
I'd be shocked if you did not like it very much. But to each their own. I love it. I'm a "Flipper". I CAN'T WAIT TO GET IT ON WINDOWSPHONE!

Released for Windows 8.1 We are counting the HOURS until it is on WindowsPhone Any day now. I check every morning. Hey, Vine and Instagram BETA are here. Only a Matter of days before we see Flipboard. ..... I hope anyway. Once it is here, Say GOODBYE to carrying my Android as a backup phone! :)

Yeah, no crap :-( what happened to Flipboard for WP8???????

It's January 10 and we're still waiting hayyssssst

Flipboard is the best. Flipboard is why I still bring my ipad everywhere I go, I'm not even an IOS fan. This for me is one of the most important app.

still no flipboard feel disappointed why take so long

Finally making the leap to Windows Phone when my Matte Black Icon ships out tomorrow. Wireless charging pad was ordered yesterday. Co-workers and family are in shock, as I've been the resident unofficial Apple evangelist since around the year 2000 One thing I'll miss is Facebook Paper (yes, I hate Facebook, but yes, all of my older relatives living far, far away use that to share everything, so I use it to keep up with them). Paper is AWESOME, the interface makes the Facebook experience so much more bearable, plus it has additional customizable topics, which I now use more than the family stuff. Then I saw these articles on WP Central from last year that Flipboard was as good as done on Windows Phone. Only, it isn't. Life in Windows Phone Land, I suppose. I'll join the chorus: any new updates???

Tomworthjr - we're in the same boat. Family and coworkers couldn't believe I made the switch from apple either as I had converted them all to the iPhone, iPad, macbooks about 4 years back. I would never switch back. Ever. WP is amazing and it seems that there is a new nugget to download every day whether its an OS update or a new app release, or even detailing of WP 8.1. Always exciting and dynamic, not the same old boring crap for half a decade like apples ecosystem. I'm now on WP and surface pro 2 and its improved my daily enterprise experience exponentially. Now to figure out how to replace my apple tvs with something that connects me to the livingroom with my Microsoft devices...input welcome!
Flipboard timing would also be nice

Your solution to the closed Apple TV environment is Plex. You run the free Plex media server on a PC or Mac and client apps are available for almost every device. You can even run Plex on an Apple TV without jailbreaking it - see this page. You use the 'trailers' icon on Apple TV and your PC intercepts the request and brings you Plex instead. You can start watching a movie on Apple TV and continue from where you left off on any other device - Windows Phone, Android, Mac, iPad, WIndows Surface, whatever. You can even see your library on your portable device away from home. Freedom at last from Apple's ecosystem and iTunes! Of course, if you buy a Roku media box you can install Plex very easily.

Amazing, thank you Phillip for the advice. Cheers!

Where the hell is flipboard ??? I am eagerly waiting for it plz make it availabe asap ..

Will it come to all lumia phones ?

It's been over 7 months waiting for flipboard and even wp8.1 got launched. Still the title says flipboard for wp8. When are we gonna get this !!!

I posted to their facebook page earlier and they responded saying they are working on the app and its not been forgotten. https://m.facebook.com/flipboard?v=timeline&filter=2#!/story.php?story_f... Please add your support.

They sent me the same message over 6 months ago saying the same message. Its a automated respose while they surf the waves, snow ski in Aspine since they made their little bit of money on Andriod and iOS. Im so fed up on Flipboard support for Windows Phone. And I trully love my Windows phone and have had Flipboard since the very first day it was released. But Im really discusted in the support with developers also giving lack support for Windows Phone.

Next month it will be a year since it was announced. Im so fed up checking Windows App store for Flipboard, searching often online of any hope. Sometimes I wonder if developers become lazy once they have made a little bit of chump change on other OS's that they decide "hmmm, I made my money with Apple and Android. Why do I need to continue support on Windows Phone."
Windows Central Newsletter
Thank you for signing up to Windows Central. You will receive a verification email shortly.
There was a problem. Please refresh the page and try again.