Flipkart is now a universal Windows 10 app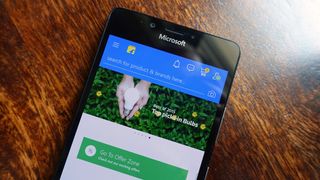 After testing the universal Windows 10 app in beta form, Flipkart has rolled out the changes to all users with an update. The app makes the switch from 3.0.1.0 to 3.6.0.0, introducing a new user interface with a slide-out hamburger menu, Ping shopping assistant, quick sharing options, and more.
With the update, your account tab is now located at the top right, giving you access to your orders, address book, wishlist, customer service contact information, and Flipkart's First subscription service. Category-wise navigation has also received an update, and you can now dial down into the exact category you wish to browse from the slide-out menu on the left.
With Ping, you can ask your friends if those fluorescent green shoes match the rest of your ensemble (the answer's always been a no thus far). All you need to do is select the chat bubble present under every product listing, which lets you quickly share that item with your friends so you can get their feedback.
The changelog as well as the screenshots on the Windows Store listing detail the older version of the app, but the update itself is available for those that have the app installed. Head to the link below to check out the new user interface and features, and let us know how you're liking the changes in the comments.
Download Flipkart from the Windows Store (opens in new tab)
Thanks Anurag, Sudharsan, and Sachin!
Windows Central Newsletter
Get the best of Windows Central in in your inbox, every day!
Harish Jonnalagadda is a Senior Editor overseeing Asia for Android Central, Windows Central's sister site. When not reviewing phones, he's testing PC hardware, including video cards, motherboards, gaming accessories, and keyboards.
By universal app.. U mean its available on Windows 10 desktop/tablets as well?

By universal it means that the app spans across windows devices.

Yeah. It should be available on other Windows 10 devices shortly.

By universal apps it means it is available on Android and Iphone but not on windows devices.

Thankfully, this time it's not so..

C'mon dude, he was just joking. Doesn't call for insults.

I accept ur words bro.but as u r calling me dumbass in ur language i'll call u gelchoda+l**d fakir in my mother tongue.

@Khatri Prateek
:) +1000 :)

The app is not from Microsoft that it will only truly support iOS/Android.. Here universal means all Windows 10 devices rather than just iOS/Android.

Ah, not many other apps using hamburger menu at the bottom, it's so much better.

The hamburger menu is very slow, buggy and makes the app crash sometimes. In fact many elements of the app are buggy. Looks like they retained much of the code of their previous app. PS: Wait.... "at the bottom"?! What does that mean?

See the Readit apps, wish people used it like that.

Only for windows 10. Still waiting for W10M official release in 2017 or 2018 or may be in 2020.

This is still not officially coming? The screenshots is beta? I thought in the article mentioned already.

There are two different sentences distinguished by a full stop (.)

And with the full stop it makes even less sense ;)

Yeah but when's the OS coming out tho ?

Screw the OS ... When is windows Central universal app coming

flipkart is now a universal windows 10 app means it will run on your windows 10 mobile and Windows 10 PCs..

Early 2016 for older Windows devices. Posted via the Windows Central App for Android

Really great they are really lives with technology that's yi love flipkart

Show some love to English as well, will you?

It still seems slow on my L730. Maybe with future updates it will be better. But feels better than the old app.

well it's always a great pleasure to help windows central

Not getting the update :(

What about WhatsApp when are v ceeing an update ...only the beta version is getting updated

What about Cricbuzz it was last updated on 2012 since from then it is not updated.

Forget it, they never gonna update it, I'm sure about that they don't even remember they have their own app running on windows platform..

Even Flipkart is universal now but where is windows central we should have an article over that also to know its status

Many of us are waiting for it :(

Its not available for the PCs. Can't find it in store.

Agree. App Not available on store for PC

Gorgeous app!!!! Shines on my Lumia 950!!!! Not gonna shop on any other website now...

Hope you tried the Jabong app too... Jabong is more fast, fluid and stable. Also looks pretty cool.

Sorry dont use it coz problem's not Jabong app, it's their content. I usually don't buy clothing/accessories online... Otherwise this app too looks fantastic!!!

Shopping app looks more polished, smoother and stable than Microsoft stock apps

Guess wc wil be updated in 2017.

Haven't used it yet, but it does look really good. Thankfully they included Ping in there as well.

First, windows central need to make app work better on windows 10. It lags...

Not available for PC? Store search doesn't bring any results as well as when launched from browser it says 'Not available for this device'

Windows Central Newsletter
Thank you for signing up to Windows Central. You will receive a verification email shortly.
There was a problem. Please refresh the page and try again.