Flixster updated to version 2.0 on Windows Phone 8, speed improvements abound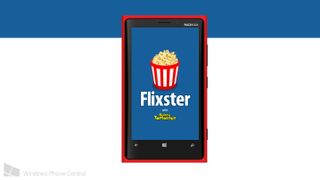 It was only five days ago that Flixster was updated on Windows Phone. It didn't add much at first blush, but it did include one new feature. The "my movies" section allows you to rate/review movies and save others to your future watch list. Fast forward a few days and here we are at another update for Flixster. What's new?
If you head to the Store you'll see version 2.0 of Flixster sitting there. Like last time, no change log and we can't find any new features. However, we're all noticing it perform like a champ. It's noticeably faster for all of us here on the site and we're digging the speed improvements. It could be that the app was just optimized for Windows Phone 8.
Why? In the Store you'll see version 2.0 available for Windows Phone 8, while users on Windows Phone 7.x will be seeing 1.9 of Flixster.
Either way, go grab Flixster. It's free for both Windows Phone 7.x and 8 users.
Get the Windows Central Newsletter
All the latest news, reviews, and guides for Windows and Xbox diehards.
Dang, it is snappy! As a matter of fact, it's so snappy that I have to say... First! All joking aside, I'm glad to see the support that Windows Phone 8 is getting.

Sohail- you can temporarily change your store to US under settings > language + region.
it requires a restart.

Still no ultra violet support!?!?

suprised it works on xbox app and win 8 app but not the wp8 app...getting a bit old waiting on them to add features. Figured 2.0 meant they actually fixed it.

When I saw 2.0 I got excited thinking I would finally be able to watch my "digital copy" of the many movies I own on blu-ray. I'm sorry but when you don't have a way to buy or rent movies in WP8 and you know what the iOS version does, it is very depressing

Ya I agree!! Whenever they have an update I think ultra violet! As lame as it is and really unnecessary, it would be nice to have! Especially those long days at work!

Ya but I wanna watch good movies, not the crap on there, maybe they have sharknaido now though hmmm???

That's what I was hoping for as well.

Was watching trailers with moviefone app, then I got this notification that flixster just got updated. Sighs, life decisions

I'm left in that "Which app to get limbo" every time a new version of an app comes out..

Dang, it is snappy! As a matter of fact, it's so snappy that I have to say... First! All joking aside, I'm glad to see all the support that Windows Phone 8 is getting

He's lying because he took the car to the beach.

How do you send those pictures❔

The bee flew into the courtyard.

Its much better all around but I have run into an exception when trying to view future dates.

I started getting those errors with the last update, where it is just a wall of text when viewing any day other than the current one. Tried uninstall and reinstalling it, etc to no avail and was hoping this update would fit this. Sadly not, making the app mostly useless now as can only view films on current day.

When do we get the ability to buy movie tickets from within the app? I'm in Canada, do people elsewhere have this ability?

Not even US can. I don't think you can buy movies at all with Flixster. Only Fandango.

He didn't say buy movies..

I've noticed that pictures posted to Instagram have slowed a lot lately...

I deleted app, restarted phone, reinstalled it. Yet when I go to settings>about in the app, it still says 1.9 at the bottom. Anyone seeing this? I'm on Lumia 925.

Yup - did the same. States 1.9 in app.

same here...wonder how many more noticed? I have Samsung Ativ S GT-i8750

Ya, it's much faster. Love the boost, it's one of my most used apps!

Not available for me yet 1020

Cool. I just used this app tonight (before the update) to look up a movie time for tomorrow. Was pretty handy!

When is is ability to watch ultraviolet collection going to be implemented? Why haven't they done that yet?

Last update I think they fixed the tile. It now updates without having to open the app.

Funny thing, it still shows version 1.9 in settings>about app.

When I saw My Movies, I really thought it was Ultraviolet. What a shame.

I need Voxer updated and fixed❕❕
Voxer is the most bug riddled app in the marketplace, and a major app like that shouldn't perform so crapy..

When I updated, it pretty much fresh installed. I had to reset my favorite theaters :'(

I'm still on v1.7 on my 7.x still not getting this new version.

Yeah I still only see 1.7 in the store.

I still don't like this app. Looks nice but it doesn't have the same usability as the ios version I was used to.

I think if enough people email Flixster requesting access to Ultraviolet collection then maybe they would work faster to make it happen. I emailed them already about it.

I don't see a big speed improvement from the previous version, but now in this version it's not letting me disable the live tile, even tried reinstalling, can anyone else report the same?

Not available in Brazil - as usual.

Change region in settings.

Future watch list, at last!

Wonder if the lack of ultraviolet is same reason as lack of xbox video? Read somewhere there was some drm or security stuff missing that would probably come in gdr3

Still not showing update for me 1020

Yes, i set region to US and downloaded it. Bug it boggles the mind, why isn't this app available everywhere? Is just ridiculous. Anyway, i think i'll keep the US region. Is there any disadvantage in doing that? (I'm in germany)