Folders arrives in beta form to better manage your Windows Phone files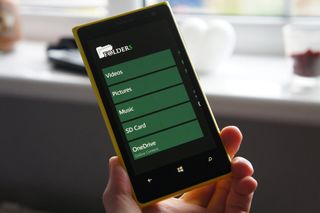 Folders is a new third-party Windows Phone app currently in beta. It's rather special and worth noting because it's a file manager for the platform (Windows Phone 8.1), and a very good one at that. There are already some decent file manager apps on the Windows Phone Store, but Folders sports a clean and beautiful user interface that fits in well with design guidelines from Microsoft.
The app enables users to cut, copy, paste, rename and delete files and folders, as well as create new ones and carry out other fundamental functionality. Another pretty neat feature of Folders is the integration with OneDrive, which is displayed as a folder (just like on Windows 8 and other platforms). But as well as management, Folders also has some built-in sharing capabilities, enabling users to utilize Bluetooth and third-party apps.
Another cool feature is to pin folders to the Start screen for more convenient access. SD Cards are also fully supported, which is a sweet addition for anyone with a Windows Phone and storage cards galore. As the app is currently in beta, the developer has noted that the app will remain free for all beta testers once it's eventually released. Post-launch, Folders will become a commercial Windows Phone app.
There's also a list on the store detailing some upcoming features:
Copying files from OneDrive to your phone and vice versa.
More cloud storage services.
Encrypted folder.
If you're interested in giving Folders a go, also be sure to hit the developer up on Twitter with any feedback and/or feature requests.
Thanks, Rushab, for the tip!
Rich Edmonds is Senior Editor of PC hardware at Windows Central, covering everything related to PC components and NAS. He's been involved in technology for more than a decade and knows a thing or two about the magic inside a PC chassis. You can follow him over on Twitter at @RichEdmonds.
Pocket file manager all the way

its paid...so aerize manager for the win

Have you tried FileEx? In case you have some feedback, I will be happy to help or add new features you need :-) .

I haven't tried it yet, am still on 8.0, but
1) can you add metadata editing like pfm has ? ID3 music tags ?
2) is it a Silverlight app ? I hope no, as if it is not then you should be able to support ID3 v2.4 tags, which Silverlight apps cannot.
3) are you still in school ? If yes, then its great, developing major apps so soon ! :) good luck ! :) i just finished school, hope to start developing soon ! ;)

1) Not yet, I was now fully working on cloud integration, but it is definitely on my checklist.
2) No, it is a XAML app :-) .
3) Yes :-D . But the exams are giving me a hard time sometimes :-D .

I don't know about XAML, but .NET library apps can edit v2.4 tags. Anyway, if it would be possible, do add it, there's no app yet which can handle v2.4 tags..
Good luck ! :)

I'm using FileEx. It's nice and smooth, gets the job done. Hope you bring metadata editing soon! :)

As soon as school exams free up a little of time, I will do it :-) !

For a start you can make the app remember the folders I pin on the main screen. I tried FileEx but didn't find it comfortable to keep adding my SD card and other folders everytime I use it

Hello, I haven't yet encountered this issue, that is very unusual. Can you please provide me more details? Which phone are you using? And have you tried reinstalling the app?
I have tested the app on three different phones and no user has reported this yet, so I would love to find a cause.

Have tried it. My only complaint is the animation of opening folder is slow. Can you improve it?

Hello, if you mean the time before the folder picker appears after you tap Choose folder on main page, that is sadly fully controlled by the system. I recommend users to add favorites of frequently used folders for faster access to avoid the folder picker. I know it is not an optimal solution, but sadly for security reasons, this is the only way an app can access all folders on the phone - it needs the folder picker to get a permission. Once the permission is granted, adding the folder as a favorite can retain the right to access the folder forward.

Neither, I will wait for the official Microsoft file manager.

Will it be free when i officially get my wp 8.1 cyan update?

Didn't want to use file manager apps until the official one comes out. But I'm going to download this now.

Can you please try FileEx too? I will be happy to get feedback of what you like and dislike :-) . Thank you Martin Zikmund

FileEx is great.......i am using it right now....its pretty neat :) thanks for your effort for bringing your apps :)

Thank you very much, sir :-) .
Please, send me any feedback :-) . I will be happy to help, respond and improve the app :-) .

I like FileEx. But it would be great if it would have properties of folders along with files as well as resolutions of images(if possible). That would be great. Thank you for you effort & time.

Yes! I have it on on my checklist definitely, will do :-) !

Just downloaded. It is looking good. I will use it more and send the feedback :)

Amazing, sir :-) . Thank you very much! I will be going to bed quite soon, so in case the answer doesn't arrive very soon, it will in about 6 hours :-) .

I can't find it in store, can you please provide a link ? thanks

Here is the link - http://www.windowsphone.com/en-us/store/app/fileex/d1e48e7a-eafe-469a-a7aa-6733cfdadaf9 The app is built with the new XAML app model, so it requires Windows Phone 8.1 for download.

Never heard of it but I'll give it a shot.

Thank you sir :-) . Can you please provide me some feedback of what you like and what you dislike? Martin Zikmund

I really wish instead of a separate folders app, microsoft adds a local file explorer to onedrive. Will do mighty justice to its name

Any idea when windows official file manager will get released? Cud any one gave idea abt it?

I'm waiting for the official Microsoft app. It should be released quite soon, I think. As Joe Belfiore said it would be available the coming weeks.

agreed. however this should be an OS feature. can you imagine if windows 8 needed an app to access the file system? I still don't understand why we had to follow apple down this rathole where somehow file management is bad. Clearly the days where you could delete system32 are gone and we don't have to pretend that accessing the user file system is somehow a dangerous thing to do or that the OS should take away files and locations away from you. It is one thing to replace the file system with something better. But what they did was take away the file system and not replace it with anything...in other words: hello world!

The reason they have it as an app is because it makes it easy for them to update via the store and not release OS updates which in turn would have to go through carrier approval and then delay the release

I understand this, however, how many times has the windows shell been updated for file system changes? file systems are pretty static. They don't exactly change as much as say a service like xbox video. So in fact, they can and should make it an OS feature as it would help performance. Unless the file system market is about to take off with revolutionary cadence, I don't see why their API can't serve the scenarios some power users demand. MSFT will ship something very basic. don't expect them to really innovate in this area. hence why not get the best performance?

I'm not a developer but I'm quite sure that having it baked in would take much longer, in turn delaying the launch of 8.1. This way is much better because they can not only release it after 8.1, they can also keep updating it to constantly improve it.

MSFT is a big company. they can do it.

Is he told..worth noting or worth nothing?

Although, official apps are great and I love them we have to support our developers. Disclaimer: I am not a developer; but many of them depend of us.

I was under the impression this was an official one.
It isn't, but it's prettier than PFM. :D

Aerize explorer works well.

Waiting for Box integration.

is it open beta testers, as I am on wp8.0 & end of june official file manager from microsoft will be coming?

As Joe Belfiore stated earlier that the official file manager by MS will be out end of May, we are just a few days away from having it. I'll wait till the official one is out. :)

Well, I'm not sure what in the app fits in Windows Phone design guidelines (no margins/paddings, capitalized menu options, etc.), but I'm a little, little bit sad that FileEx didn't deserve a mention on WPCentral, as I'm giving it all my non-school free time, answering all user feedback, usually in less than 10 minutes... And cloud integration update is now being certified :-) .

I'm downloading your app as I type this Martin.

Thank you very much sir :-) . See my comment below for ways to give me any feedback or address questions, I will be happy to help :-) .

going to try your app, hope you wont disappoint

constant update with improved functionality is all that we ask for :)

I keep working on it all the time :-) . This week I was doing finsihing touches on cloud integration, which is now going to be certified, and that is the biggest update since the app has been published :-) . School is a little bit limiting here, as exams are just starting, but all free time goes to FIleEx :-) . App has a UserVoice page on fileex.uservoice.com, or you can send me feedback directly through about screen in the app. When I'm not currently in school or not sleeping (sometimes in night :-D ), I'm reponding to feedback promptly as it arrives. If you are missing any feature or have some ideas for improvements, let me know, please, the feedback I received has already helped redesign the app and added numerous awesome that I could never think about myself - it is amazing how active users are :-) . Thank you Martin Zikmund

I couldn't find FileEx on the app store. Is it due to region?

That is unusual, it should be visible everywhere. Do you have Windows Phone 8.1? Which region are you from?

Wow! I downloaded the fileex, and it works more like a file manager. I'm gonna buy it. At least I was able to do multiple selections, I was able to see my document folder. It's a good app. Keep it up.

Hello tchaikie, I'm so happy you like FileEx :-) ! Thank you for supporting the development, I will do my very best to make it as good as possible :-) . Send me any feedback and ideas for improvement :-) Thank you again very much Martin Zikmund

Oh! I'm using WP 8.0 from India. Can u please make it available for WP 8.0 too? I would really like to try your app.

I'm very sorry, but the app uses the new Windows Phone 8.1 APIs to fully access file system and work with folders and files. That means the app can't even be ported to Windows Phone 8... Don't you want to test the Preview of 8.1 :-) ?

I am tempted to wait for the official app but I am a developer myself and I love supporting the work of other developers.

I like the fact that I can see full file name in this app. The app presentation is quite nice.

Web will they allows non System files to be made Private? Mixing Work and personal item on a phone is getting increasingly difficult as even on a BYOD phone, Management can snoop around way too much.

Rudy Huyn should make a file manager with cloud integration

Just downloaded and I love it. Now my go to file manager.

Read it as "rather special and worth nothing"..

I still prefer Pocket Explorer. Mainly because it's the only one that has the option of MOVING files without the cumbersome cut/paste process these other apps require.

Same here. I Pocket Explorer it's the best choice!

Hello, have you tried FileEx also? In case you have, I would love to hear your opinion on what should be improved and which features are missing :-) . Thank you Martin Zikmund

Thanks for your support! I hope more people check it out, since there has been quite a few updates recently!

It's good .... Anyway waiting for official one...

Actually that is the problem of limited API of the system. In my FileEx app I decided to place a folder picker there, that is the only way that ensures the app direct access to the entire folder. To do this without folder picker the app has to declare SD card and library access as a capability and has to manually list all file types, that it can access. So when you want to open a xap file for example, it won't be visible to the app, because it has been restricted to access it (it was not listed as enabled extension). Via folder picker it is not an issue.

Better than Pocket Explorer. I like it. Even if the other app of the same developer does not inspire confidence in me.

Hello sir, have you tried FileEx, yet? I would love to hear some feedback, so I can improve it :-) . In case you didn't like something about the app, I am very interested to hear. Thank you very much Martin Zikmund

Pff... Files are so 2010.

I loved the interface of the app, and it is quite fast as well.
Of topic: If only we could choose the default applications to open files and links my life would be happier.

very nice App i recommended it

What is there please the difference to the app " Pocket File Manager" ? Except that this app is not a beta and also working properly ? In addition, it has been around longer.
Greets Ddriver66

Can't batch delete/move/copy files. Too bad :(

Hello sir, FileEx can do that, could you please test it out and give me some feedback :-) ? Thank you very much! Martin Zikmund

Hi! Nice to hear that :) Will test it pretty soon!

Seems faster... no kidding... it definitely is faster than all the other options I have tried.

Third Party = Don't care.

Best File Manager: Windows Explorer

I like pocket file explorer but the ui is butt ugly. Still it's my favorite wp8 and android co exist in my world

no one recognized YUKI FILEEXPLORER?. Then you guys gonna download it

yuki got more features LOL

AERIZE is the best file explorer app hands down. Saves my OneDrive and 6Tag videos to phone and SD card

http://www.windowsphone.com/en-gb/store/app/horoscopes-free/dfa2c39d-b5b...

Am not able to download. I'm in Ghana
Windows Central Newsletter
Get the best of Windows Central in in your inbox, every day!
Thank you for signing up to Windows Central. You will receive a verification email shortly.
There was a problem. Please refresh the page and try again.