Folding phones are cool, but HoloLens 2 is cooler — here's why
Folding phones are getting a lot of attention but Microsoft's HoloLens progress is moving holographic computing closer to the masses.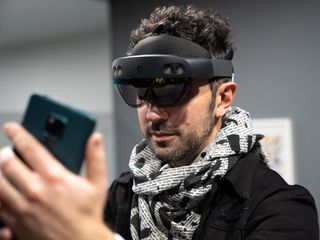 (Image credit: Windows Central)
Folding phones are exciting, but the real story of Mobile World Congress 2019 is HoloLens and mixed reality computing. Microsoft's foldable Surface Andromeda PC running Windows Core OS could have been the next step beyond smartphones, but holographic computing led by HoloLens is Microsoft's leap into mobile computing's future instead.
Admittedly, we are a long way from a consumer device, but as HoloLens creator Alex Kipman acknowledged during the HoloLens 2 introduction at MWC, the age of holographic computing is here. The hundreds of companies using HoloLens in various sectors to achieve their business goals suggest that claim is more than marketing hype. This was reiterated by Vice President Trimble Buildings, a Microsoft partner, Roz Buick, who said "for many of our customers mixed reality is no longer futuristic technology nor a gimmick … it's real working technology that's adding value in the field every day."
Additionally, through hardware, platform, partnership, and Azure cloud services advancements announced this year, Microsoft is moving an already successful model even further with its target market: the world's more than two billion front-line workers (opens in new tab).
The potential market for its wearable PC is larger than Microsoft's current 1.5 billion PC installed base. And, like Windows PC proliferation of the past, which also began in the enterprise, Microsoft retains the following strengths: It's providing Windows, a familiar enterprise-accepted platform, a supporting infrastructure of services and security, and the ability for partners to conform this wearable PC (like traditional PCs of the past) to their specific needs. It adds to this the modern advantage of a host of Azure cloud and AI services for mixed reality computing. As Microsoft's goal decades ago was to put a PC on every desk, its current goal is to put a wearable PC, on every frontline worker's face. Microsoft seems better positioned to continue its methodic expansion of mixed reality within this two billion strong "niche" market than Samsung and Huawei are to be successfully peddling $2,000 (or more) folding phones for a niche market that is much less defined.
A PC on every (frontline) worker's face
Many continue to apply the term "niche," in a reductive manner to HoloLens because the technology is young and because of its current business-versus-consumers focus. Understanding Microsoft's mixed reality strategy begins with recognizing that HoloLens is fundamentally a PC. PCs are and have been used in the enterprise by office workers, researchers, and other thought workers for decades to accomplish business goals. Still, the PC's computing capabilities for diagnostic, problem solving, communication and other tasks has also always had value for frontline workers in various industries.
However, the desktop, tablet and laptop form factors, even with modifications like straps or rugged cases, are not ideal for workers who need free hands, are highly mobile and who must focus on tasks, not screens, to perform their jobs. HoloLens's wearable design solves the logistics problem of bringing a PC to a market of two billion workers for whom a PC always had value.
Microsoft's mixed reality strategy isn't a solution looking for a problem. It's a strategy that addresses, in a unique way, a problem that no other company has addressed as comprehensively:
It's providing a PC form factor that addresses the needs of masses of front-line workers.
As with Windows and desktop PCs decades ago, HoloLens brings the software tools to this wearable form factor that can conform to the needs of various industries.
With services like Dynamic 365 Guides, HoloLens is ready out of the box for scenarios like training workers.
The HoloLens Customization Program parallels how partners traditionally built custom PCs to meet specific needs, by enabling partners to tailor Hololens.
Microsoft's suite of Azure mixed reality services includes cross-platform Spatial Anchors that support HoloLens, Apple's ARKit and Google's ARCore and enables the birth of the internet of holograms where holograms can be shared across every device.
Microsoft provided an open app store, web browser and platform model for mixed reality which also has the support of Epic games with Unreal Engine.
Microsoft is developing a robust ecosystem to make HoloLens relevant.
Why HoloLens is cooler than folding phones
Image 1 of 2
The current crop of folding phones from Samsung and Huawei are exciting for techies but don't have adequate hardware and software synergy, beyond adding more real estate to solve a problem. And at over $2,000, the price even for the most ardent early adopter is prohibitive. So if they're not for consumers (yet) what business advantages do these $2,000-plus non-windows-based phone-tablet hybrids bring to businesses, most of whom are built on Windows IT infrastructure? Is the target market enterprise professionals? Folding phones certainly aren't for first-line workers.
Surface Andromeda, running Windows Core OS, with a unified platform across form factors would arguably have potential software advantages over these devices. But even Microsoft had difficulty cementing a use case.
HoloLens 2 is a different story. Beginning with the world's two billion front-line workers, even at $3,500, Microsoft, as with Windows PCs decades ago, is making the wearable PC relevant to business users. After landing on every "desk," PCs eventually made it to "every" home. Do you think HoloLens will follow a similar pattern? Chime-in in the comments.
Jason L Ward is a columnist at Windows Central. He provides unique big picture analysis of the complex world of Microsoft. Jason takes the small clues and gives you an insightful big picture perspective through storytelling that you won't find *anywhere* else. Seriously, this dude thinks outside the box. Follow him on Twitter at @JLTechWord. He's doing the "write" thing!
Microsoft is stalling and distracting with HaloLens and Centaurus as it scrambles with Andromeda.

Serious question: What do you mean by "scrambles"? And, I can believe all this stuff can happen, just not by MS. With the exception of Windows, as far as consumers are concerned, MS is a "proof of concept" company only, leaving others to make tangible products for consumers.

Serious answer: Microsoft has delayed Andromeda at least twice. I'm not disagreeing with you. Microsoft will make a "proof of concept," flagship device for OEMs to copy, but Microsoft needs to lead the way. By "scrambles," I mean Microsoft is trying to cram a Snapdragon 8cx into this thing – and BTW, good for them, they should.

Interesting... IDK. I wouldn't be surprised if MS never showed up with Andromeda at all. I mean, the chance of Andromeda coming out all hinges on the success of PWAs, so..... PWAs don't seem to be anyone's priority any time soon.

Hmm, I wouldn't be surprised either. But if Centaurus proves to be a distinctive Surface device coupled with a distinctive Shell, Santorini then it can pave the way for Andromeda eventually. I believe that's what Msft is up to, to really understand the market and consumers.

I hope they prove me wrong.

There will absolutely be an Andromeda device, and as you've alluded to before Rodney, it will be able to run Android apps. …nice use of "hinges," BTW (wink).

I agree. The problem with folding phones is that for the added costs, it doesn't deliver any significant usability to a normal smartphone. It doesn't help that Android on tablets hasn't been able to get traction. Virtually no one buys Android tablet anymore. But iPad's and Surface Go/Pro do sell well. I see Windows powered device to be more valuable in a foldable device (assuming it can run Win32 programs), personally.

I wonder why, Android tablets imo are better than iPads in the sense that I can use input devices like mouse and keyboards AND use external storage. Add to that a version of Linux Ubuntu is available I don't see why or how iPad just ate Android tablets as a portable device to replace the laptops.

It will be cooler in 20 years, maybe.

Isn't Andromeda already dead born?
I mean the product might have potential but looking at Windows Phone (or other products), Microsoft abandoned the development early several times. How people can trust Microsoft on portable devices anymore? The risk that Andromeda will have a short life is high.