HoloLens 2 could represent Microsoft's next significant step in mobile
Microsoft introduced HoloLens and holographic computing in 2015. At Mobile World Congress 2019, HoloLens 2 may be the foundation for Microsoft's new vision for mobile.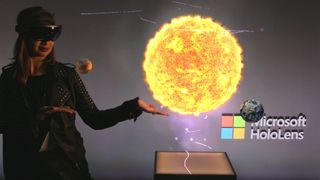 HoloLens, the tether-less, wearable, Windows 10 PC that projects "holographic images into the field of view of the wearer, enabling augmented-reality (AR) computing excited the tech world in 2015. The technology, which began as a gaming tool under the leadership of Microsoft Technical Fellow for AI Perception and Mixed Reality in the company's Cloud and AI Group Alex Kipman proved to many that Microsoft is still innovating. Microsoft and other companies see mixed reality as the future of computing.
When Microsoft CEO Satya Nadella saw HoloLens in action he envisioned applications beyond its gaming foundations and supported further innovation that brought the tech to where it is today. Though HoloLens has endured criticism for its limited field of view and high price tag, Microsoft has been successful with remaining true to its strategy to deploy it in tailored enterprise and niche industries. AR supported surgeries, the army, NASA, the education sector, factory workers, and the automobile industry have benefitted from local, collaborative and remote uses of HoloLens.
With the support of tools like Microsoft 365, Teams, Remote Access, and Cortana, Microsoft has been steadily evolving, expanding and proving the use cases for HoloLens and mixed reality computing. After four years, Microsoft's Hololens 2, with a possible Qualcomm 850 mobile processor, dedicated A.I. chip, Windows Core OS (Oasis), Composable Shell (CShell) and a sleeker, lighter design may be the always-connected-wearable-PC that becomes the foundation for smart glasses that, in time, replaces smartphones.
Alex Kipman says smartphones are dead
Kipman famously, or infamously, said:
Admittedly Kipman is a visionary who sees a future other people may not and that requires tech that may not yet be at the level necessary to support the vision. But Kipman isn't just a visionary. He is also an inventor who is actively building the computing-communication vision, with Microsoft, to which he is espoused. Microsoft's mixed reality strategy is being evolved in concert with Microsoft's Always-Connected PC (ACPC) plans with Qualcomm and others, the company's adaptable Windows Core OS and CShell strategies, the evolution and integration of mobile processors, and integrated A.I. that support the company's edge computing vision.
HoloLens 2 may not be the realization of Kipman's vision where AR glasses could replace smartphones, but as an ACPC on the cellular roadmap, it could certainly be the beginning.
Dona Sarkar says looking at screens is unnatural
Windows Insider Program chief Dona Sarkar discussed her vision of mobile computing beyond smartphones with Windows Central. She said:
Sarkar's vision of computing that doesn't involve "looking down at a screen," though less divisive than Kipman's "smartphones are dead" claim, is no less disruptive. The two are describing the same "smartphone-less" future. Sarkar supports her claims with direct references to Microsoft investments in cellular and ARM (necessary components of a connected computing-communication device), something that is "screenless" and interacted with via natural human movements. This sounds like technology Microsoft is currently evolving with HoloLens and Microsoft's mixed reality platform.
From enterprise to consumer
I am not claiming Microsoft will launch a consumer-ready HoloLens that will replace smartphones at MWC 2019. What I am saying is that goal seems to be on the company's long-term roadmap. And it is building the hardware, software, and infrastructure to make it possible.
Windows CoreOS, Microsoft's device-adaptable version of Windows is expected to make a showing on HoloLens 2 in its holographic computing iteration, Oasis. With Qualcomm's 850 processor, improved battery, and onboard A.I. that makes local data processing possible without relying on the cloud, the enterprise and education applications of HoloLens will be pushed even further.
Of course, some will see potential uses for HoloLens 2 among consumers, in areas such as gaming, entertainment, and personal productivity. Microsoft's dual user strategy continues to bridge the personal-and-professional lives of consumers through tools like Office and Microsoft 365, and Cortana. In 2015, Nadella suggested HoloLens could come to consumers in five years.
Whether that target is accurate is less important than the fact that a consumer HoloLens is definitely on Microsoft's roadmap. And it is this ultimate consumer goal that provides further context for Sarkar's and Kipman's statements about how HoloLens technology can ultimately replace smartphones.
If that happens, it won't happen overnight. Just as Windows PCs were targeted at the enterprise until consumer uses evolved and expensive PCs trickled into homes, I believe Microsoft will showcase at MWC a sleeker, faster, smarter, always-connected HoloLens 2 (that Microsoft hopes will lead to a similar OEM-supported trickle-down effect) for advanced and tailored enterprise uses.
Get the Windows Central Newsletter
All the latest news, reviews, and guides for Windows and Xbox diehards.
Jason L Ward is a columnist at Windows Central. He provides unique big picture analysis of the complex world of Microsoft. Jason takes the small clues and gives you an insightful big picture perspective through storytelling that you won't find *anywhere* else. Seriously, this dude thinks outside the box. Follow him on Twitter at @JLTechWord. He's doing the "write" thing!