Forecast HD, a simple but informative Windows 10 weather app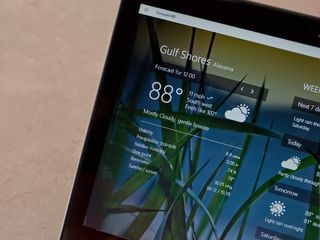 Suggestions for Windows Phone or Windows 10 app and game reviews on Windows Central come from a variety of sources. We get tipped by developers, find titles to review by surfing the Windows Store and get tips from our readers.
The other day we offered up a collection of Windows apps that featured some of the top rated weather apps. In the comments, a reader asked why the Windows app Forecast HD was never included in these roundups. It sparked our curiosity and after using Forecast HD for a few days we can see the appeal this Windows weather app has.
Forecast HD is a simple weather app that does a good job of delivering your current conditions and extended forecast to your Windows computer. While it lacks weather radar or alerts, it does have Live Tile support and plenty of customizations to help the app match your style and needs.
The primary screen for Forecast HD displays your current conditions, forecasted conditions a few hours away, a seven-day forecast and an hourly breakdown of the seven-day forecast.
Current conditions include the temperature, wind speed and direction, visibility, humidity, dew point, barometric pressure and sunrise/sunset times. You will also see any measurable precipitation, a brief description of the conditions outside and a "feels like" temperature.
The Windows 10 hamburger menu will reveal options to access the app commands, share a screenshot of the app and tap into Forecast HD's settings. App commands cover your forecast location settings that include using your current location, marking a location as a favorite for easy access, set a location as the default and pin a location to your Start Menu. You can search for locations from the magnifying glass (search field) off the primary screen.
Setting for Forecast HD includes:
General Settings; These options cover your language, what location to use on startup and location services settings.
Weather: Choose which weather services to use. Forecast HD can use Forecast.io and/or Yr.no.
Live Tile: Choose which location is displayed on your Forecast HD Live Tile.
Theme: Forecast HD has 21 images that can be used as background images. There is also the option to use Bing's Image of the Day or a solid color as the background. There is also an option for a dark theme that reduces the opacity of the background image and darkens the icons and fonts.
Units: Here is where you can choose the measurement units for temperature, wind speed, barometric pressure and precipitation.
Along with offering up the current conditions and extended forecast, Forecast HD also has a Meteogram feature that charts the weather forecast in graph style. Using the forecasted temperature as the base measure, the Meteogram includes a general forecast icon for various times during the next seven days along with the forecasted winds.
Overall Impressions
Forecast HD is an attractive looking Windows 10 weather app that does a commendable job of delivering the basic forecast information to your computer. While we were impressed with Forecast HD, there is some room for improvement.
I like the collection of background images the app provides and being able to tap into Bing's Image of the Day is a nice touch as well. However, the app needs the ability to use your images as the backdrop. Another two suggestions I would offer to help Forecast HD's curb appeal is the addition of weather radar and severe weather alerts. I don't think the absence of these two features are deal breakers but adding them to the mix would help the effectiveness of the app.
Overall, I liked Forecast HD and can see where our readers will find this Windows 10 weather app appealing. There is also a Windows Phone version of Forecast available for those looking for a simple weather app for the smaller screen. The app is universal so if you buy one version, you will have access to the other.
Thanks, Tafsern, for the tip!
George is the Reviews Editor at Windows Central, concentrating on Windows 10 PC and Mobile apps. He's been a supporter of the platform since the days of Windows CE and uses his current Windows 10 Mobile phone daily to keep up with life and enjoy a game during down time.
Except it's a Windows 8.1 app, although, looks great on a high resolution and worth the money.

Difficult to look elsewhere when MSN Weather is as good as it is!
Same with MSN News...

I use Forecast with my Lumia and find it a lot more accurare than any other weather app by far.... Give it a try

Except that I am not being able to update any apps or download any after the recent cumulative update on my hp laptop.
And a friend of mine cant use internet on her laptop the updates are all stuck at 0% for her.
That makes it impossible to do anything related the store.

Restore could be a solution.

Nothing beats msn weather imo

Best weather app for Australians is Weather and Surf Australia.

Yeah agree with the comments, msn weather does it all for me. Where are the instagram, snap chat etc? Even 6tag isn't here. More waiting windows 10 been out a couple of weeks even in preview for ages. Just seems like no interest still in the apps, just waiting, waiting, waiting

Wow, thanks :) That's awesome guys, didn't really think you saw my post! It's a Norwegian app as far as I know, and we haven't got so much crazy weather here (besides a yearly storm or two) so pretty much every Norwegian weather app lacks severe weather alerts. If that's a dealbreaker, the dev should probably look into it. Let's just hope the app gets some Windows 10 love in the future :) Also, the Windows Phone app is great...it's fast, looks nice (especially with the Bing daily background) and has the best live tile imo.

Weather to go does it all for me, the best weather app!

It's definitely a nice looking app and the dev did a great job on it. For my own personal use, MSN Weather works fine for me, especially on W10 Mobile. Of course, it's always good to see a weather app as we have a dire shortage of them on Windows Phone ;-)

I read the review and bought the app even though i have Amazing weather HD, Viether, weather preimium & some other. I may be a moron but i like to believe im a good kind of moron. I like to buy apps and support developers.. :)

This is a waste of time and resources. Why would anyone build a weather app when the stock app is even better and provides to the user everything they need. And worst all of all, you still have to pay for it? Don't get me wrong, visually the app looks nice and everthing but it can't justify being a paid app when you don't see what sets it appart.

I found this app a while back on WP and loved it. I went through the trial but it had so little recognition I was afraid if I purchased it would be abandoned. In my opinion, it was one of the nicest weather apps available so hopefully this get it the recognition it deserves!

@Carlos Luna; This app has been around for a while, and it's developer has been awesome enough to support every Windows platform before universal apps already. It also has about the cleanest minimal interface and live tile that you can get. Before the W10 app overhaul, the MSN/Bing apps were not great at all...

Working on on Win 10 Home and 10 Mobile 10166. I'm trying it because you can get Bing Image of the day and weather on the lock screen on 10 Mobile. There used to be more apps that did this, but they were either unpublished, or dropped the functionality.

Very good app, Yr is a reliable forecast station.

This is a nice weather app, I've used it for a while. If you use Forecast HD in the UK, you will find that you need to go to Settings, Weather and then untick Forecast.io - otherwise the accuracy is a complete joke. Yr.no is not bad at all, but it would be better if the forecast was sourced from the MetOffice or AccuWeather.

Download Forecast HD for Windows (Trail / $.99)

This has the one thing lacking From msn weather. Transparent Live Tile.

Is the price $.99 @lumio? I thought it's $ 1.99, isn't it? After all i was satisfied with this apps, and running in my Lumia 625 as lockscreen.
Windows Central Newsletter
Thank you for signing up to Windows Central. You will receive a verification email shortly.
There was a problem. Please refresh the page and try again.