From the Forums...Barter Forum is live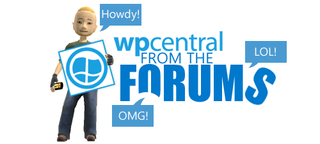 We have seen many requests for a area in the forums to buy and trade devices. We love to abide so with no further delay come join us in the Windows Phone Central Barter Forum.
Note: you must have 50 posts to sell your wares. For a complete list of rules please see this thread: Rules for posting in the Barter Forum
Remember, the forums are more fun when you register, so sign up today.
Well I've got some devices to offer, but am well shy of 50 Posts. Seems like a silly limitation, particularly to start off OMHO. I don't recall seeing this sort of thing elsewhere. Gues I'll just eBay, Craigslist or Freecycle my gear as usual. Other than this limitation, I think its a good idea.

I have 50 posts and will charge you 50% less than eBay! ;)

I moderated a forum in the past. The spammers were relentless. They would create new accounts just for spamming the boards. The 50 post rule makes perfect sense to me.

50 post is a rule on all the Mobile nation sites. and having 50 post is to prevent Abuse of the BARTER section and also to make sure you check your PM and read the *read me first section* some one with little post that's never online is not good , if they miss post and is end a PM to fix it , you have 1-2 days before i delete your post! also some one with only a phew post is less trust worthy then some one with 50+ if your not willing to post at lease 50 times then we are not willing to help you :) its a fair trade I think.

That makes complete sense to me, actually! It does raise one question for me, though: Do I have to have over 50 posts to BUY from the Barter Forum? (Of course, even if I could buy from the Forum without haveing over 50 posts, it would make sense that listers would be wary of completing a transaction with a newbie.)

sadlly we dont reallly have a way to MOD that cause most people contact each other by PM or by phone. so it hard to know whos buying what.

Can we post threads looking to buy a particular device if its not currently being offered?

You sure can :) , the same 31day member and 50 post rule applys :)

Members wishing to buy a specific item must use the following template:
• Thread title: (WTB)
• Item Description:
• Price Range:
• Condition:
• Payment Method:
• Contact Info:
• Additional Info:

Well I think the 50 Post limit is unwise, given that WP Central, along with Windows Phone is relatively new. You can look me up on XDA, MoDaCo etc where I have been posting since the glorious days of my MPx200. You'll find I have a good reputation for posting constructively and being helpful what I can. I switched to WP less than a year ago and so I have had less to offer oj this forum as I have been leading the platform. That doesn't make me less trustworthy or interested in maintaining a good on line rep. Oh, and BTW, something got scrambled with my account on WP Central early on and my original name - MadSci - ended up with its password being messed up, so I had to create MadSci2 - and now that's biting me as well.
Overall, not a very friendly welcome to the Barter system. I suspect that given the youth of WP Central, a lot of people with Gen 1 machines will be forced to take them to market elsewhere, which will limit the value of this Forum. So anyone looking to get a great deal on my HD2 or HD7s will have to look elsewhere. The safest part is that I really like WP Central and would support this wholeheartedly if I could :-(

Sorry, that should have read "learning the Platform". If I was "leading" anything I would be well over 50 posts! ;-)
Windows Central Newsletter
Thank you for signing up to Windows Central. You will receive a verification email shortly.
There was a problem. Please refresh the page and try again.