From the Forums -- Battery life and the Lumia 900 (Hot thread)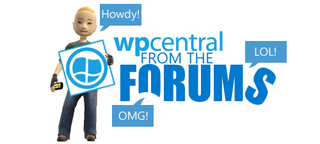 Sometimes in the Windows Phone Central Forums we discuss serious issues which brings us to today's hot thread. Today we are talking about the Lumia 900 and more specifically we are debating about the Lumia 900 "BP-6EW 1830mAh" standard Li-ion battery. Forum member ninjaap wants to know "Did your battery life get better?" as he has a Lumia 900 and he thinks his battery has become better over time.
The Lumia 900 runs on a BP-6EW 1830mAh standard Li-ion battery which is non-removable. Nokia states that this battery should provide you with 7 hours of talk time and 300 hours of GSM standby (you can get more information at Nokia). What we want to know is how your battery is and more important has your battery become any better with time? Forum member Mayoo agrees with ninjaap:
Forum member jimski has a different opinion. He thinks that heavy use of our new phone alters our perception e.g. when we first get our new phone we use it more thereby wasting more battery. We guess it could be true but how do we really know if we're using our phones less?
Continue reading...
We think it might be a combination of both. A Li-ion battery doesn't need to be fully charged and discharged to reach maximum battery life. This process is called "Conditioning". According to Battery Universe conditioning can actually damage a Li-ion battery and is not recommended. Maybe there is some truth to what jimski is saying though. Here are some battery charging tips for your Li-ion battery from Battery Universe:
Charge at a moderate temperature. Do not charge below freezing.
Lithium-ion does not need to be fully charged; a partial charge is better.
Chargers use different methods for "ready" indication. The light signal may not always indicate a full charge.
Discontinue using charger and/or battery if the battery gets excessively warm.
Before prolonged storage, apply some charge to bring the pack to about half charge.
Over-discharged batteries can be "boosted" to life again. Discard pack if the voltage does not rise to a normal level within a minute while on boost.
We also have more battery saving tips and tricks for you in our forums. This thread "Battery, tips and tricks" has info for Windows Phone users and how your battery can be maximized. Did you know that background tasks can eat battery? You can also use Battery saver mode, found in settings on your Windows Phone, to maximize your battery when you are on a trip. For all these tips and many more tips no all thing Windows Phone check out our "Windows Phone: Getting started!" thread.
How is your battery life? Have you noticed any difference since you purchased your Lumia 900? Let us know in the comments then join us in the forums for the in depth discussion.
Windows Central Newsletter
Get the best of Windows Central in in your inbox, every day!
dont have lumia 900 but my wp 7.5 HTC arrive battery can last whole day with fully charge. If I dont use my wp that much on that day it will last for 2 days yup it's true it can last for 2 days without not much use. Great about wp it don't have background open too much like we see in crappy android the king of battery eater and also iPhone 4s which also can't last whole day. Another great feature on wp is the battery saver which really helps give your battery more time because it closes more of the live open data that's being use. Wp is truly a great smartphone

My battery worked great from the beginning but I can say that it even seems a little more improved than before.

Own the 900. battery does pretty good all day with normal use.

My Nokia lumia 800's battery is great after the fix. It lasts me about a day and a half, with music playback, texting, taking photos and video, email and Facebook. As well as using the wpcentral app!

Cool! The battery on Nokia Lumia 900 lasted one and half day even use it very often

I have found I haven't had an issue with battery life. The 900 seems to last longer then my Focus did with battery saver on. My computer is old and dated so I use my WP moderate to heavy during day. I average to the time I go to bed while the focus was dying around 8pm.

The battery life on my 900 be dropping. Very fast I in less then 24 hours it drop from 1 day 4 hours to 20 hours idky . Any idea on what to do.

You probably need a replacement of the phone because mine was giving me 4-5 hrs max even after the software update but when I took it for replacement I can now go the whole day without charging the battery even with heavy use.

My lumia battery life seems to suck pretty bad. Every mornign, I listen to the radio or music while riding the train for an hour, while often playing wordament or browsing facebook, and usually one or two 10 minute phone calls. I will charge it up during the day while at work, then the same routine on the train ride home.
Usually the battery saver kicks in around 7 to 8 pm.
Also worth noting, I have the AT&T microcell at home, since coverage is poor, and a lot of people say that makes phones use more power.
Also, I'm in Chicago, which is all LTE, so more power sucking.
I really wish the battery did last longer. To me, its not very impressive.


@smcburney
Microcells kill batteries. We had one at my house. Then stopped using it because ATT improved the coverage and my battery life doubled.

Don't blame the phone it's the battery. Also turn off Xbox connect feature if not in use I heard if it's turn on background it eats up battery. I dont have lumia 900 and great about my wp HTC arrive 7.5 I can remove battery and swap a new one anytime. My battery last for 2 days when fully charge and with heavy use. Yup love my wp.

Your Microcell is killing your battery. Take a look at your discharge rate in the Battery Status section of the diagnostics app. When you turn off the data connection and use wifi when connected to the Microcell your discharge rate will hover around 100mA most likely. With data connection on while connected to the Microcell it'll be over 250-300 just killing you battery.

What I would like to see is a numeric/percentage battery indicator at the top of the screen Instead of the current battery indicator. And yes I know that in the settings area you can see the percentage, but I want to have it displayed all the time

I haven't noticed any such behavior with my Lumia 900. Instead now that I am more comfortable with the phone, I am sure I am using it more and the battery never lasts a full day. Love the LTE speed, hate the amount of battery it sucks. I agree with the comment of Darth Steele. There has to be an easier way to chk how much battery is left.. The indicator is not always enough, and the option in the settings menu requires too many 'clicks'

My LG Optimus 7 battery (1500mAh) can last for around 12 hours at most. Well, old phone. Has been using it for a year + alr.

I get about the same battery life out of my iPhone 3gs that I get out of my lumia 900. I play podcast going into work then I will probably chat on palringo for a hour and that is about a quarter use of battery life. As others said though by battery did go a lot faster and it improved after daily use for a week.

The battery on my 710 most certainly became better over the initial 4-week period. I know it's not supposed to be done (but my battery can be replaced very simply) but I ran two conditioning discharges in the first two weeks of owning it. What I can achieve varies wildly depending on how I'm using it, but if I were conserving it (say I was away from a power source for a while), I'd be confident of 2 days or thereabouts (remember the BP3L in the 710 is only 1300mAh) but with normal usage, I'd be confident of 12+ hours, and with relatively heavy usage, about 6 - 8 hours (say I was streaming a lot). I was streaming Sky News last week, on battery, and the battery wasn't full, but I did manage to do so for approx 3 hours, shame I don't recall where the batter was when I started. I'd say the 7.6 hours quoted talktime (for the 710 in 3G mode) isn't far wide of the mark, signal-dependent, although the 400 hours quoted standby time, might only be achievable with nothing running in the background (defeats the object of a smartphone lol). I currently have "push" notifications running on allsorts of apps, including BBC News, Facebook, WP Central and I have tiles like the 3UK livetile and weather channel all updating in the background, not to mention 4 email accounts being checked every 30 minutes... and my network is 3UK, which is 3G/HSDPA-only, and often recieves a very weak signal as it's on the 1800Mhz spectrum and still considered a "young" network and thus doesn't have the coverage of the "big-four" networks in the UK (the other two 1800Mhz networks share each others networks, and the two remaining big-four are on the 900Mhz spectrum which is much better for reception). I'm pretty happy with it, ansd it gives 900 owners an idea of where they should be, bigger battery, bigger screen, so I'd expect the same, or a little better than my 710 in all honesty.

You Sir seems to be using your phone as i do (podcasts instead of TV). I have the Titan and i get around the same battery power. Nice to hear because some say they use a phone for 2 days no charge...seemes impossible to me. But turning off all push apps, shutting down live messenger, turning on battery saver might be a way to go.

If anything my battery might have gotten slightly worse. Still can take it off the charger at 8 in the morning and with heavy use charge it again 12 hours later.

I think battery life on my 900 is overall pretty good. Compared to my old iPhone 3g and Focus S, I definitely get in the range of a couple of hours per day more battery life, which is significant. No LTE in Seattle yet so I imagine when it does arrive, I'll still be fine all day on one charge. Life is also affected by a lot of other factors, but the biggest battery suck I have found is when I have limited to no service. Makes the battery drain probably twice as fast in my experience.

My first Lumia had a horrible battery life. Barely lasted 8 hours for me. My replacement is much much better. I can easily get 12 hours from it with same amount of usage as my previous Lumia.

Battery life has not been great for my 900. Batter indicator had my battery life at about a day and a half when I first got the phone. Now it's barely getting 17 hrs at full charge. But I'm guessing this is related to the apps I've installed and the number if contacts I now have in the phone. Nowhere near as good as my blackberry torch but I would not go back.

Battery life just as good as my iPhone 4S, surprised and satisfied.

Not sure about all of you who are getting a day and a half. I only get 10 to 11 hours consistently with "normal" use. I am not streaming music or playing games.

Agreed. Idk how these people get a day and a half. I get 16 hours max. 13ish average.

I can get 2"days without use at all. Lol love it

I could see if you didn't use the phone at all you could get two days out of it. Maybe more.

I get around 14hrs with moderate usage. I don't go crazy with it all the time so I often get excellent gaps between charges. It's longer than the iPhone 4 I owned. But, in fairness, I used the iPhone 4 more often & played tons of games and tunes. Still, it's more than adequate. But I wish we has motorola razr maxx runtime. And my Lumia 900 would only be a few mm thicker.

My battery seems to be pretty poor in the Lumia 900. If I ever decide to play a game or watch some videos during the day, my phone will most certainly be at critical battery by 8 or 9 pm. The battery life may be my biggest dissappointment with this phone.

Same result here. Batter life has increased 50% despite constant use. I have more live tiles, more texts and emails, more GPS and location use today than I did a month ago.

I don't understand why people get so upset about having to charge their battery, its a smart phone, ur going to lose battery life if use your phone often. That's just the way it is, that's why it comes with a charger. I can understand if the battery drains and hardly even use your phone, that might be a problem.

FWIW - THE BIGGEST battery drainer on my Lumia was Applictations Messaging > Facebook Chat.
I couldn't figure out why I was only getting about 1 day of use from the phone (7am to 7am)... and at times, losing up to 10% of battery life in stand-by mode.
I turned OFF facebook chat and I can get an easy 1.5 days out of my phone, even under normal usage and LTE.



What bugs me the most is when someone discusses battery life and uses the term Normal use'. What may be normal to one person will be different for everyone else. Is extremely subjective and should really not be used. My opinion, but if you think otherwise, you're really deluding yourself. Again, what may be normal to you isn't to someone else.

Hence putting the word "normal" in quotes. However, a day and a half? I don't think so. Maybe turning off Bluetooth, WiFi, push and setting mail fetch to 1 hour. But then what's the point. I think some of us actually "use" our phone. Note the quotation marks again. So what's your battery usage?

I'm really happy with my Lumia900's battery life. Significantly better than my Omnia 7. I get around 16 hours with heavy use at weekends (games, Zune, calls, texts, surfing) and that's in a fairly poor reception area. Weekdays, which are much more oriented around calls and less "screen-on" time so my L900 goes for over 24 hours on a full charge. Great phone!

Mine worked fine... Last me all day and following morning...

This is true. The first two weeks I had my 900 I was in class. It lasted from 8 in the morning til 5. During the day I barely touched the phone except for the occasional time and email check. Phone would be about dead by the time I got to the car and plugged it in. This pissed me off at first but I noticed after the second week that it steadily got better. Its actually quite awesome now. I don't even look for my charger until I'm about to hit the hay. Note i did play with it alot in the first two weeks but that was after school when i was at home and the majority of time it being plugged in. So in my experience, honey moon phase theory officially debunked.

Battery life in my 800 sucks, even after the fix, which might even have worsen things... I might get 8 hours with regular use if I'm lucky

Hi,
About the lumia 900's battery life: I have been using the lumia 900 for about three weeks now. The battery life is/was amazing. Since I'm not a power user I was getting 1 day and 15hours out of it. My routine: Mostly messaging, checking emails, playing 1hr of music and 10mins of games in and out and occasional nokia drive.
However yesterday I was struck by what seems to be a battery drain. I connected the lumia to an FM modulator in my car and was playing music for 1hr, battery status: 85%, 1day+2hours. After unplugging the audio jack cable (which automatically paused the music player) I put it in my bag and never checked it again until 6hours later, when I found it to be dead. When i tried to charge it but it wouldn't start again until i held the start buttons for 10s or so. Before it booted up it showed the critical low logo. Today i have been monitoring it closely. No battery drain issue.
I also used my friend's lumia to play music in the car through the FM modulator, two days ago. Today, he also told me is phone was dramatically discharging to critical level 1hr left, after having charged 3hrs ago. His phone was hot and OS was lagging. It happened for the last two days and he was thinking of returning the phone to the service centre. Then i suggested forced shutdown, holding the on button for 10s. Since then, nothing seems to be wrong.
NB: In some forums people seem to suggest that it is the facebook app that is causing some battery drain. But both of us haven't installed facebook yet.
But it was a very unpleasant experience and I want to understand the problem otherwise this makes the phone unreliable.

I only get about 6-7 days from my Lumia 900 battery, and that's with moderate use. My Nokia E90 can last up to 11 days with that kind of usage.
Windows Central Newsletter
Thank you for signing up to Windows Central. You will receive a verification email shortly.
There was a problem. Please refresh the page and try again.