From the Forums: Hot threads & Not so well known WP7 functionality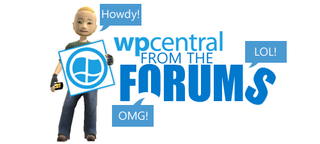 Do you have a Windows Phone in your hand? Do you think you know everything it can do? Wouldn't it be nice to get some helpful hints, some insight in to what functions are available in Windows Phone?
That is exactly what today's hot thread is all about. In his thread "Not so well known WP7 functionality" (started originally on Reddit), WPCentral Forum member saintforlife has summarized a thread for us that covers a lot of these points. With the help from other forum members contributions his thread is quickly filling up with a lot of helpful Windows Phone functionality tips.
Here are a few that forums member Jet Life added to the list.
"I've got a couple for the Zune player:
When a song is playing in the Zune app you can tap the artists name and go to their albums list.
If your playing music in shuffle mode and add a song to now playing through a tap and hold, it will be the next song to play. Same thing for an album
On the now playing screen in Zune you can tap below the song playing and it will list upcoming songs.
If you pin an artist to the home screen, you get the double tile."
Do you listen to the FM Radio in your Windows Phone? Forum member Winterfang added this one to the list.
Holding down a blank space while listening to radio on the headphones, gives you the option to use the speakers instead.
Do you have a lot of contacts in your contacts list? Having any trouble keeping them organized? We have some tips to help you with just that posted by forum member VizagDude.
You will find all of these and many more hints in saintforlife's thread "Not so well known WP7 functionality". This is simply a must read for even the most advanced Windows Phone user. We even learned a thing or two from this as well as just being reminded of a few tips we forgot.
Have a tip to share? Review the list in the original post in saintforlife's thread "Not so well known WP7 functionality" and if you don't see your tip, post it in his thread and he will add your tip to the list
Remember, the forums are more fun when you register, so sign up today.
Get the Windows Central Newsletter
All the latest news, reviews, and guides for Windows and Xbox diehards.