From the Forums: Lumia 900 looking old and cloud services madness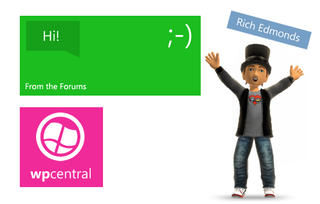 Welcome to another From the Forums where we bring you the latest and greatest discussions from our community forums, just in case you've been absent for the past few days. If you're into leaving comments on articles published on the main website, we strongly urge you to check out discussions also taking place in our forums.
Forum member Techblogger has created a thread detailing thoughts about the Lumia 900 appearing to be a bog-standard first generation handset. This is a shared view by a few other members, with irlju agreeing:
Do you agree that the likes of the Lumia 900 is appearing out of date due to Windows Phone 8 on the horizon? We've previously touched on this topic but it is definitely on the minds of owners. Let us know what you think in the comments, and be sure to voice your opinion in the "My Lumia 900 is really beginning to look First Gen" thread.
Mail, calendar, contacts and the kitchen sink
Do you like your mail served Hot, or prefer to use the Gmail Man? Guzzler3 has asked what everyone's using for cloud-based services, and what everyone would recommend for Windows Phone.
If you're up for posting some recommendations then be sure to reply to the "Mail, calendar, notes, etc. Service Provider?" thread. Are you an Exchange fiend, or old school IMAP with extras?
Miscellaneous: Forced to hate iDevices?
It's one thing to be a fanboy and hate products rolled out by competing companies, but it's another to begin hating said products because of a fanboy insulting what you use. Forum member v10type-r started a new thread detailing exactly that.
That's pretty extreme stuff right there, and is something that many of us have to deal with when it comes to electronics. People have tastes, favourite brands, designs and experiences, so it's almost impossible to say a product is better simply because. What many make the mistake with is to drive their "fanboyism" on other people, insulting products they use because they don't use something deemed good enough.
It's a damn good job we have Smoked by Windows Phone and the Dare to Live campaigns painting a strong picture for Windows Phone. What are your thoughts? Have you experienced this with competitor fans? Let us know in the comments and be sure to head on over to the "I don't hate Apple, but my friend is making me hate it." thread to join in the discussion.
Rich Edmonds is Senior Editor of PC hardware at Windows Central, covering everything related to PC components and NAS. He's been involved in technology for more than a decade and knows a thing or two about the magic inside a PC chassis. You can follow him over on Twitter at @RichEdmonds.
Its the one thing that's holding me back from purchasing a L900. It was outdated when it was released, and with WP8 just around the corner, I don't see the benefit on purchasing one either. :(

Good decision, come 6 months there will be zero support for WP7 and developers will largely have moved on.

Depends what deals you have. I took one last week on a 12 month deal, very happy with it and think it stands up to what is currently out there. WP8 may be coming October November, but that doesn't necessarily mean the best devices are. I can see it being at least 10months until a pureview arrives with needed patches and bugfixes. Which is what I've circled as my next device.

You make a good point. The first WP8 devices probably won't be the better WP8 devices. After all, they usually improve on each wave they introduce to the platform. You have to start somewhere and what works for you timing wise. Those like yourself, that purchased the Lumia and must wait for the contract to expire before getting that WP8 device, are probably sitting in a good spot to catch the second wave of devices and that's a good thing IMO.

I'm definitely waiting for PureView. My point & shoot is a dust collector and my DSLR idly used for making money, so I want/need my phone to be my go to, everyday camera.

Outdated from a SoC/OS standpoint but the actual design is pretty nice. Sometimse I just turn it around to look at the polycarbonate shell and run my hands over it, feeling it's velvety smoothness.

No one knows what's in 7.8. So no I cannot agree with anyone.

Come on, the Lumia 900 is 1st Gen, Nokia's entry to Windows Phone. They came later than the rest but it is their 1st device on the platform. If they would've been there from the beginning, I'd own one too. It's a nice phone. Because they didn't arrive until WP8 was in sight, I chose to wait for that WP8 device this fall. That's what works for me. For those of you who went for the L900, you had to know there was a possibility that it wouldn't be WP8 compatible, simply because you didn't have a guarantee that it would be. I too was very tempted to go against my better judgment and make the plunge for the highly desired Lumia. Since I'm one that can't afford to make the purchase off contract when WP8 gets here, I made my decision. I do hope they bring some of the enhancements you wish for to 7.8, but they haven't committed to do anything more than they've said. One can surely hope though. At the end of the day, Lumia owners have a very nice 1st Gen phone, one to be proud of. Plus you have Nokia backing the device with the extras they bring to the table. This HD7 is getting old and I can't wait for WP8 to get here!

Thank you for being one user who thought about things prior to buying the lumia 900. I thought about the variables you mentioned as well as read many articles that stated these devices would probably not get the update to wp8. I'm not upset with MS or manufacturers for the choice I made. Nokia developers continue to release good apps for the L900 and I'm totally happy with it, but I will get a WP8 when they arrive!

I've also got the hd7 and the battery on it is junk.:-P I have been contemplating just outright buying the l900 and selling it when WP8 arrives.

Just buy a battery from ebay. They have higher capacity ones there... Careful though as the ones with the most capacity are thicker and come with a special backing-plate for the phone (it should tell you in the ad)

I'm mostly happy w my 900, and would be entirely so if they'd fix one or two bugs. I know it's a more satisfying experience than the iPhone I sold off. While I tend to want the latest and greatest, I think I'm going to be very content with this phone for the life of the contract, and then I'll see what Nokia's doing. I have zero need for WP8 right now.

You won't be when all the awesome apps start coming out for WP8 :P

I'm waiting for a Nokia WP8 release. I wanted a 900 but not at the expense of a new device this fall, so I waited. That said, Nokia IS going a lot further in supporting their phones than the others. My Titan's wireless and headphone issues tick me off daily. As I've said all along, Nokia is doing a great job, and I can't intelligently fault them or Microsoft for the radical platform shift occurring.

I disagree. Just bought an L900 2 days ago when my focus bit the dust. What a great phone. Excellent hardware though Tango has not been pushed to it yet on the software side. Apollo is coming but when you don't have a choice and need a phone now, its just an amazing device. I am sure that Nokia will announce some really cool stuff in September that I can pick up next summer when my contract is up. As an aside while I was buying my L900 another was going out the door right next to me. Good job Nokia. Love it!

Lumia 900, old? Insane. It's the same amazing phone that it was in April. I picked up my old Focus a week ago and I didn't recognize the OS. So many great changes. Its only us geeks who care. I sell 7.5 with pride, number 1 in Philly and everyone of my customers is smiling wide when they leave. 7.5 stands on its own merit. Amazing device.

Do you tell your customers about WP8?

Of course not, he isn't even a retailer but another user that cannot admit being shafted - as soon as the new phones are out he will take a fresh contract and the 900 will rot.

Im sorry, but the Apple 'Fanboy' comment is just LOL. For years and years back in early nineties Apple users were abused by Windows users... Now the tables have turned and these very users are winging about it. You always get bullish abuse from people who prefer one product over the other - live with it.

The Lumia 900 does have it's faults but it's really a great phone. The screen is really big and the pixels are amazing. This windows phone is really a pioneer. - JustFab

I'll stick with my iPhone Prepper
Windows Central Newsletter
Thank you for signing up to Windows Central. You will receive a verification email shortly.
There was a problem. Please refresh the page and try again.