From the Forums: The Microsoft Surface phone and the company's Apollo secrecy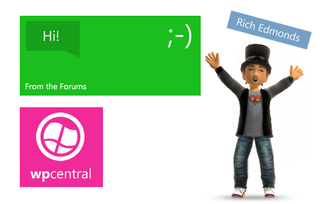 The From the Forums series of articles are published to round-up some of the hottest threads on the Windows Phone Central forum. Bringing readers the latest and greatest discussions, the From the Forum articles are here to keep everyone on top of popular threads. Head on past the break and check out what has been discussed lately.
We kick off with a discussion created to cover the rumoured Microsoft Surface phone, which we covered not too long ago. Forum member Simon Tupper asks what the impact will be should Microsoft actually be developing their own hardware.
It's an interesting piece of news indeed. One can look at Nokia, and view this potential move by Microsoft to be slightly off-putting, especially since Nokia has poured everything into Windows Phone, and Microsoft has provided the manufacturer with funds to do so. But even if the software giant launches its own hardware, it's not the end for Nokia and other OEMs.
As mentioned in our coverage, Microsoft would most probably make the said 'surface phone' available from its own stores, whether it be online or in one of many Microsoft Stores dotted across the US. Unfortunately, that could mean the device(s) wouldn't be available to those who don't reside in the US, but we'll have to wait for more details (if the device is / devices are real, of course).
Head on over to the "Surface phone and its impact" thread to add your opinion.
Holding out for Apollo hardware?
Forum user steve_w_7 has created a thread covering the wait for Windows Phone 8 hardware. The suspence and desire to purchase a new Apollo device is fairly high for many, but would it be wise to quickly invest in current generation hardware?
While it's worth noting that Nokia and Microsoft do not intend to leave those with Windows Phone 7.8 powered devices with a sour taste. We're still not entirely sure what's contained within the update that will be pushed out to current hardware. But it's always good to have the latest and greatest devices.
What are your thoughts? Wait, or dive in now? Sound off your thoughts in the "Anyone Going to Hold Out for 2nd Gen Devices?" thread.
Microsoft silent on Windows Phone 8, good or bad?
While we wait for the launch of both Windows Phone 8 and 7.8, it has started to worry some consumers that Microsoft is incredibly quiet on features and other bits and bobs that are included in its next version of Windows Phone. GoodThings2Life has published a sound argument in the "Microsoft's hush hush on WP8... good or bad?" thread that argues we should be patient until the unified launch takes place:
We'll be the first to agree that Microsoft still has some tricks up its sleeve and hasn't unveiled everything that's new in Windows Phone 8. That's the hope and expectation anyway. Consumers should be excited for the month ahead with the announcement of not only Windows Phone 8, but Windows 8 and the Xbox services / console update. It's going to be huge, which would make sense to keep as much under wraps as possible to simply go: "And this is what we have! Oh yeah!"
The Windows Phone Central community is the place to be for Windows Phone discussions and debates. Be sure to head over and engage with other Windows Phone fans.
Windows Central Newsletter
Get the best of Windows Central in in your inbox, every day!
Rich Edmonds was formerly a Senior Editor of PC hardware at Windows Central, covering everything related to PC components and NAS. He's been involved in technology for more than a decade and knows a thing or two about the magic inside a PC chassis. You can follow him on Twitter at @RichEdmonds.
Damn too much MSFT NEWS... JUST RELEASE THE DAMN PRODUCTS PLEASE
.

Yea im still rocking a first gen focus and now it has the 7.8 custom rom and it feels new again. I could wait til summer to upgrade now, its still very functional, lasts all day on a charge and i still love it! Just hate the camera, otherwise i wouldn't need to upgrade really =)

That was my beef with the Arrive. As a photo enthusiast who can't always lug around a camera bag the Arrive camera just wasn't cutting it.

If MSFT does not impress with WP8 after this lengthy wait and secrecy then there will be hell to pay. I'm going to upgrade no matter what, but this strategy can backfire big time.

ya, exactly my feeling also.

I've become very annoyed as of late with MS secrecy. I don't think it's serving the brand very well. Why would an Apple or Android user wait out a purchase decision based on what might be announced on October 29. Let everyone know now.

Secrecy causes talk, talk brings brand and product awareness which is a good thing. The more people are talking about this secret the more hype is built. Brands love hype.

Building up the hybe, huh? Even though I agree that MS has to have something that can blow us away, I can't avout to ask myself what if it doesn't? I've chosen WP as my system, and i'm really close to leave the Mac in favor of Windows, and I hope the guys at MS can pull it off like everyone expects them to.

I don't feel there is anything to be gained by waiting for gen 2 wp8 devices. I'm still on my gen1 omnia 7 and I've never found the upgrade from this to even gen 2.5 wp7 phones compelling enough. As great as another round of new hardware will be, the big news here is wp8 and the ease of which apps can be ported over from IOS and android when compared with wp7. Also the integrated NFC, wallet, voice platform and such. Wp8 is a much bigger deal than another iteration of hardware, so why not grab it asap and enjoy 2 years of great software upgrades.

I've been trying to find the words to talk this piece, but I think Terantek has made a valid point. Of course, this is someone talking from inside the box, just like the rest of us here. One needs to consider the situation that I'm in as well, where I'll be going into a contract right when these 1st Gen wp8 devices come out, so it's all about timing for a lot of consumers. If you happen to be in that time frame where you can upgrade or sign a new contract and a surface phone is announced, then it worked out perfectly. If you're a consumer that needs to have it no matter what, then you'll find a way to pay for it, and have that along with your 1st Gen device as well.

Same here, that's what I'll do, move from sprint to get lumia 920 then pay full for surface phone when they come out.

I love Microsoft, but even if they release a Surface phone, I'm still going with Nokia.

Wouldn't it be wise to compare them side by side before making that decision? One things for sure both would be supported but the Microsoft would get firmware updates quicker I bet.

I'm not holding out. Really want the 920.
I think it's good that they have kept things quiet about the OS but pricing, Surface included, should already be announced and available for pre orders.

There is no way in hell Microsoft can make a better phone than Nokia can. Nokia has years of experience, their labs is unmatched and they have arguably some of the most experienced camera guys. Microsoft doesn't have all that unless of course if Nokia manufactures it for them.

I wonder if this surface phone will be an AT&T exclusive also. ;)

@ZuNuKoo, Bite your tongue! ;)

I think what they are doing is good. Wait for the iphone5 hype to die down more then announce the killer new features just in time for holiday buying season.


Ok so now i get it ...When Apple plays the secrecy thing ; its fine and when some other company does the same ; its stupid.. Isn't it ??

Nokia isn't all in windows phone, they're all in at&t :/

... and give us the 7.8 update!

All I want is the 920 with 32GB + microSD... then I'll be happy :P
Windows Central Newsletter
Thank you for signing up to Windows Central. You will receive a verification email shortly.
There was a problem. Please refresh the page and try again.