From the Forums: Microsoft's upcoming event and the battle of the Apollo handsets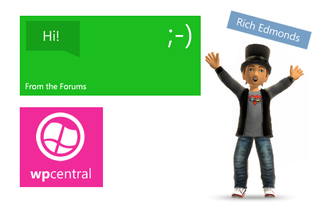 While we patiently move ever closer to Microsoft's Windows 8 and Windows Phone 8 events, our readers will have better luck at the Windows Phone Central community forum with the Windows Phone news temporarily dried up. What has been happening over the weekend, discussion wise? It's time for another From the Forums - *cue badass theme tune*.
We're first looking at Microsoft's upcoming events, that are so close, yet so far away. The long wait causes even the most patient of consumers to become insane with the mix of emotions. Did Microsoft and OEMs announce upcoming hardware too early, or are we all just thinking negatively through the incredible amount of tension?
Forum member Simon Tupper has created a thread to discuss the possibility that Microsoft actually made the wrong move to leap ahead of Apple. But with the Apollo launch just over a week away, we can't help but think the hype will be back on track right before the event. With so much riding on Windows Phone, Microsoft wouldn't allow the platform to begin to drop before it's unveiled. Then again, we could be wrong.
What are your thoughts on how we're progressing towards the 29th? Be sure to head on over to the "Microsoft event and the excitement?" thread to join in the discussion.
Which phone are you going for?
It's a tough decision to make for many. HTC has announce some new, colourful hardware, while Nokia has gone into attack mode with innovative features. Samsung has remained true to the company's smartphone development by offering a device fit to be the successor of the Focus family of Windows Phones.
We previously held a poll that asked which device you'd likely choose, as well as the colour of Lumia, but now ironsoulreaver has created a similar poll on the forums, but with more scope for discussion and debate. Fellow user mmoon24 replied to the poll with the following:
As mentioned above, it's a difficult decision, which phone does one go for? The handset with a more appealing design or the one with more advanced specifications? Jump into action in the "Which phone are you going to get on launch day?" thread, cast your vote and deploy your opinions.
Windows Central Newsletter
Get the best of Windows Central in in your inbox, every day!
Rich Edmonds was formerly a Senior Editor of PC hardware at Windows Central, covering everything related to PC components and NAS. He's been involved in technology for more than a decade and knows a thing or two about the magic inside a PC chassis. You can follow him on Twitter at @RichEdmonds.
Is taking a 920 to T mobile for anything but edge speeds even an option?

From what I've read, Edge is about all you'll get because of what T-Mo supports on its network. I could be wrong but that's what I've read about it.

I dunno. Rumors are you're stuck with EDGE in all but a few markets, but the Web site says the global 920 supports T-Mobile. I think it remains to be seen.

The 920 does not, and will not support all of T-Mobile's current frequencies. Maybe the refarm will fix that for good. http://www.wpcentral.com/unlocked-lumia-920-does-not-support-t-mobile-1700-aws

Exclusivity deals have killed a lot of my excitement.

Ativ For me.....if T-Mo picks it up...

its ATIV S for me as well. Can't complain about the hardware. Nokia just made things difficult for itself by not releasing L920 on every carrier.

For me it's more of, do I keep my 900 and buy a tablet since I'll be paying full price. The tablet seems like the better buy. I just don't know if that tablet will be the surface.

Yeah, the exclusivity wore on me too! Really, really wanted 920 but not on Verizon. Just going to either wait or move to AT&T. By the time 6 myths passes the next wave will be here.

I'm disgusted at the US carriers for not properly announcing options and availability. I buy into the Microsoft-factor for feature announcement, but the rest is all carrier and OEM driven, so it's inexcusable to have such confusion and lack of information. I have coworkers ready to make purchases, and I already lost one person to the GS3, because their old phone died on them. A lot of my users are on Verizon or T-Mobile, so 920 is out for them, but the HTC 8X isn't confirmed for all either, so it's quite a troubling spot we're in. As the OS leader, I do feel Microsoft should be coordinating this better.

I'm looking forward for the 8X, I'm more excited for the Windows Phone 8 event than I I'm for Google's event, even though I'm an android user!

While I absolutely love Nokia, I'm not a fan of the larger screens that are coming out at the moment, and 4.3" is the absolute top size for me to use the phone properly, that's why I am looking at the 8X, and it will be a done deal if they come out with a 32Gb version! I love the pillow design or whatever they are calling it

So it's just the screen size, that's too big on the Lumia, and not the size of the phone that's making you go for the 8X? I'm asking this coz the 8X is actually taller than the Lumia 920, dimension wise.

I am just going to wait for the surface phone

I wish I could... Its sooo hard

8x with 32gb! Forget nokia!

I don't think there is a 32 gb option for the 8x.

Yeah... No. You'll have to live with 16

ill go for nokia 920 or 820


The ATT exclusive for the 920 was really deflating for me too. I'm sitting here with a broken phone and an expired TMo contract, and I have no idea which decent phone will be available to me next week. Shameful, really.

The news taps have really dried up the last few weeks and the end of October can't come faster. Being in Africa, I can't get anything on release but I just want to know more on everything Windows 8. If all is exciting, I will get an unlocked cyan/yellow Lumia 920 early next year & surface pro.

Changing subjects a little .. I think Microsoft should sell their square logo as stickers , like Apple. I would buy it.

Apple used to include them in a lot of their products. A long time ago, in a galaxy far, far away, I had a bunch of the colored ones in different sizes.

Note 2 on tmo too expensive. GS3 doesn't have Flash anymore. Lumia 810 too fat and not enough flavor. One x+ on hold. HTC's rumored quad core wp8 quiet and unsure where its heading too if it does exist. L920 on ATT only. So much confusion and disorganization!

Nobody has Flash anymore. Adobe ended support for mobile Flash.

+1 here for the Lumia 920 in yellow.

I am shocked at the 6 month 920 exclusive, but im certain AT&T demanded it for the marketing dollars and in-store premium push. It took Samsung 3 models of the galaxy line before they had the leverage to do a global multi-carrier release. Perhaps Nokia is on the same path

I'm excited by WP8 in general, but the hardware has been a bit underwhelming. The 920 is in the lead, but no microSD in a "flagship" phone really kills it for me. The 8X is in an even worse position with only 16 gb. I have 16 gb at the moment and I'm always at capacity... 32 gb will last a bit longer, but it's still not enough. I just want all my music & photos on removable storage. I won't even consider the ativ/8s/820.
Windows Central Newsletter
Thank you for signing up to Windows Central. You will receive a verification email shortly.
There was a problem. Please refresh the page and try again.