Four-part video series with Windows Phone 7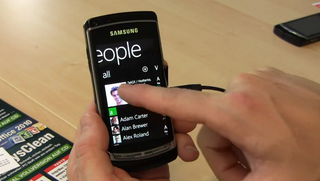 While this isn't a whole lot of 'new' in this video series, it's still quite informative and easily one of the best quality videos we've seen (Hello full HD and multiple angles! Too bad about the audio difficulties...).
In this series shot by www.magnus.de (Weka Media Publishing GmbH, Germany), Greg Sullivan, Senior Product Manager Windows Phone, goes through and gives a tour of Windows Phone 7 while talking up the philosophy behind it quite a bit. It's nearly a half-hour in total length, so it's broken up into four parts:
Part 1: Design, usage, the idea behind hubs
Part 2: The peoples hub, social networking
Part 3: The pictures hub, office hub, games hub
Part 4: Zune, voice command, Bing integration, strategy
At the very least, it certainly qualifies for phone pr0n and if you have time to kill at work today, take a looksy.
All four parts loaded after the break!
[Thanks, Stephen M, for the tip!]
Windows Central Newsletter
Get the best of Windows Central in in your inbox, every day!
Daniel Rubino is the Editor-in-chief of Windows Central, head reviewer, podcast co-host, and analyst. He has been covering Microsoft since 2007 when this site was called WMExperts (and later Windows Phone Central). His interests include Windows, laptops, next-gen computing, and for some reason, watches. Before all this tech stuff, he worked on a Ph.D. in linguistics, watched people sleep (for medical purposes!), and ran the projectors at movie theaters because it was fun.
Windows Phone 7 looks pretty good.

It looks like a really smart OS.
I do mean SMART.

Wow, definitely sold on this OS now... amazing

This is looking really really nice

WMExperts...please remove the obvious spam links from your comments...it look real unprofessional. Especially when you only have a few comments per article...

We routinely go through them a few times a day to remove them, so don't fret ;-)

I am sold on Windows Phone 7.
Their focus on getting the experience and services right really sells the phone.
Good work MS.. keep up the work, focus on slowly and steadily bringing new features and ideas that really differentiate these phones from the others.

I'm liking the deep integration across all of MS's services as well as some 72 social networks (=O). I'm really hoping that they ease up with the denial of skins, HTC Sense in particular. Rumors aside, I don't think it'll happen right away, but as much as the WP7 features seem to be well-built and quite appealing, I just don't know if I like that "tile" experience. Another thing that REALLY concerns me is the lack of a "get out and go to homescreen no matter where you are" button similar to the iPhone's round button or Android's Home button. Here's to hoping the OEMs add that functionality...like a long press on the back button perhaps?

At least at the begining it would be wise to keep everything strict for branding purposes. I can see them letting up later to allow some more in depth theming but allowing people to do complete UI overhauls isn't what this platform is about. On the home button front. What do you think the windows button is in the middle? That's the homescreen button.

Really? I swear I read that WP7 will lack that functionality (the windows button being simply a menu button). But, I have no idea where I read that, so I can't really support it. (Although in that entire string of videos, I don't recall him ever using that button...) Sorry if this an obvious thing...I'm new to the WinMo/WP ecosystem=/

seriously you make zero sense. windows button goes to the homescreen.

I don't understand why people keep asking for the ability for OEMs to completely re-skin the phone interface like HTC currently does on winmo 6.5. The craziness that Windows Mobile is has clearly made users think that a Windows Phone should be able to get stripped down to its core. If you don't like Windows Phone 7's UI then you probably shouldn't get one. Allowing companies to completely strip the phone of its native UI will kill or hide so many functionalities. Equally as bad is when the phone becomes sluggish or unresponsive due to a UI like HTC's Sence, users begin to blame Microsoft and spread the word that Microsoft's phone software is unreliable. I know the UI in Windows mobile 6.5 is bad, it left OEMs no choice but to make their own themes, but that also made every single windows mobile phone completely different with no unifying theme. I like the fact that with Windows Phone 7, regardless of who makes the phone, the UI will be the same, bringing some much needed uniformity to the platform.

If I don't have a facebook/myspace/twitter account, is it worth getting a Windows Phone..? I don't even have a Live account (but I do use Outlook for all my RSS/email/calendar/contacts/etc)..

It depends on if all of the other features appeal to you such as Office, Zune Xbox, Apps, etc. IMO it'll still be a great phone even if you don't have any of the social functions activated. In fact in one of the reviews someone said they added their Facebook profile and it pulled all 300 of his "friends" info to the phone... and his main complaint was that now his contacts had hundreds of people to scroll through and would be forced to use the search feature just to find someone (or pin them to the home screen).

Something can be said for the search button within the Contacts list. I have a Palm Pre right now and it also aggregates my facebook contacts to my phone. All i need to do is open the phone and type in the name i am searching for. I think it's a great way to find someone and is much more useful than scrolling through a list... even if this is relatively short. I am glad to see that functionality (mostly - you still have to hit the people tile and then hit search) has carried over to Windows Phone.

I like the Office, zune, and apps stuff.. Just to be able to sync over the air would be great, right now I plug up and use Activesync. We don't Xbox, but I might be interested in some games for the phone.. Unfortunately I just learned there is no easy way to access my Flickr pics or Blogger blog easily with a Windows Phone. I can't point to them via a Live account, and would have to completely move them (basically starting all over).. I have 8 years of pics on Flickr, I'm not starting all over! :(

You wont have to start over, flickr access for instance will come to Windows Phone 7 through the Mobile Operators. Don't forget that your not seeing the final build in these videos, which means for as much great stuff that is already here, there is more to come! MS is getting it right this time :)
Windows Central Newsletter
Thank you for signing up to Windows Central. You will receive a verification email shortly.
There was a problem. Please refresh the page and try again.