Foursquare can now show reviews in 50 languages thanks to Microsoft Translator's API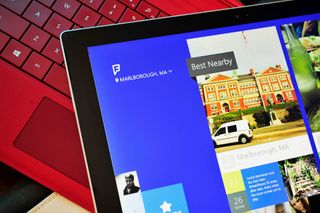 When you use the Foursquare online restaurant and event finder service in another country, it will now be able to translate any user-created reviews and tips to your language. thanks to a new partnership with Microsoft.
The Microsoft Translator API supports translations of 50 written languages, and now those tools are being used by Foursquare. Microsoft says:
The Microsoft Translator API is the same one that is used in the Windows version of Skype to translate text as well as voice calls in several languages.
Source: Microsoft (opens in new tab); Via: WinBeta
Is foursquare better than Yelp at this point?

It has always been, because Yelp is only big cities and limited amount of countries. Foursquare is everywhere.

Yes better bcoz it works in India.

I wonder how many of the 55 million users are active. I used to be a 4sq fanatic but hardly use it anymore, ever since they took the fun anyway.

Ever since the Swarm came.

Same here. Dumped the app when they changed.

Well the MS Maps app uses foursquare info. Because of their info the Maps app is a whole lot more useful. HERE used a lot of outdated info or simply did not have any. I start using foursquare again because of Maps.

Didn't know they still existed. Great i guess.

Do we have a Foursquare app for windows phone? I see Swarm in the store

The least they could do is return the favor and develop a Windows app. You scratch my chipset I scratch yours.

Not sure how good they are as I don't use Foursquare, but there are apps in desktop and mobile store.

That translator API is going to result in some cool apps

When Foursquare switched to Swarm it seemed as if my friends and followers did not use Swarm as much and activity just stopped so I just stopped checking in

Fortunately, I started using foursquare and swarm after the split. And I must say, it's not bad at all. Both the apps use the same account, but have distinct purposes. Foursquare is the app for smart suggestions and discovery, whereas Swarm is for checkins and social competition (read mayorships and leaderboards). If the Windows Mobile apps were on par with their iOS and Android counterparts though, I'd have no qualms with them at all.

If you want an "old school" Foursquare experience, I'd suggest the excellent 4th & Mayor. Much better than Swarm IMHO.
Windows Central Newsletter
Thank you for signing up to Windows Central. You will receive a verification email shortly.
There was a problem. Please refresh the page and try again.