Foursquare 4.0 for Windows Phone with a major redesign now available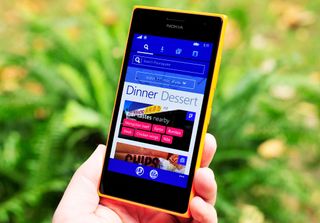 The redesigned Foursquare app for Windows Phone is now live on the Store along with its new UI and feature focus. Designed to run on all versions of Windows Phone, including the aging 7.5, Foursquare 4.0 looks to bring a more Yelp-like experience with discovery taking priority over social.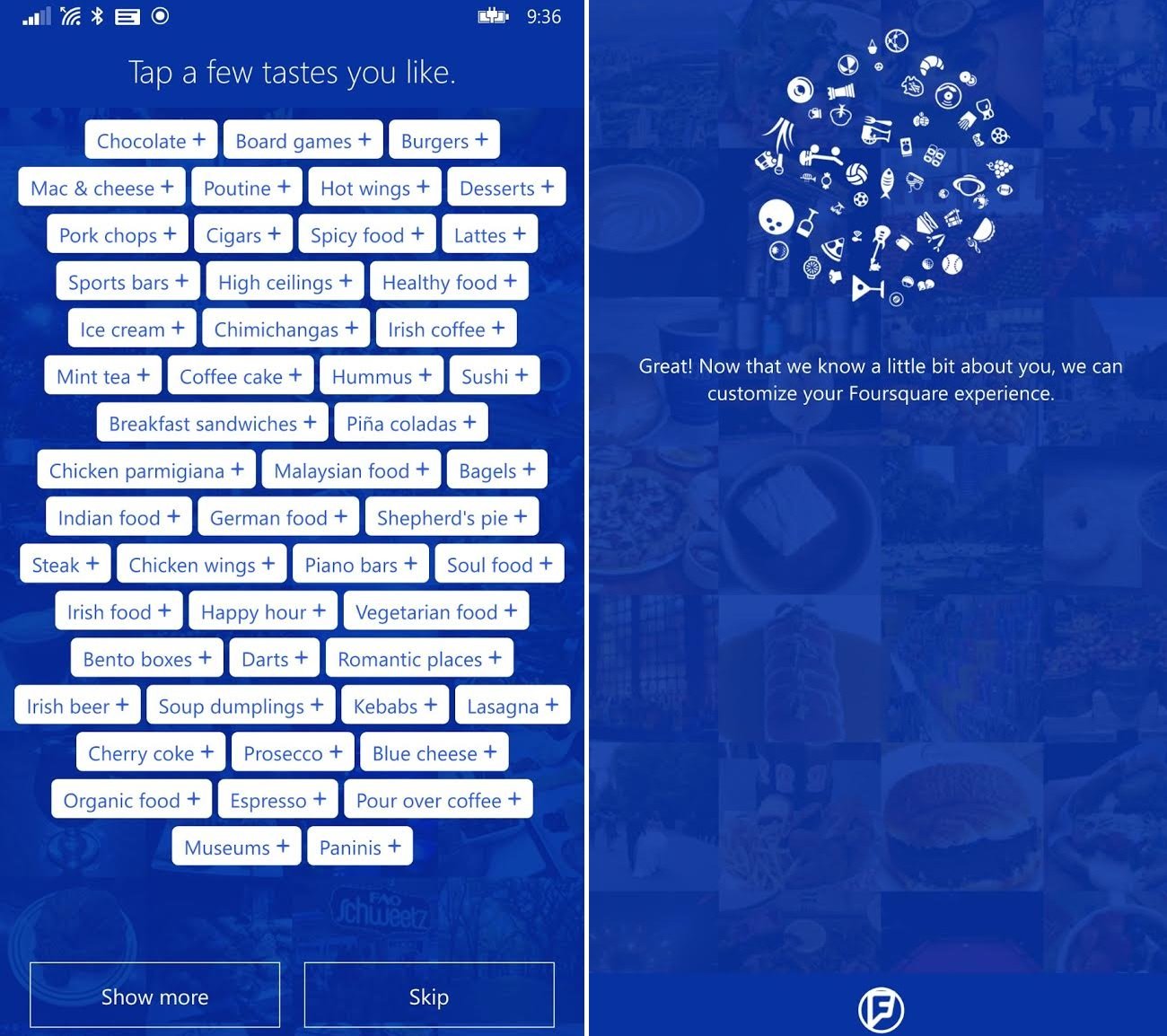 The new redesign may not win everyone over, however after running the new app for a few minutes it does have some clever and well thought out features. Interestingly, it does have a 'check in' option, although it is a button that launches the Foursquare Swarm app, assuming you have it installed. The handoff to Swarm works well, making the two apps seamless in usability.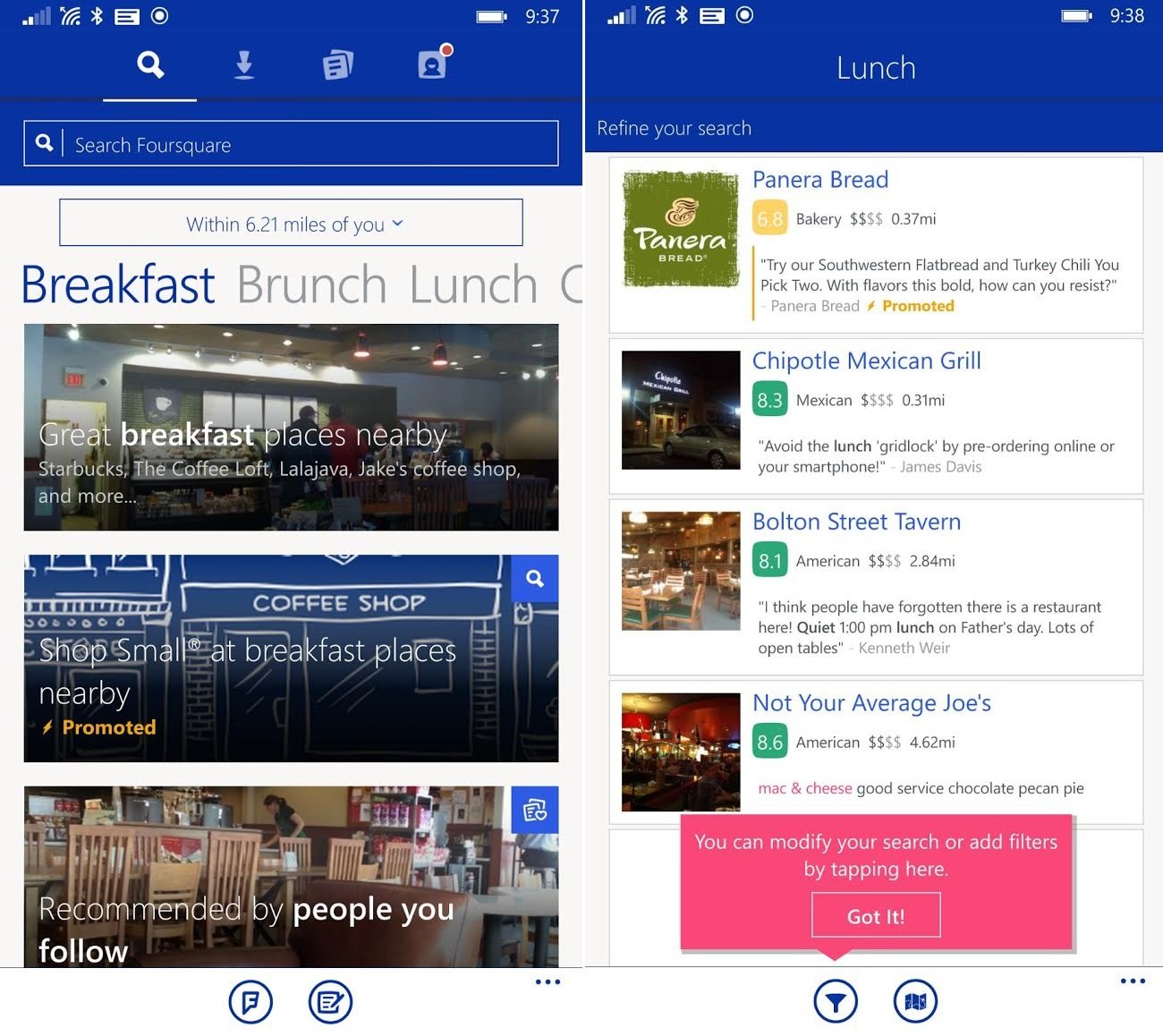 Foursquare 4.0 lets you pick certain categories of food and drink and then customizes searches for you based off of the input, which can be modified later on. From there, you can rate, save or share new discoveries in addition to leaving a 'tip' for others. Swiping to the right brings up Overview, Photos, and Details.
Overall, the new Foursquare app is a bit better than we had anticipated, though we will leave the final decision to you. Performance is 'okay' for a complete rewrite, although we hope it improves in later iterations. No indication yet of a similar redesign for the Windows 8.1 app, though we will keep an eye out.
Go and give it a try, leave your comment below on what you think.
Thanks, Benjamin C, Camden K and others for the tip!
Daniel Rubino is the Executive Editor of Windows Central, head reviewer, podcast co-host, and analyst. He has been covering Microsoft here since 2007, back when this site was called WMExperts (and later Windows Phone Central). His interests include Windows, Microsoft Surface, laptops, next-gen computing, and arguing with people on the internet.
I think it is horrible...

The Nokia phone in the picture looks horrible - What a large bezel indeed!

A matter of taste. It's the 730 I think, I love its design.

Feel like complicated after trial

I can't find a new version on my l800...the article says WP7 gets the redesign too...

To find new restaurants/bars/pubs to go to either in your immediate area or when traveling. I find it invaluable. Driving around and randomly choosing places to eat is an unnecessary task these days. The idea is to have an app suggest places for you based on your food interests. No different than a friend going "Hey, you have to try this new bistro near you..."

Are the recommendations actually any good?

They are based on users, so the recommendations are as good as the user base. In my use, yes, they are good most of the time.

Absolutely Daniel! Whenever I'm traveling, I always use this to find a good place to eat...without it, (ie...the 'old days') it was food roulette with food poisoning the possible outcome if you guessed poorly.

So a yelp alternative, that's cool I guess. I mean windows phone does already give me local ideas but I guess this goes further.

Yup. And the 'local ideas' that Windows Phone gives you are powered by Foursquare. This is just that but more indepth.

Maybe I'll have to give it a try. I've always used urban spoon and yelp. I always thought four square was just a check in thing.

lol wowww im not the only one! I ONLY use urbanspoon for the purposes Daniel mentioned and I also thought foursquare was for check ins and added more unneeded social crap lol will deff give it a try. The UI looks amazing and theres nothing I love more than an app that uses the windows sdk to its full potential.

Well, it is still powered by social, but I wouldn't call that "crap". You can see tips/recommendations based on people you follow.

Exactly Daniel...recall traveling in the late 80's...always a hassle to find/locate a nice food/libations establishment in a new city!
Present day...go Foursquare...lol!

You don't need it, but everyone has plenty to say when the ios and Android people get apps so now we are getting a update

I just use local scout or Cortana

Why? 4Square is DEAD to me. No mayorships? Create a new app to do something different and poorly? NO THANKS! :)

I never understood why people used foursquare.

Well, try this version. It's like Yelp, meant for discovery. It actually works very well. Put in your tastes/likes, the service finds restaurants, bars and bistros that you might like. I'm still 'new' to my area in Massachusetts, so an app like this is great for finding a place to go to. I think what you don't understand is the checkin stuff, which has now been removed from Foursquare and handed off to Swarm. In other words, it's completely optional now with less of a focus on the social/mayor stuff.

...and you can write your tip on the phone, unlike Yelp where you can only write the draft of a review on the phone and have to go to the desktop to publish. I think I'm uninstalling Yelp.

Its not just a competition on how many mayorship, checkins you have. Its a way to find idea for the place you wanted to go that others did.

I use it to keep a log of every good restaurant/place i visit. Last year I visited SFO and went to a good Thai restaurant. This year when I returned to SFO, I was able to see my old checkin to find out that restaurant. I can also do this with my friends. My friends in NY check in at different pubs, restaurants and whenever I visit NYC, i can use Foursquare to look it up. Foursquare is more popular in the East coast (NY area)...could be because they're from NY.

Any difference between the WP7.x and W8.x apps ? Because there should be.

Because nobody is developing for WP7.x anymore

Because the NT Kernel is more sophisticated or something

New or improved APIs in WP8 and 8.1 compared to WP7. Newer memory adjustements, different way the CPU is being used. More fluid, 60 fps animation possible on WP8 hardware than on WP7 hardware. The background agent works different in WP7, WP8 and WP8.1

Probably. But it definitely seems more idiotic!

Exactly.. I don't understand why they saw the need to split the app

Because not everybody wants to use it as a game. I for one want to use it to find a good place to eat at a reasonable price in some city that I've never visited before.

So, they could still have one app for both..those who dont want to check-in, dont need to (just like facebook) and those that do, can..so i agree with @Piyush , there was no reason to split the app. It's simpler and more seamless. As it is, we still get notifications on both and you can still check-in on both ...so they could have just made one app and simplified the UI.

I've never checked-in or used it in that way, so I can't really see it as you do, but I can say, from my point of view, this update is great for what I need the app to do for me. This sentence got a bit confusing, but I hope you got what I meant :) I think the UI is not complicated, and it brought a bunch of options that were lacking in the previous version.

I actually haven't updated the app yet, due to the reason I mainly use the old Foursquare app..more on that in a sec. I'm sure it is a great update and your sentence makes sense and I understand what you are trying to say, especially if you don't really use the check-in functions but that's also the point we're trying to make, you were able to use the Foursquare app without having to check-in, yet those who did want to use it the way you do, in additional to it's social features such as checking-in, could do that as well, it wasn't a broken system, they could have improved it without splitting it up, while also giving them the advantage of being different from similar apps. I used to enjoy using this app because it featured all these interesting locations yet at the same time, there was a fun element to it, which is why I personally feel they should have kept it under one app. All they had to do was just add a check-in section to the app. I've been using the Swarm app since it's release and I still have the "old" Foursquare installed but till this day, they haven't shown any good reason to split the apps, especially since both apps are still "connected"; you're on Swarm, you want to see more about a place, you click it takes you to Foursquare and vice versa, all they've been showing by still keeping the apps connected is more reason for them to be merged as one. Ironically, the main reason I actually use Foursquare and won't update to the new one, is an underappreciated featured found when getting info about a location; 'Get Directions' which connects to 'Here Drive' I simply love that and it's unfortunate if we're losing that feature. I find it easier to just enter the name of a place on FS and click on 'Get Directions' to take me to the location, as opposed to having to go into 'Here Drive' enter the address of the location and if you don't know the address, you have to look it up. It's such a small feature that works brilliantly and that's actually what I used Foursquare for the most, the rest was just a fun element to it.

I see what you mean. The way that the two apps interact is really weird, and yes, now that I read your comment, I also think it would make more sense as a single app.

Glad you agree buddy, hopefully they give both apps more purpose for separation but more importantly, i hope the 'Get Direction' feature is in the new app or gets included again..im afraid to update and lose this feature, so if you happen to find it in the new app, please do let me know so i can use the new interface.

Finally we've got the same version as iOS has had for months! Still Foursquare/Swarm just insn't the same since they changed the points and mayor system.

We are waiting such redesign for WhatsApp, line,,,,,,,,,,,,

LINE has it redesigned months ago, although it's a little redesign... well, I appreciate the developers who kept the metro design, but for me, it's time to catch up.

Peope still use Foursquare? I'm shocked! SHOCKED! But seriously, I imagine you have to be a real road warrior to stick with Foursquare this long.

Q: what do you suggest for discovery then? Yelp? Cortana (which is, ahem, powered by Foursquare)? It's a legitimate function, so I am curious as to what you prefer over this and why.

From what I've seen myself, a lot of people have moved on to voice assistants. Even if the backend is still powered by Foursquare, people are relying on built-in search functions more than the Foursquare app. And last I heard, Foursquare was still hemorrhaging users. Plus the new app is getting a lot of mixed reviews. http://www.imore.com/new-foursquare-time-to-switch-to-yelp It just seems like the search feature is "good enough" for most people nowadays. Hence why I said that it takes a true road warrior to stick with Foursquare.

Foursquare still has the biggest user base in my location compared to other similar apps, so yes, I'm still sticking with Foursquare!

Only because you are not using something, that's don't mean that people will not use it.

I do, but not a lot. I dont do a lot of eating out beyond local neighborhood spots I already know well.

At last, it really needed a big update like this....

Foursquare was touted as one of the major contributors to the back end of Cortana...Is it still that way or has Microsoft changed its policy??

Of course it's still that way. For restaurant suggestions, you can still see the 'powered by Foursquare' logo in Cortana/Bing.

Oh okk thanks...i don't use it often so wasn't aware of it...

Many like I, have been using 4sq as a Yelp-like discovery app, based on where similarly like minded friends go to. It's awesome especially when visiting a foreign city as I can see where my friends has been to and whether they enjoy the venue. The UI of the app is okay, a bit cluttered but otherwise easy to use.

It's horrible. And the app is disgusting.

Does it have the ' get directions to' feature that's on the old/current app the connects with here drive?

try it first, and you will know the answer ;)

Haha im tempted to but im afraid of updating and losing it, which is why im asking...so if you can answer that for me, i'll have a virtual present sent to u in my next reply =p

So foursquare or swarm? Which one you use?

They're different apps. One is for checkins and meeting up with people (Swarm) the other is for finding someplace to go based on your likes and interests at the time. They work together or separately but there is actually very little overlap.

In India, people mostly use zomato for tips and ratings. I love swarm more though. Actually the best is foursquare tips pops up on swarm as soon as I check-in, which is the best feature. Moreover this newly updated foursquare app crashed twice while writing tips and forced restarted my 925 once.

Both? What do you want to do?

This orange 735 in the cover photo looks like my 1020, but without those navigation buttons and the camera button.

I puked more beautiful than this last weekend!

Please dismiss the designers, it's ugly and I can't see any identity of modern design

I swear this looks like it's coded in plain HTML using only blue colour. Am I back in '98?

Is it an universal app ady since long ago? Or just after this update?
Btw when will windows central become universal app? #DontForgetYourOwnApp

WPCentral actually looks better on my note 4 than my ATIV S. Especially the comments. Everybody has there profile pic. It's way more polished on android. Posted via the Windows Phone Central App for Android

@Daniel_Rubino buuuuuurn ( ashton voice ) this is for the comment above:D

People are just ignoring this new UI redesign.Other developers could use this design for their app too.(like Instagram or 6tag?).

Why's the phone's battery icon [in the image above] showing 'connected to power' eventhough there is no charger connected to it?!

It was a photoshop. Or photo was taken seconds after removing the phone from charging plate. I say, photoshop.

Dading dading....
Mystery continues........

Won't log in and try to reinstall and a error :/

Being that the Swarm App is a buggy poorly designed mess and the beta for this App was so short I have little hope for it functioning correctly.

I'd rather the pink accent than those in blue one. Well, for keeping the design the same as the web one...

They've ironed out most the issues in recent Swarm updates and it's actually nice to use now.

crashed at the very first launch. and honestly the earlier version of 4Sq was much better. I dont think i need this app anymore. bye bye 4sq

It is not stable, it crash many time in 512MB device especially when loading contacts to find people.

Wow. Just wow. This much needed update is very nicely done. I love the layout and is fast on my Lumia 920. Well done Foursquare. Really well done. It is actually usable now. I'm dropping it on my start screen. It is well done.

Sarcasm? or is it true? lol

No, its true. I think the redesign is moving in the right direction. Its quite nice actually. Very well laid out and easy to navigate. That is what I need from it. The old design needed a refresh. You expected something else? Of so, what? Its Foursquare. It finds places to eat, shows current reviews, gives directions and if you want to do checkin's you can from Foresquare. What did you expect?

So its basically like Yelp. I hate that to switch between the top navigational buttons I have to actually reach up and touch them. As opposed to swiping.

It does need a transparent tile but that's an update I suppose.

I'll not update it at the moment since many people here says it was awful. Hehe.

I see The Smurfs have taken over foursquare.

I never understood the Foursquare - Swarm split. Regardless, the legacy WP foursquare app was the only reliable way to post a picture of a venue and get it through to twitter and facebook. Swarm always fails to deliver the picture to Facebook and is generally very unreliable and crashes all the time. Not to mention having to scroll a random list to find the friend you want to check in with you.

You can actually just start typing a name in Swarm and it'll list your friends.

Thanks, I didn't know that :-)

I don't know if it is foolish to ask does this change will brings any improvement in working of Cortana to....

I like the new design but its confusing at times. I can deal with it but increasing my radius or searching in different locations should be easier. The check in feature was easier as well in the old UI. I do appreciate the update and change but not sure if the addition of the swarm app is suppose to add to the experience. Should be one app.

Too buggy... Always get crash, layout problem when making phone call at the same time...

Swarm at first has it too, so just wait for the quick updates ;)

Personally I like the look of this app. People need to get adjusted to the fact that multi-platform apps (which is going to be most of what is on WP) are going to be one design for all platforms. The live tile appears to be gone though, and I couldn't find anything in the settings. I liked it a lot in the old version.

Disappointing. The Swarm app is pretty much useless to me. Seems i might return to Yelp! to track check ins. But I will give this a longer evaluation to be sure I'm not missing some awesomeness.

Opening another app to perform a function is not "seamless"

What's wrong with the windows central app.. I know not the place to say but I have no option... Every time I click the 'ask a question' button in the wc app it crashes.. What's that all about?

Still not selectable in the ME hub for check in. :/

I prefer 4th and Manor, because it does the same thing, and you can use the Social Extension through the Me tile to check in. ;)

Does anyone know why I'm getting error code "80073cf6" when I try to download the app?

Sounds like a Microsoft Account sync failure. Make sure date and time are accurate. Try turning off any limits in Data Sense. Try manual sync of your Msft Account. If none of that works post up in the Ask a Question forum and get a better chance of help than the comments of an unrelated article.

I like it, just a little buggy on my 1520, like every app on there just about. I can't change my profile pic.

Very good update, it beats the Yelp WP app in terms of speed and ease of use. Unfortunately Yelp still has more reviews and content. Hoping Foursquare can get this. I still use Swarm to check in and hoping that my recommendations will be good because of that.

Not understanding all the hate for this app. I'm really liking it so far.

Does someone here want to say whether or not the new version has the "get directions" options still?

Loll i thought i was the only one asking, no one answers that question and i dont want to risk updating and losing that feature...please let me know if you do decide to update and it's still there.

I think its great.....ui takes getting used too, not too keen on swarm though!

Just updated it. It is ugly as hell. Looks like a 90's webpage. I used to appreciate foursquare for the great app design, now it's like... i actually tought it's a joke. Plus, it doesn't even work anymore. I can't open it, it only opened once. I hope they'll restore it, i loved the old app. I don't see myself using this failure.

Does the live tile still work?

The UI is so confusing and has severe aesthetic deficits (i.e. ugly as hell).

1. The update installation was a mess: the Store stated Installed but not shown in the app list. Thankfully can uninstall via Storage Sense. 2. After redownload/install, the first run gave password error. Triple checked with other apps/platforms, all logged in perfectly. 3. Reset password. Same thing. Can't even log in with this new updated version. 4. Uninstall. Continue with 4th & Mayor app.

Anybody see any live tile action or able to log into their Twitter from the app? Both a No for me.

It's actually a beautiful phone. I love it

It doesn't look that bad. I actually appreciate an app that is taking the focus off of social back to functionality as a design principle.

To be honest, previous design was better

I really like the traditional pivot interface of Windows Phone apps. In my opinion, in terms of beauty, Foursquare 3 > Foursquase 2 > Foursquare 4. I like Foursquare 3 the most, because the map was just a tap away. And there was de "LiveSight" feature (like Here Maps/City Lens), which I was unable to find in the 4th version.

Hi
After this update the application didn't install on my Lumia 930
Windows Central Newsletter
Get the best of Windows Central in in your inbox, every day!
Thank you for signing up to Windows Central. You will receive a verification email shortly.
There was a problem. Please refresh the page and try again.