Free movie streaming service Popcornflix launches universal Windows 10 app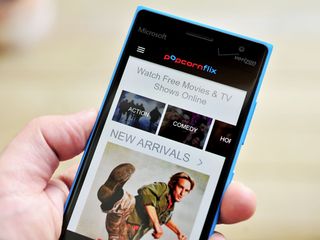 Popcornflix, a service that offers free streaming of a wide variety of movies, is now available as a universal Windows 10 app. Popcornflix is ad-supported, but the app will allow you to stream some classic big studio pictures, along with a slew of independent films on your PC and Windows 10 Mobile device for free.
The app itself appears to be a wrapper for the site using Project Westminster, but it gets the job done and frankly has some excellent titles available for streaming.
Though you won't find an overwhelming number of recently released films on the docket, a quick look at Popcornflix's catalog shows a good mix of classic hits like American Werewolf in London and The 'Burbs, along with more recent flicks like Monster and Paranormal Activity.
It should be noted that the Popcornflix service itself is only available in the U.S. and Canada. But if you'd like to check the new app out, you can grab it from the Windows Store link below.
Thanks, Chris W., for the tip!
Download Popcornflix from the Windows Store (opens in new tab)
Get the Windows Central Newsletter
All the latest news, reviews, and guides for Windows and Xbox diehards.
Dan Thorp-Lancaster is the former Editor-in-Chief of Windows Central. He began working with Windows Central, Android Central, and iMore as a news writer in 2014 and is obsessed with tech of all sorts. You can follow Dan on Twitter @DthorpL and Instagram @heyitsdtl.
I think by now companies and developers have seen and figured out that UWA is the way to go, Windows 10 is growing with updates and they don't want to be left out.

And to be honest, even Project Westminster apps are pretty solid. Not as good as native, but most regular people probably can't tell.

Haven't people been getting sued for using this? Not sure what happened with this.

Nah, you're thinking of the other 'popcorn' site, which is an illegal torrent one. This one is legit.

Yeah, this has been on the Amazon store for Fire TV for some time.

Some freekin weird b-grades on this one, yet I'm pretty impressed most of the time, what does that say about Hollywood at mo...

lol "regular people" only the weirdos can tell. just kidding

Project Brussels is the greatest, much much greater than Project Westminster... ./.

UWP UWP UWP its a great time to be...

Cool. They're have a decent catalog. Not amazing. But if you enjoy cult classy or the like, you can get some extra kicks out of it too.

Is this app on Android and iOS, too? I've never heard of it.

Never heard of it either and watching it now.

Same. I'm taking a look at the catalog and I see some things that I might want to watch.

Does it have fear the walking dead season 2???

Amazon has it for Fire TV.

It has been on iOS and Andriod for years. Also on Xbox, PS3/4, Roku, Amazon Fire etc.

We need an official movie maker by microsoft

Like Windows Movie Maker?

have you every used it recently? it is the same app like 10 years back....time to get a new one with more features and types of video encodings...it is too damn old and too damn light

Yes, they're a legit company, movies are supported through advertising, which last I checked companies only sponsor legal entities. You're thinking of the other Popcorn site, which is not legal.

I would like to see Popcorn Time app in Windows store.

We prefer to keep it legal around here.

Well its available on IOS and Android.. It's just a torrent based app. You buy a movie, share it with others and everyone's happy XD JK, I thought this app was also like Popcorn Time (not legal) so why not to have both of them :)

I've wandered to the Popcorn Time site before...it is SUPER tempting. Great design, looks like something Apple (I know) would put out. But I just know it's fully illegal, so I've never used it. Wonder if people really understand the ramifications of using that site. If they are unaware, I highly doubt they are benind a VPN or whatever.

The company is smart as they push a pay-to-use VPN service to users of it. Clever bastards.

Clever bastards indeed. http://www.windowscentral.com/how-watch-bbc-iplayer-outside-uk

I think I had this on the XBOX 360.

Can't wait for uwp on Xbox one

Its already on Xbox one. Has been for quite some time

Nice! I occasionally use it on the Roku stick. Glad to see it arrive to W10.

Please make it universally available. We also watch all those movies and shows even though we are not in US and Canada :)

I am not in US or Canada even though app is working fine and movies are playing

It is probably about rights. They only have the right to show these movies in the NA-area.

So maybe I'm a bit old fashioned, but if I download free music or stream free movies, shouldn't I be worried about doing illegal things? Posted via the Windows Central App for Android

This is a legal site that's supported by advertising. The movies are free because they are no longer (or never were) profitable enough on their own. Posted via the Windows Central App for Android

Is this a legal distribution of copyrighted content? I know of other Popcorn named apps which weren't.

Thanks for the tip. Downloaded and installed to go with Crackle when other forms of entertainment are unavailable. Streaming looks very smooth. Until I can get Kodi on Win10 mobile, this will be my defacto app. However, like every single mobile webpage (!), it would be nice to be able to zoom out and scan multiple titles at once.

Free ad supported app? I'd gladly pay a one-time fee for an ad-free version.

A one time fee for a lifetime of movies? Queue Dr Evil... Posted via the Note 4/Nexus 7 (2013)/Lumia 1020/Lumia 2520

Good thing it's a free service because nobody would pay to use it. The selection, both quantity and quality, is decidedly poor.

Not available for me. Need to chnage country?

Only US and Canada!!!?? Ofc

Yeah, they don't have the right to show the movies in Sweden.

Lol, ok, well I'm not from Sweden

With tons of ads. No thanks! Torrenting is better.

Cant download it because no install button is appearing

Hate region limitations :p

"It should be noted that the Popcornflix service itself is only available in the U.S. and Canada" Not true. I'm in Greece and movies play without issues (no i'm not using a VPN)

One of the good things of having your Microsoft Account registered in US.....

Has Bing rewards program stopped working in India?

Does it support Continuum?

"popcorn" site is not illegal it is not their fault that users dowload stuff that is non-free

Which phone is that? Looks great!

It's the Verizon (U.S.) version of the Lumia 735 in a blue shell - it released (much) later, hence the Microsoft label in place of Nokia.

does this also include the youtube red shows?

Very badly designed app for PC. No ability to go back button after navigation. Not designed for mouse and keyboard.

Is it illegal to use this app?

No, revenue is through ads. It's like a Crackle type service. Posted via the Note 4/Nexus 7 (2013)/Lumia 1020/Lumia 2520

Sounds good, wish we could.get in the uk.

I downloaded the app yesterday after reading this article. The app works well and as far as movies goes there are some decent flicks. I love westerns and there are a few I haven't seen in a long time.

not working for me on phone or pc just a white screen???

It's not available in the UK this app yet another app I can't get sigh

watched some free movies from this one during holiday on my Xbox one, glad they made a UWP app now as well.