Free-to-play PC mech action game Hawken is coming to the Xbox One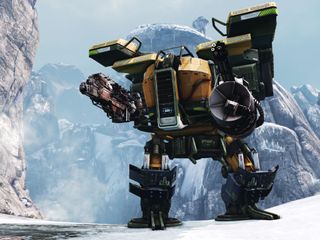 Reloaded Games and 505 Games are bringing the PC free-to-play mech action game Hawken over to the Xbox One and PlayStation 4 consoles.
Hawken was first released for the PC, via Steam, in 2012 but its original publisher shut down in 2015. Reloaded Games quickly bought the rights to Hawken and will bring it over to consoles, with the help of 505 Games. Here is a quick look at its features:
30+ mechs in multiple classes with more to come - Players determine their method of mass destruction. Pilot lightweight assassin-like mechs or wade into the thick of action with heavy bruiser mechs.
Exceptional customization - Players can choose mechs with massive sniper rifles, powerful cannons, explosive rocket launchers and much, much more. Select from among an array of cosmetics, upgrades, enhancements, and consumables.
6 game modes - Players can play cooperatively or competitively in Deathmatch, Team Deathmatch, Missile Assault, Siege, Coop Bot Destruction, and Coop vs AI Team Deathmatch modes.
9 stunning environments - Players can experience a planet in the depths of war by battling across decaying cityscapes, desert towns, post-apocalyptic wastelands, jungle outposts, and secret weapons facilities.
No release date for Hawken for consoles was announced.
I was about to ask if that was still a thing and I see that no, it isn't. Nice of them to bring it back. It was mildly enjoyable.

titanfall 2 is way better

Different games, in my opinion. Hawken is purely mech based combat. With a lot of different mech classes/loadouts. Titanfall is a mix of mech combat and a first person shooter. There are only 3 varieties of mechs in titanfall.

In Titanfall 2 theres 6 different titans if i remember correctly, and yes, i think Titanfall will be better in the mech gameplay, or might be equal. Eitherway TF2 will probably be played more for me, but this still look interesting.

I would have been happy about this if they had ever bothered to deliver what they promised on the PC version (read destructable environments). But they seemed to just stop working on it. So, I guess I now know where they decided to place there efforts.

Have heard only a few comments about the game. Sounds interesting enough and hey! it's free to play :)


Is this like a multiplayer MechWarrior?

Yes mech Assault Ragmarok
Windows Central Newsletter
Get the best of Windows Central in in your inbox, every day!
Thank you for signing up to Windows Central. You will receive a verification email shortly.
There was a problem. Please refresh the page and try again.