Free Windows Phone avatar prop for Xbox 360 owners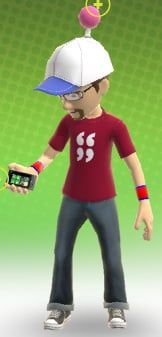 The Xbox 360 is a great place to advertise Windows Phone 7 as the phone's Xbox Live features are designed to appeal to console gamers. Now gamers can learn about Windows Phone and get a free avatar prop for their trouble.
Here's what to do:
On the Xbox 360, switch to the Inside Xbox section of the dashboard.
Find the tile that reads: Get a free Windows Phone for your avatar/Your avatar is the special guest on Hot Apps with Laura Foy (it's marked as an Advertisement).
Watch the video and then…
You'll see a zoomed-in view of a Windows Phone. Navigate the cursor to the "Keep the phone!" tile. Click it and download the avatar prop.
That's it! Have your avatar call my avatar. We'll go out for ice cream.
Windows Central Newsletter
Get the best of Windows Central in in your inbox, every day!
Paul Acevedo is the Games Editor at Windows Central. A lifelong gamer, he has written about videogames for over 15 years and reviewed over 350 games for our site. Follow him on Twitter @PaulRAcevedo. Don't hate. Appreciate!
US only of course Grrrrrrr

Non-global. What a pile of dross.

Not working for me. Toronto-Canada. :(

danm it, im in BCi guess i won't bother go trying

Not in the UK, damn it :/

It will get to UK and ROW later hopefully sooner rather than too much later. Maybe faster than the security update for ATT phones>

Pickin' up 1 for each family member as we speak.... real phones in a few weeks.

Not in UK what a surprise, these things never are

It would be cool if they would add the 'I heart Windows Phone' shirt for your avatar.

I have to admit, that was awesome and funny. Not sure what took them so long to do such a trick, but it's such a good idea.And yeah, a 'I heart Windows Phone' shirt would be brilliant.

another fine example of MS not acknowledging anywhere outside the US. (getting annoying at the lack of support, even here in UK)

This was actually in the Spotlight section not the Inside Xbox section when I went to look for it.

I can't find it! It's not anywhere to be found on my system!

It's not in COLORADO, either, I guess!

Seriously? Digital accessories for my digital avatar, created by Microsoft, promoting their product is region locked??

i downloaded it, but can't find it in the Avatar Store. I looked under "Props" , but didn't see it,....so where is it?

Same here, I downloaded it, but can't find it. I doesn't give me the option to wear it.

I haven't been able to find it at all, where is it? I'm in the US (Tx), so I know it should be there...

There's more to it I think, or its really finicky. I got one for myself this morning and added it fine (props I think) and now just went to do it for my son on the same xbox and my wife on the second xbox and can't find it anywhere.

I had to change my programming from Family to Standard for the video/tile to show. Check that out if you aren't finding it.

Part of the reason the phone is not availible in order regions, might have something to with the phone being demo on the Xbox is a Sprint Arrive. Sprint being a U.S. company, maybe they will change the Sprint since carriers around the world have the same(8GB thought instead of 16GB) phone, or maybe use a different phone for the demo.

Is this available via the Xbox Extras on WIndows phone 7 ? (where you can customize you avatar)

You have to actually GET the prop first from the Xbox 360 dashboard. Once acquired, you can add or remove it with your Extras app.

I finally get it to show 5th or 6th under Spotlight (may have to sign in/out and restart multiple times) and then click it, shows a loading circle, then redirects me back with nothing!

Found a possible reason, it may only be one per xbox live account including family accounts. It was nowhere to be found on my wife's account, but I happened to move her off the family account to her own and then it showed up.

Anyone outside the US after this prop?Follow my simple guide! Firstly set up a us account, this sounds complicated but it really isn't. Head over to microsft.com and set up a new hotmail account, putting US as your location and filling in the rest of the details however you like (You need a zip code but they are easy to find in google) then switch on your xbox and go to "switch profile" then set up a new account using the details you just set up an account with. Using this account you should now have the american dashboard up. Take a second controller and sign into your account (the one you want to get the phone for) now use your first account to search the spotlight feed for the windows 7 phone tile, click into it and watch any of the videos (I chose the xbox games tile) then there will be a tile that says "Keep the phone" !IMPORTANT! Now sign out of the american account on that controller and use your regular account to click "keep the phone" and it will come up with the usual screen for downloading avatar items. Click yes and it will download and you should now be able to find it in your avatar's "Prop" section.Hurrah! Hopefully you should now have a phone! I'm in the UK and this worked for me, feel free to hold onto the us account to get some nice promos / gamerpics or delete it straight after, your choice!(Not sure if any of the admins want to put this in the main article or front page it as a fair few people seem to be after one)

Anyone know if this is still available?
Windows Central Newsletter
Thank you for signing up to Windows Central. You will receive a verification email shortly.
There was a problem. Please refresh the page and try again.