From the Forums: Windows Phone up against competing voice assistants and favourite features of the Lumia 900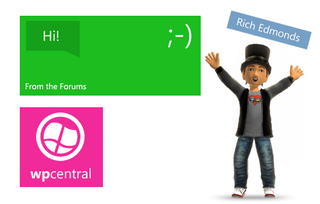 It's time for another 'From the Forums' where we bring you only the latest and greatest threads from the Windows Phone Central community forums. If you have been absent for the past few days, this round-up will provide you with everything you need to know.
Kicking us off is rsuter who poses the question "Will WP8 beat this?", where he asked the community if they thought the next Microsoft mobile upgrade could compete with Google and Apple when it comes to voice recognition and assistance. We've already got commands that can be performed by a Windows Phone when speech is detected, but how will it evolve?
So what do you think of competitor voice recognition and assistant technology, and how do you compare it with Windows Phone? We believe Windows Phone 8 has a lot to bring, and I've always been one who rates the functionality of Windows Phone above Siri and Android alternatives. Using Windows Phone, it simply sounds less robotic, but it could just be personal preference. We're interested to hear your thoughts and opinions.
What do you like about the Lumia 900?
The Lumia 900, Nokia's flagship Windows Phone. How do you rate it? ptath2 has created a thread asking other Windows Phone Central members what they love most about the smartphone. Is it the massive AMOLED display, or the LTE connectivity?
Do you agree with ptath2's points? If not, what's your favourite feature(s)? Head on over to the "What do you like best about your Lumia 900?" thread to voice your views. We've previously reviewed the Lumia 900 and rated it highly with its impressive Windows Phone experience.
No wonder Windows Phone is losing?
based_graham has created an interesting thread, which highlights a number of potential reasons why Windows Phone hasn't been able to take off just yet.
We'd have to agree with the massive challenge Windows Phone has to at least make a dent in both iOS and Android marketshare. The beauty of such a position is the underdog status. Windows Phone has more criticism than praise, but when it's a good time the times are super sweet. With the announcement of Windows Phone 8, coupled with Windows 8 and Xbox Live, this is what Microsoft has in its arsenal that both Apple and Google lacks - ecosystem.
Apple has OS X, which is no where near as established as Windows, and Chrome... well... not really much to comment on this? It's the beauty of Microsoft's product line and foundations. With such an array of services and products available, it's going to have a massive impact on Windows Phone when Windows 8 sports a similar interface. If one loves the Metro UI, and they're aware of Windows Phone, why wouldn't they switch over? Head on over to the "No wonder why Windows Phone can't barely grab marketshare" thread for more details and to voice your opinion.
Miscellaneous: More Android refugees
While windows Phone continues to grow, we're seeing increasing numbers of refugees from other platforms - especially from Android. Flippzii, a disgruntled Android owner, has published his somewhat dissatisfied experience with the Samsung Galaxy S II. From freezes and 'lag' all the way to phone rebooting at least once per-day, it's not a good story:
If you have any tips, advice or information for Flippzii, be sure to reply to his "Unsure Android user" thread.
So there you have it folks. If you haven't already, check out our Windows Phone forums for more juicy discussions and heated debates.
Rich Edmonds is Senior Editor of PC hardware at Windows Central, covering everything related to PC components and NAS. He's been involved in technology for more than a decade and knows a thing or two about the magic inside a PC chassis. You can follow him over on Twitter at @RichEdmonds.
I've already posted in the forum, but in regards to TellMe I find the voice detection quite infuriating. I often have to try numerous times even for simple commands ("call mum"). I used to attempt texts & emails by voice while driving, but as you have to get it all correct in one shot I find I have to repeat myself endlessly. It's much easier to wait for a traffic light and type it. I am a well-spoken Australian but it often helps if I over-pronounce my r's / talk like an American. I appreciate that I have to slow down & speak clearly but I shouldn't have to put on a weird accent. It's still got a long way to go before I'd really bother with it regularly... I have no idea how it compares with Siri or whatever is on Android. Hopefully TellMe is vastly improved in WP8, both in terms of functionality and recognition.

I have no problems with it

I love tellme and it works pretty well for me, aside from the few times when there's a random mistake. Maybe because im American? Siri makes its mistakes too, but I use tellme most to call people and to open apps. Siri can't do the latter (it can in ios 6). The only thing missing is playing music, that would make it perfect and on par with the competition IMHO.

Have you tried the app Hey DJ, it plays your music by voice command. There's a free trial.


Sometimes it's hard to understand the Australians even as a human being ;)
But yes. I heard even iOS users rant about Siri.

Haha :P It really depends what you're used to. A lot of people (even Australians) think I sound British. I used to work in a clothing call-centre and would often speak to Americans. Older people seemed to have a harder time understanding me. I used to ask what their "collar size" was and quite often get a perplexed "colour size?!" so I had to say "neck size" instead ;) I've even had to translate from English to English as someone couldn't understand the first person but they could understand me when I repeated the exact same thing (the first person was completely bewildered by this).

My point being... That I should be easy to understand but TellMe gets it wrong a lot of the time :(

Well. I'm not a native English speaker. But when listening to an US speaker I have no problems with that. On the other hand I have to concentrate a little bit more while listening to a British speaker. When I once was in Manchester, UK I've got an impression they actually don't speak English but Dutch ;) It was such a huge difference. On the other hand when I was in the US on a round trip from California to Colorado - made about 3200 miles - I felt like I was at home and I didn't notice any huge difference in their dialect.
I have a Windows Automotive in my car since 2007. It also includes some kind of Tell Me service – Voice Command. I use that while driving all the time with a very good success.
Other than that I don't use Tell Me for message dictation because most of my contacts don't use English. I just tried that for a few times and it worked with a few mistakes.

That's a matter of opinion... I find English speakers from England much easier to understand, and many American accents quite bizarre. It also depends how attuned you are to accents - I've had numerous Americans say to me that British/Australian/New Zealander sound identical when they're actually radically different. I've even had a British & New Zealander say the same words as me and hilariously the Americans we were talking to couldn't tell the difference. Sure we have similarities, but we're not the same.

But you're right, people from Manchester don't speak English ;) ;)

Well if people can barely understand you, you can't expect TellMe to either.

I think tellme is fine but I hardly find myself using voice commands often if at all. I personally feel voice commands are nothing more than a gimmick and are useful maybe 10% of the time for me.

It's main use is while driving, or your hands are full. For example, I've used it to launch the flashlight app, while I was holding keys and carrying things while it was dark.

Yeah I don't bother with it as it gets about 30% of the words right - not optimized for the Australian market at all

Tell me is ok, one annoying thing i have found with it though is when im listening to music in my car and i get a text her voice is so quite compared to the music volume so i can't hear her unless i turn the volume up which then means when the music starts again its really loud.. I take it there's no way to change the volume?

I think voice functions are for show off, nobody uses them that much!

Oh come on, haven't you seen the siri commercials...they want you to believe that siri is your personal comedian or something. But the actual joke are those commercials. :-)

I wish it was smart enough to insert punctuation in my text messages... I also wish the tell me feature was integrated into every aspect of windows... Like the mic on the android keyboard.

It does depending on how its phrased though not as consistent when it's not a question.

I use Tellme all the time. I use it to launch apps every time, it is so much faster. I also use it to find stores in the area and I use it for text almost all the time. Unlike some I have become quite efficient with voice commands. Only problem I have is that Nokia Drive isn't integrated with Tellme other than launching the app.

I use Tellme when I'm bored and have nothing else to do. I just shout out random apps (which it gets right 99% of the time) or just random phrases and names. Its about 70% success rate.
Windows Central Newsletter
Thank you for signing up to Windows Central. You will receive a verification email shortly.
There was a problem. Please refresh the page and try again.