Fun Friday: Retro WPCentral Freebies!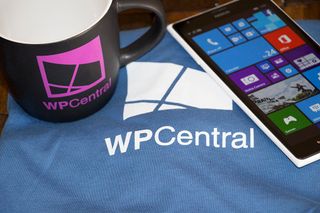 This week saw some exciting changes around here. WPCentral became Windows Central, a big change that is evidence of many fun things to come. With that change comes a lot of rebrandings, and as I was looking around my office, I realized that I have a bunch of WPCentral items that need to go to make room for new Windows Central goodies. So this weekend, we're working on clearing the old things out!
If you're interested in owning a retro WPCentral t-shirt or coffee mug, leave a comment below! You can choose either a shirt OR a mug, but not both. I have shirts in sizes from Small to 3XL, with the exception of Large because those are all gone already. In order to be certain we don't give away shirts to people that can't wear them, please indicate what size shirt you'd like. If you want a shirt and don't enter your shirt size, you won't be considered. I have about 40 shirts total, and around a dozen mugs, so while there will be many happy winning Windows Central readers, it won't be possible for everyone to get something this time.
Sorry! You can be sure once we get the new Windows Central things in, we'll do another contest to give you all a shot at winning again.
You have all weekend to leave your comment, but the sooner, the better. Next week I'll go through the entries and reach out to get mailing info and so on. Good luck everyone!
Please note, the Lumia 1520 is not included in the contest. ;)
Get the Windows Central Newsletter
All the latest news, reviews, and guides for Windows and Xbox diehards.