Further musings of the Saga saga ...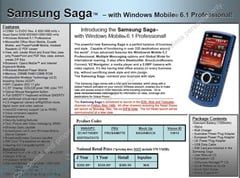 If you're a Verizon customer and are tired of waiting for a possible appearance of the Treo 800w, Samsung's i770 might just fit the bill. But getting it could be a little tricky.
The Boy Genius Report spied a post over at Howard Forums showing that the i770 — aka the Saga — will hit online and telesales this Friday, Nov. 14. Engadget Mobile follows up with an in-store date of Dec. 1. However, the in-store sales will be through "direct fulfillment" only at first, which basically means you order it there and get it later.
Price for the world phone — yep, it comes with a sim card, too — will be $199 with the usual rebate/contract deals.
Windows Central Newsletter
Get the best of Windows Central in your inbox, every day!
Saga is now on verizon website!! Woo Whooo!

I'm glad to see it finally has been released. I look forward to upgrading my current phone to the Samsung Saga.

I really like mine, i guess its getting no pub b/c of the bb storm being hyped. Anybody have any questions about the phone i'm happy to answer!