Charting the future: How PCs are moving towards extreme and light computing
By Daniel Rubino published
The future of laptops is being pushed to two extremes in light, thin-client cloud computing, and heavy, discrete, and localized. Here is why that's happening.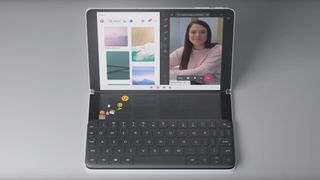 (Image credit: Microsoft)
Over the last decade, there have been clear trends with laptops, including, at one time, pundits claiming the category's death knell. Whether it's Intel's "Ultrabook" initiative or Microsoft's 2-in-1 tablet versus laptop theory, there has been convergence on a lot of it.
For about the last year, though, a new push has begun to emerge: ultra-powerful computing. NVIDIA is partially responsible for this with its Studio effort starting back in the summer of 2019.
But there's an opposite end of that spectrum too: the super-thin and rapidly approaching dual screen (or folding display) designs.
Such a bifurcation will result in a new world of mobile computing. Thin clients that are heavily reliant on the cloud, 5G connectivity, and the OS is agile. At the other end, larger workstations for "creators" who need raw, localized power. Both are driven by the changing economy and technology.
Rise of the Studio workstation
NVIDIA's push for the Studio line is impressive. At its core, it is a marketing ploy, and, yes, money is given to OEMs to push laptop designs into this direction. The tradeoff is NVIDIA gets to push Studio as a viable alternative to professionals gravitating towards gaming laptops and away from Apple.
It was no coincidence that in the summer of 2019, dozens of laptops suddenly had RTX Studio program validation. This effort was a concerted push by the industry to give a hard nudge to where the market was already headed.
HP knows this well. In a recent press briefing the company cited some thought-provoking numbers from its own research:
61 percent of people use their PC to create
Creative jobs are #1 on the list of remote work opportunities
91 percent of Gen Zers use their PC to collaborate
Gen Z spends 45 percent more time using their PC than millennials
Other data backs up these observations about the rise of remote work.
A lot of this is also just driven by technology. It is now possible to have laptops with eight-cores, or powerful RTX video cards like the new "super" series from NVIDIA. And not just in some giant, heavy laptop, but slim ones that are under 4 pounds (1.8kg). See HP's recent ZBook Create.
Thin display bezels and 500-nit HDR displays also are driving this industry, leading to laptops with significantly smaller footprints. Dell learned this years ago with its InfinityEdge display technology.
No longer do people need to get a gaming laptop, but instead, they can get customized hardware that ranges from Intel Core and Xeon processors to AMD's latest Ryzen ones.
Razer, in many ways, helped kick this off. Its popular Razer Blade quickly became the darling of "pro" video editors and people who needed power but did not want a clichéd gamer aesthetic.
Super thin clients and cloud computing
Another trend is quickly emerging too for thin client PCs, and Apple drives much of this. The iPad has pushed the idea of computing forward, though with some caveats. Apple is now working to improve those limitations by thoughtfully enhancing iPadOS while adding PC-like hardware experiences. This move is mobile OS to desktop OS convergence.
Microsoft comes from the other direction with the iconic Surface Pro. It, along with the forthcoming Windows 10X, is a desktop OS to mobile OS intersection.
I have little doubt that in the next five years, Microsoft will begin to push Azure as a system to power "Windows" on consumer hardware. Google is also poised to go this route as it already has with Chromebooks. These devices will be thin-client laptops (Samsung Galaxy Book S), dual-screen PCs like (Surface Neo), or a single display tablet that folds in half (ThinkPad X1 Fold).
These devices are aimed at those who trade in information for a living — e.g., big data, emails, IT, web developers, Office and Teams collaboration, education, etc. That is quite a different group than those who need RTX or Quadro graphics to render 4K (and now 8K) video remotely or crush data in MATLAB.
While 5G is certainly overhyped in 2020, there is little doubt that in the coming years, it will open the door to new computing opportunities. Some of that is evident today with efforts like game streaming (Project xCloud).
But pushing the OS itself to the cloud for ambient and ubiquitous computing paradigms is also going to happen.
Running parts, or all, of the OS from the cloud so that your operating system follows you to your hardware with app-streaming is a potent combination, especially if the device can fold into your pocket.
There is always room in the middle
None of this is to say that laptops that do a bit of both, aka the more traditional 13 to 14-inch Ultrabook, are going to go away. Indeed, the beauty of the PC market is how robust it is in its range of possibilities. Whether it is 17-inch Ultrabook, or 13-inch gaming laptop, some company is still going to create those devices.
But the trends will continue to shift towards two categories:
Discrete, localized computing with a lot of power
Cloud, ambient computing in radically thin and light hardware
The current coronavirus pandemic, with its necessitated "work from home" (WFH) mandate, is going to have a massive impact on jobs. While some people will return to work, many companies are now discovering that remote work is not only possible, but it is preferable.
The idea that people in specific, but increasingly growing, industries can work wherever they want means that PC hardware must go there too. The two models of computing laid out here will be the driving trend for the foreseeable future to meet that demand.
Who knows, maybe we'll finally get good web cameras too.
Daniel Rubino is the Executive Editor of Windows Central, head reviewer, podcast co-host, and analyst. He has been covering Microsoft here since 2007, back when this site was called WMExperts (and later Windows Phone Central). His interests include Windows, Microsoft Surface, laptops, next-gen computing, and arguing with people on the internet.
When I was running IT for my company, I talked with a lot of support vendors who suggested securing the environment by having users log onto Virtual Workstations in the cloud remotely. I was always reluctant to do that because I knew that it would be a pretty steep learning curve for my users to wrap their heads around that and because if they didn't have connectivity, they'd be out of luck. But, 5G and even more laptops being offered with LTE takes care of the latter concern. It's the first part of this that is tricky. Daniel, maybe you can save this for the podcast tomorrow, but as someone that seems to spin up 3 or 4 devices a week, you must be pretty practiced at getting your flow jammed onto a device so you can really test it. I really do wonder whether transitioning from "Office 365" to something like "Microsoft 365" isn't laying the groundwork for this very scenario: a range of form factors and computing abilities that can interface with a singular cloud based instance... certainly to offload data but also computer.

Thanks for the feedback and agree about the LTE/5G stuff becoming more prevalent. It's easy to just dismiss it a way to get on the 'net, but 5G is going to let us do so much more than that. Azure + xCloud is simply testing the waters. Will talk about this topic tomorrow and bring up the MS365 thing too.

That was Great article, Daniel.

Thanks, glad you liked it! Just things I've been thinking about/observing the last 2 years.

I completely agree with this comment (though I have no experience in IT!). I think the world where "Cloud, ambient computing in radically thin and light hardware" is complemented with high bandwidth Internet and powerful servers, allowing for remote power computing. Thanks to Covid-19 many, many more people are experiencing working from home in virtual environments daily (such as my wife) but it's only natural to have workers who need a lot of power to also have this option for certain situations. In fact, scientists, data scientists, and others (economists!) already kind of do this, sending code and data to powerful servers hosted by their institutions or outsourced to someone specializing in those services when the costs of doing it locally become prohibitive - or even just inconvenient. Server time is at a premium, but the market keeps growing (probably thanks to cat videos). Another point about this: Seems to me that these options are often platform agnostic, at least from the software perspective.

I still want screen real estate. I solve this by having a surface dock at home and the office and plugging in my Surface. I use a Saas service to run my operations. I can use my phone, Go, or Surface to perform various functions. It is great the data and processes work across the cloud to my device. WIFI is available at my house and office. My Go has 4g lte. I can see how 5G could eliminate my need to use WIFI. But connecting to the cloud has not been an issue while on the go.

To make my point, I spent 5 hours today writing a report. Much easier using a large screen so I can view the pages side by side. So my Surface plugged into a surface dock attached to a large screen made life pretty easy. Today I realized it would be better to have two large screens. Because I spent too much time toggling between Saas service, email, and word.

We do the same in our household. The screen real estate really is important for productivity. Our setup: Two screens + accessories all strung together with a Surface Dock, and one Surface device for each of us. Now that we have two monitors that are officially supported by the dock, the experience is basically seamless (the dock occasionally drops USB signals during connection; it used to be worse). This is important because we both need to be able to swap out devices connected to the dock regularly, and because in normal times I'm very mobile during the day working on a train, so I need a portable tablet PC. Best of both worlds. Recently, since my university has moved to remote teaching, I've been using using the Surface Dock to have three screens, including the Surface Pro screen itself, so I can share with students or seminar participants a PDF or OneNote page and ink on it in real time.

While I'm still holding onto the 5G faith, I still have major doubts it's going to transform society in the way some people hope. Let's skip past the technical hurdles and say the country is already covered in 5G. The next hurdle is need. Who needs 5G when compared to LTE? Sure, you can ask who needed LTE when compared to 3G? But that's not entirely a fair comparison. LTE speeds absolutely dwarf those earlier standards. My pitiful 20-25Mbps allows me to comfortably use the internet from anywhere. The people that need, or want, an always connected device have several options already. And everyone else has decided they don't need it. (Or can't afford it which isn't a problem that's going to be solved by 5G) So again, who needs 5G specifically? As Dan points out, xCloud users will definitely need it. Streamers will need it. Anyone that remotely uploads large files will need it. But I start to draw blanks after that. And I understand that 5G is coming, but it's not coming for free. And the people that need/want an always connected device have been doing so for a while now. I'm having a hard time imaging what major change 5G will bring when it's only needed by a niche. More and more it seems the future of computing will be centered around device type/choice and getting OEMs close to finally making LTE/5G a standard in the devices.

You definitely have a point, but there was a time when no one thought we'd need the Internet on our phones. Today that's how most people access the Internet. We don't even think of there being a thing called "the Internet" beyond data plans that meter. Sometimes the tech goes before market.

I think 5G on phones, as we understand phones today, is NBD. Agree there. It'll be nice, but not as transformative as LTE. But "phones" could change, so who knows. I do think 5G is a bigger deal though other technologies including IoT/PCs/Cars/video/infrastructure, etc. When I did a tour of Huawei's labs, they showed us a backpack that could compress/beam video. It was a big deal as the entire kit effectively replaced a satellite TV van. You could basically be a one-man TV camera crew. So there's more interest for bigger tech than phones with 5G. Streaming OSs is a part of that.

I think it is important to mention the convergence of form factors due to miniaturization of computing power, docking technologies, and folding technologies. When I first started following WC, I was interested in the Andromeda as a Windows Phone. I was interested in what this mobile thing could do when docked. I would like to see the day come when we don't have to buy a phone, a tablet, and a laptop, and don't have to manage multiple OSs and accounts. When Microsoft announced Duo would run on Android, I lost interest in that dream. Today's phones have enough computing power for the light end you are talking about, and with proper docking, a user can have desktop form factor comfort with something as small as a phone. I'm now interested to see what Microsoft does with Widows 10X, Neo, and Surface Go. I have a Surface Go and it is my all time most loved computing device. There are things I can do with it that are superior to laptop and phone due to its in-between form factor. For example, watching a movie, referencing a recipe while cooking, reading non-fiction books (with more content complexity), reading sheet music for live performance, and recording audio, work beautifully on Go. The laptop is a little too big for these things, and the phone is too small. Docked, the Go turns into so much more. I do not see buying the Neo for one simple reason. The keyboard that comes with it will not work for me. No dedicated Home, End, Page Up, Page Down, and function keys. Plus it looks like they combined backspace and delete. That just won't work for me.

I come to Windows and Android after 29 years of Apple only. (Basically Tim Cook is no Steve Jobs.) Anyway I have the switcher perspective a lot of PC users either lack or strangely don't give a damn about. IMO it is CRITICAL for Windows to aim DIRECTLY at Mac OS and MacBooks. Not copy, mind you, but make it seem VERY SILLY to get a MacBook. This article implies that Blade gets that. I agree. Since late 2016 I've watched OnePlus get this. I've experienced it with the OP3 and now OP6T. These phones have meant to please a former iPhone user. Think: this is where Steve would have taken Apple maybe. I'm at the point I roll my eyes at iPhone users since 99.7% of them don't need that spec and price to surf Instagram. Windows 10? It's got a LONG way to go. The great news is all indications are it's heading in the correct direction. Any respectable Mac user would shake their head at Windows 7 and 8 as NO WAY JOSE. 10 is more like, well, if I have to I can live with it. In other words: it crossed from unacceptable to acceptable. Now it has to cross from acceptable to... hey... this isn't bad at all. To get there -- 1. No user should have to maintain their system when their system could (and should) maintain itself. For instance -- why OH why are most PC users unaware that running an SFC after every cumulative update can help you find issues before they evolve into system headaches? Worse: why doesn't the system simply do it for you, do a DISM if it needs to -- and if the system is still challenged it alerts you to look into it? It's INSANE in this day and age to sell computers that can't frickin' do easy fixes. Do all of your realize that Windows routinely runs Defender Quick Scans automatically (Yay!) but avoids running Full Scans? A user both has to know they exist, know the system doesn't do them, and initiate them now again. Most of the rare times I find virus activity its with the full scan. And why OH why doesn't Windows just buy Malwarebytes and absorb it into Defender? 2. Why is it a federal offense to hire designers to make Windows 10 look slick? I know Linux distros that look better than Windows. To coin a Sebastian Maniscalco, "Windows... aren't you embarrassed?!?" 3. The OEMs haven't gotten the message that desktop sized PCs are needed. It's either a garish gaming tower, a Mini PC (say Asus Vivomini PC), or a micro PC (say Beelink). There's needs to be size larger than a Mini PC that can handle a GPU without being 6 times bigger. Say a 6 inch cube. I know, you think those things won't sell but one reason they don't is that THEY DON'T EXIST. A Ryzen cube for like $500 plus any monitor people want will sell. And for dog's sake make it BRAIN DEAD SIMPLE to open, clean, and RAM or storage. 4. Don't be afraid to create beautiful hardware. And put it in a beautiful store. SPOILER: Don't COPY Apple stores, pinheads. (By pinhead I'm looking at Microsoft and Xiaomi stores.) SECOND SPOILER: Don't call them Microsoft stores. Apple once claimed their PCs were for 'the rest of us'. Now PCs and Androids are the people's electronics. Wake up and market them already.

If we may believe the recent leaks of Panos Windows 10 will go look better without losing its style (which I personally like and works well especially on Surface Pro's etc). I agree with some other things though. On the other hand MacOS is not superior to Windows 10, just different (better in some things, worst in some others). Also the 6 inch gaming pc is not realistic, even Apple cannot pull that off (have you seen the size of their cheese grater desktop?). The closest thing is probably Intel+AMD Skull Nuc or that newer model coming from Intel. Amd & oems also have some decent solutions with its APU's which while not fully game ready are very tiny.

Hey Ochhanz, I'm sorry to be annoyed here but I bump into this all the time. Too many PC users DON'T LISTEN. The minute I even mention Apple the automatic rhetoric happens and the PC fan is replying to things I never said. Case in point -- "Also the 6 inch gaming pc is not realistic, even Apple cannot pull that off (have you seen the size of their cheese grater desktop?)" So eager were you to trash Apple you re-wrote my point. I never asked for a 6 inch gaming PC. Go look. What I asked for was a smaller PC with a GPU that isn't ginormous. I currently own a Lenovo AMD laptop with a GPU. The laptop is less than an inch thick. So, yes, all OEMs could manage a cube that would have much superior cooling systems. "On the other hand MacOS is not superior to Windows 10, just different -- " I never said MacOS was superior. Again, so eager to trash Apple you re-wrote my point. What I said is that it's lacking in modern age interface polish. I repeat: Linux has better looking OSes. I also said the system should more easily maintain itself. What does a computer do? Compute.

Short answer to a lot of your issues with Win10, which I don't necessarily disagree with is At its core, "Windows" is 20+ years old. There is a LOT of legacy in it that makes "fixing" a lot of what you talk about very tedious and hard. This legacy is both the strength of Windows (run anything, even if decades old software), and its weakness (prone to more issues). Enterprise/business wants slow change, not rapid. Microsoft must slowly bring new features out and not pull a Win 8 where it's a complete change in thinking for UI, UX, and app model That said, Windows 10X is that OS. It's built from the ground up, modern UI, behaves like a smartphone OS (fast reboots, OS updates), is not susceptible to viruses, clean and simpler to use. Windows 10X is like iOS/ChromeOS but with the power of Windows and Win32 (subsystem). As mentioned, the head of the Surface hardware is now in charge of Windows 10 front-end, so we should see more thoughtful OS/hardware integration going forward. Apple always had this advantage of doing SW + HW, which is why it's great. Downside? Apple is about 8% of the PC market even after 20 years. Apple controls mindshare, but definitley not marketshare. Apple has effectively zero responsibility to power gov't, education, enterprise computers around the planet. It needs to appeal and satisfy only tech glitterati and affluent consumers. They can pivot a lot easier, but it will never displace Windows in that space.

Hi Dan, I'm seeing a comment below Naddy and applying to your responses #1 and #2. This legacy Windows OS should be rebranded as Office OS. It should even include MS Office. The entire 'thing'. Windows 10X does excite me. When I saw Panos introduce those new products I got an 'Apple' design THRILL I haven't felt in ages. I'm not even sure I'd buy either product (yet) but it's like someone at MS finally woke up. We Mac users weren't crazy to buy slick hardware with a slick OS. Yes, it was (and is) terribly expensive -- but there was no competitor in PC or Android that even came close. But now they're here. The tables are turning. Some of the YouTube influencers are flipping. And Apple is beginning to panic. The panic is currently seen in recycling the iPhone 8 as the SE and calling it "our cheapest iPhone yet!". PAHLEEZ. The one year old Xiaomi Mi 9T eats that piece of crepe for breakfast and for only $250. I do not see hardware as the solution to MS woes in the near future. I simply don't see people using Surface products anywhere. It's nice for MS to introduce such concepts and flagships but, for me, the real game changer is getting a slick and easy OS (ASAP) and offering alternative showroom stores (ASAP).

"I simply don't see people using Surface products anywhere. "

I mean, this is just anecdotal. I've seen a big shift in "all Macs" at Starbucks to a mix, with more Surfaces in the wild, but that's

my

(anecdotal experience). Moreover, it is beside the point. Surface is a halo brand, it accounts for <5% of PC sales. It's not

meant

to displace HP, Lenovo, Dell, etc. It's meant to a device that drives innovation int he industry, which it does. While Surface "competes" with Apple on a mindshare level, it is not meant to compete on the market share level

at the expense of Microsoft's partners

. If it were, Microsoft would undercut them in price. You simply can't argue that Surface as a hardware halo brand has not been good for PC and Windows 10. It made PCs relevant again and drove HP, Dell, Lenovo, Razer, etc. to step up design, features, and technology e.g. Windows Hello (that was Surface), inking (that was Surfcae) and the 2-in-1 (that was Surface). Surface pushing into dual screens is part of that next era.

Don't you see one was evolved around to give us the superior social impression without any real usefulness or values and the other was what the society needed? Deception has been the key to the success of Apple, but very little we, at least most of us, realize.

@Daniel Rubino "Apple is about 8% of the PC market even after 20 years" Actually, StatCounter has OS X at 18% globally which is a 4% increase over the past year and in the U.S OS X stands at 26% which has grown a whopping 7% in the past year.

And looking at PC sales last quarter (Canalys), Apple shipments equal just 6% of the PC Q1 2020 market, a 21 percent decline from the previous quarter of 7 percent for all PCs and laptops. Entire market share is deceiving (and tbh, I don't trust StatCounter that much), as it doesn't account for what people are actually buying in the modern market. Translation: 18% browsers running OSX != 18% of laptop sales. Very far from it. Indeed, up until 2019 at NO point do you ever see a spike in MB sales. They're (1) very consistent and (2) very flat. The trend of declining MB sales is not new, either. Apple's shipment of new laptops is going down, not up. And no one believes 18% of the PC market is Apple. They're not even part of enterprise/government market, let alone gaming. Gaming is the one PC market that has never seen a decline in sales. It's massive.

"No user should have to maintain their system when their system could (and should) maintain itself. For instance -- why OH why are most PC users unaware that running an SFC after every cumulative update can help you find issues before they evolve into system headaches?" Because most Windows PCs are bought by businesses, where there are IT departments that do all of the above nonsense. Windows is NOT a consumer product, and never has been. Can you imagine if phones were as complicated to maintain as Windows PCs? Typing arcane commands into a command box/terminal app? And then having to understand whatever gibberish results those commands spit out? Completely insane. As for Windows 10X, if MS really intends to sell this as a "new, modern OS", then it simply CAN'T be called Windows. Give it a new name. "Windows" has 30 years of baggage attached to it. But then, the Edge browser has lots of baggage too, and they were dumb enough to keep that name for the new version that actually works. Microsoft has the most inept marketing since the geniuses who thought New Coke was a great idea.

What were you thinking? You are comparing two ecosystems: one makes both the OS and hardware within the scope to consumers who usually keep themselves up-to-date whereas the other has to make sure their OS is in merge with millions of hardware combination and compatible with hundreds of legacy software that their users rely on.

No mention of surface studio? My boss just agreed to get us those at work, but I told him to wait until the next version comes out this spring. I hope Microsoft delivers.
Windows Central Newsletter
Get the best of Windows Central in in your inbox, every day!
Thank you for signing up to Windows Central. You will receive a verification email shortly.
There was a problem. Please refresh the page and try again.