The F(x)tec Pro1 starts shipping to landscape QWERTY fans in October
Pre-orders can jump the line and get it starting in mid-September.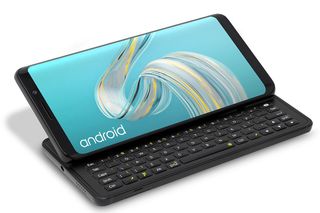 What you need to know
The F(x)tec Pro1 is now available for pre-order worldwide for £649 / $699 / €649. Pre-order shipments start mid-September, general release begins in October.
The smartphone features a 5.99-inch AMOLED display and is powered by Qualcomm's Snapdragon 835 processor with 6GB of RAM and 128GB of storage.
The landscape QWERTY allows owners to create up to 36 unique app launching shortcuts.
After initially showing off the device during Mobile World Congress, UK-based F(x)tec have now officially announced at IFA 2019 that the F(x)tec Pro1 will see general release starting in October while anyone who pre-orders will see shipments begin in mid-September.
On the inside of the F(x)tec Pro1, you'll find Android Pie, Qualcomm's Snapdragon 835 processor along with 6GB of RAM as well as 128GB of storage which is expandable up to 2TB with the use of a MicroSD card and there's Dual SIM support as well as a side-mounted fingerprint sensor. That all goes along with the 5.99-inch 1080p curved edge AMOLED display that tilts 155 degrees for optimal viewing. Keeping everything running, there's a 3200 mAh battery along with Quick Charge 3.0.
For capturing photos and video, you'll have to rely on the dual-lens rear camera setup making use of Sony's IMX363 to offer 12MP f/1.8 and 5MP f/2.0 shooters around back while up front, you'll get an 8MP, fixed focus, f/2.0 selfie camera. There's also a dedicated shutter button included making taking photos even easier.
Where the F(x)tec Pro1 stands out, though, is in the form-factor which features a physical, sliding and angled landscape QWERTY keyboard that packs a few tricks such as the ability to create up to 36 keyboard shortcuts to launch apps, a function similar to that found on BlackBerry smartphones. Just slide open the F(x)tec Pro1 to reveal the full physical keyboard and slide it back to jump into virtual keyboard mode. To further take advantage of the keyboard, the F(x)tec Pro1 also features a landscape-optimized UI and apps including email and calendar.
One other standout highlight of the F(x)tec Pro1 is their developer support. If you're not happy running their largely stock version of Android Pie, you have the option of loading Lineage or even Sailfish thanks to the bootloader coming unlocked. In their own words, F(x)tec is looking to deliver 'premium niche mobile devices' and the F(x)tec Pro1 looks to be a great start.
You can pre-order the F(x)tec Pro1 right now thorough the F(x)tec website here.
Windows Central Newsletter
Get the best of Windows Central in your inbox, every day!
Love the idea, not a fan of the execution. That keyboard is far too wide to comfortably type on.

Agreed. With a phone that size, a portrait slide out keyboard makes a lot more sense, plus avoids the need to go into landscape mode.

You're thinking BlackBerry. This sort of slider has been around before and actually wasn't all that unwieldy. Most were in the days of Pocket PCs, before phones. The landscape screen is actually good for the sorts of things that this is intended for, web browsing, Word, Excel, Mail. Seems sort of nostalgic to me.

The phones you reference had screens in the 3-4" range, this is nearly 6". No idea how comfortable it will be, but I get the point being made by HeyCori...

I have the Planet Computers Gemini. Thumb typing on it is fine, though I imagine people with tiny hands may struggle. It has larger keys. I can even 10 finger touch type that weirdo device. Not a good phone, but an awesome little pocket computer. I preordered the Pro1 back in February and hope to get it in the coming weeks. I like the concept of the sliding mechanism more than the clamshell of the Gemini. I'm just happy to have options with landscape keyboards again.

SvenJ, Dell Venue Pro for us Windows Phone users, or the Palm Pre. Just no need for a landscape keyboard on a phone that size.

Sounds good, does't update!

A little too late to the party with a Snapdragon 835 for that kind of a price tag. Wouldn't be cheaper to buy a device like Note 8 and add a qwerty keyboard accessory?

Certainly an option but those keyboard accessories are.. not that good. At least with this, you get a nice, tight integration.

Reminds me of my OG Droid from back in the day.

I used to have a Nokia N97 and E7 that used the same form factor. I liked them at the time but, to be honest, I'd much prefer to use swipe typing these days.

Makes me pine for my old Palm Pre.