As Slack and Microsoft bicker, Google is fine with doing its own thing
Despite a slick G Suite revamp, Slack and Teams don't seem to be under any immediate threat from Google.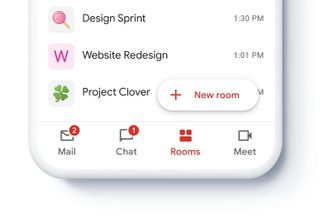 (Image credit: Google)
Google last week debuted a big revamp for G Suite, bringing a bunch of its work tools under one roof in Gmail. Billed as a "better home for work," the redesign was seen by some as an indication that Google is making a broader push to compete with Microsoft Teams and Slack. However, that may not be what's at the top of Google's mind.
Craig Roth, a research vice president, and analyst for Gartner, sees Google's transformation of G Suite as less about Teams and Slack and more about staking out the next territory. "I think that they are more forward-focused on trying to get to the next place and how people want to work and releasing a set of tools that looks more like that," Roth said. "And whether Slack or Microsoft is doing that or not, it may notice that a bit, but it's not directly an attack on them."
As for what that next territory is, Roth says it's all about breaking down silos between productivity applications. By nestling messaging, rooms, Meet, and project management tools inside of Gmail, Google is tearing down barriers between its products that might otherwise get in the way of work. This has the added benefit of cutting down on task switching, which can be a major disruptor for workflows, Roth says.
If that sounds a little bit like Microsoft Teams and its integrations with the Microsoft 365 suite, it's because Microsoft and Google are on similar tracks here. "Teams seems to be rising to be more of an umbrella above the components that they all describe how they connect into it," Roth said. "So whether it's a tab or some other form of integration, that seems to be a hub where you would go first, and then if you have to get at a document or project plan, or whatever it is, you can do it from there."
For its part, Google says it is concerned with the customer experience first, rather than Teams or Slack. "Product decisions are always driven first and foremost by customer needs," Google told Windows Central in a statement. "If as a result, the market sees us as a better alternative to other options, then that's a great outcome because it means we can help more people do their best work with G Suite."
David and Goliath(s)
One of the biggest differentiators for Microsoft and Google in this space is that they control an entire suite of productivity tools. Slack, by contrast, relies on a robust set of third-party integrations to flesh out its core communication features. One might think Google unifying its work suite would mean further pressure on Slack, but Roth disagrees.
"Slack has its constituency, especially with developers, engineers, project managers, and those people just love it," Roth said. "I think they're gonna continue to have that constituency going forward."
For now, Google doesn't seem interested in hoarding its productivity tools for its own suite either. In a statement to Windows Central, Google said: "None of the available integrations with [Microsoft] or Slack will be impacted by this update."
"Google is a great partner, and apps like Google Calendar and Google Drive are some of the most popular on the Slack platform," a Slack spokesperson said in a statement. "Organizations are using more software from more vendors than ever – we want to help companies get the most value out of all their software tools, not just the tools from any one vendor."
Microsoft declined to comment for this story.
The simmering battle
Even before Google's recent moves, tensions have been simmering between Microsoft and Slack since before Teams launched in 2017. It started in 2016, just before Microsoft formally announced Teams, with Slack buying a full-page ad in the New York Times welcoming Microsoft's competition with some "friendly advice." As Microsoft has gained momentum with Teams, Slack CEO Stewart Butterfield said he doesn't see Microsoft's reach as a threat. He added in April that Teams is not a competitor to Slack.
However, things took a sharp turn this week when Slack filed a competition complaint in the EU against Microsoft. "Microsoft has illegally tied its Teams product into its market-dominant Office productivity suite, force installing it for millions, blocking its removal, and hiding the true cost to enterprise customers," said Slack in a press release announcing the filing.
Jonathan Prince, Slack's vice president of communications and policy, emphasized that he is confident Slack would "win on the merits" of its product, but that it "can't ignore illegal behavior that deprives customers of access to the tools and solutions they want."
Shortly after Slack filed its complaint, Microsoft fired back with a statement of its own. "With COVID-19, the market has embraced Teams in record numbers while Slack suffered from its absence of video-conferencing," a Microsoft spokesperson said.
It remains to be seen how the feud between Microsoft and Slack will play out, but Google may want to grab some popcorn and watch the show.
Windows Central Newsletter
Get the best of Windows Central in in your inbox, every day!
Dan Thorp-Lancaster is the former Editor-in-Chief of Windows Central. He began working with Windows Central, Android Central, and iMore as a news writer in 2014 and is obsessed with tech of all sorts. You can follow Dan on Twitter @DthorpL and Instagram @heyitsdtl.
"Google is doing its own thing." You mean, pretending it's a serious option for productivity users? That ship has sailed. :-D Though I suppose this goes to show that they're NOT delusional - they know they can't compete. Office and Outlook are just too powerful and useful, and ecosystem integration make it a slam dunk. (Same with Apple in the consumer space.) Google's got nothing to compare. Not that I don't love Google products - particularly Maps and Photos. Anyway, interesting read.

I still like making very technical documents in g suite.
I can embed draw.io
And layout is way more consistent and simple to achieve than word.
And from a browser!
It's juts so much of the rest of my world is outside Google as they are too intrusive in sniffing my data.

There is not much reason to go for google's competitor of Teams, considering Teams is already free to use in many cases and you pay less with privacy/profiling with Teams than with Google's stuff (Google Ads etc, which MS does not depend on as main revenue source). Maybe it is a bit cheaper for certain companies but the quality/features on enterprise level is probably also not as good as what MS can offer in that area.
Windows Central Newsletter
Thank you for signing up to Windows Central. You will receive a verification email shortly.
There was a problem. Please refresh the page and try again.