Microsoft Teams hits 75 million daily active users, up from 44 million in March
As more people are working from home for the first time, Microsoft has seen a major surge in daily active users.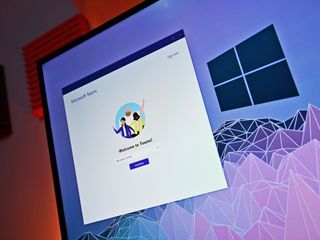 (Image credit: Windows Central)
What you need to know
Microsoft Teams is now at 75 million daily active users.
Microsoft CEO Satya Nadella announced the latest figures during the company's Q3 2020 earnings call.
Microsoft 365 is also now at 258 million paid seats.
Microsoft Teams is now at 75 million daily active users, according to stats shared by CEO Satya Nadella during the company's Q3 2020 earnings call today. That's a surge from the 44 million daily active users that Microsoft reported in March, and the 20 million daily users the company reported in November 2019.
Extrapolating further, Microsoft said that it saw more than 200 million meeting participants in one day this month, which generated more than 4.1 billion meeting minutes overall.
We saw more than 200M meeting participants in a single day this month, generating more than 4.1 billion meeting minutes and @MicrosoftTeams now has more than 75 million daily active users. I believe Zoom's 300M is not a DAU or MAU number but a meeting participants number.We saw more than 200M meeting participants in a single day this month, generating more than 4.1 billion meeting minutes and @MicrosoftTeams now has more than 75 million daily active users. I believe Zoom's 300M is not a DAU or MAU number but a meeting participants number.— Chris Capossela (@chriscapossela) April 29, 2020April 29, 2020
A major reason for the recent surge is the ongoing global health crisis, which has forced many companies shift to remote work for the first time. In response to the outbreak, Microsoft has moved to make Teams more accessible for people and companies that are now working from home. Microsoft began offering Teams premium features for free for six months.
In addition to the Teams numbers, Microsoft also stated that Microsoft 365 now has 258 million paid seats. Microsoft 365 is set to expand even further as Office 365 rebrands to Microsoft 365 for consumers. Microsoft Teams will eventually be included as part of that transition as well.
Microsoft Q3 2020 earnings: $35 billion in revenue, 'minimal impact' from COVID-19
Windows Central Newsletter
Get the best of Windows Central in your inbox, every day!
Dan Thorp-Lancaster is the former Editor-in-Chief of Windows Central. He began working with Windows Central, Android Central, and iMore as a news writer in 2014 and is obsessed with tech of all sorts. You can follow Dan on Twitter @DthorpL and Instagram @heyitsdtl.
cuz the gov just turned on a **** load of accounts

And most of it will go away by June...People are never going to want to do a web conference ever again...

Evidence suggests otherwise. Almost all Teams usage is paid and part of MS365 subs and many companies will see the value in at least shifting some of its workforce to WFH to save overhead costs (e.g. running a physical building, rent/lease/electricity). Also, there are no conferences happening for the rest of the year, making something like Teams quite invaluable. Microsoft even used Teams today for the first time for its investors call.

Microsoft is losing Teams users to Zoom every day due to their ridiculously slow response time to addressing the serious issue of only displaying 4 video feeds in a conference call.... when ALL (not some... ALL) of the competition can display more. This has been an outstanding issue for 4 years and Microsoft has ignored it. It took the pandemic for them to actually make an attempt and the best they can do is go from 4 to 9. Nine?! Yeah that's cute. Even Facebook Messenger can do more than 9! Nine is a joke, considering Zoom can do 49 vids at once. If in 4 years they can't at least MATCH what Zoom can do, then that tells me they have either have no clue how to address the issue OR they simply can't do it due to the base architecture of the software itself. Their own UserVoice forum has almost 50,000 upvotes for this (more than double the next one in the list. There are thousands and thousands of people begging and pleading and complaining about this issue and just today Microsoft pushed it another two weeks. So nice to see Microsoft is right on top of things over there!

Teams is not 4 years old.

This first mention on their UserVoice Forum that 4 video feeds was not enough was November 8th 2016. Sorry... 3.5 years old. I stand corrected. Now there's almost 50,000 upvotes and over 5,000 complaints about the this. Yes... FIFTY THOUSAND! Now every single comment is saying that 9 vids is not enough. How do you go from 4 vids to 9 vids, knowing that your competition can do 49 and think that will be OK?! Microsoft is NOT listening to their users. Take a look for yourself: https://microsoftteams.uservoice.com/forums/555103-public/suggestions/17...

Actually my team and anecdotally hearing from many others that were "in the office" all the time types are realizing that remote work is sustainable, possible, and in many ways better for productivity.

Even though Teams is easy to use for Video meetings it has many options that are not. And also 4 video feeds at a time is terrible compared to zooms capacity.

Isn't it up to 9 now? Or I think that's common soon. But yes zooms capacity is larger. I'd argue that large scale video conferencing is zooms specific specialization though, whereas teams is a more comprehensive product. But again I agree they need to improve the video conferencing.

It's now up to 9. But sure, that could be improved. Likely will be too. Teams needs lots of improvement, but that's just it, it came out of nowhere a few years ago and has gained a ton of functionality in that time. Zoom is a very limited use case for an app. It's video conferencing, that's all. It doesn't have Office, Planner, Calendar/Outlook, IRC chat, SharePoint, OneDrive, etc. Zoom is not a collaboration software suite, it's a glorified Google Hangouts that actually does nothing special besides having an absurd amount of security flaws and routing data through China. What is also not clear, is how many people are paying for Zoom vs. just some regular people using the free version to pass the time while at home, making Zoom a fad app for many users.

"to pass time while at home". You're wrong and you wrong about it being just video. I use teams, zoom, blackboard and everything else I get invites to for work. Just depends who's setting up the meeting. All these things seem to be able to share the screen quite fine, so office apps come through that.
And your wrong about 365 too, it's available on business 365.
I basically had to buy a business 365 and a .COM domain with a single email just so I could use teams.
Many other people won't be able to justify the trouble of moving to business 365 if their business email is Google based or other host. They'll just use zoom.

I have teams at work and wanted my family to get it too. Did not have to get a domain and a business account to do it.

Teams is available on Microsoft 365 Business Basic as a minimum. Not available on Home

We're using the Kinect on a large (80") TV with Xbox Skype to chat with family. Would be great if either Teams calls can integrate with Skype or a basic Teams video chat app was made for Xbox Kinect. (Curious this pandemic didn't bring more Kinects out of mothballs...?)

Correct observation, we use it as well in a comparable set-up

We are using Skype for Business, and MS Teams, I'm sure they will eliminate Skype and keep Teams.

Ok, these are different applications. Teams isn't merely about how many people you can fit onto your monitor for a video call. Teams has persistent chat history, Zoom does not. Teams has persistent file sharing, Zoom does not. And also, Teams can have 250 people on a video call at a time but it doesn't SHOW you 250 people, it only shows you the last 4 who spoke. Recently that number has been increased to 9. From Microsoft support, from 2 years ago: "250 for a meeting. 20 for private chat. In video calls, the last 4 speakers are displayed as 'quarters' of the screen. In other words if the 5th speaker has video enabled then it should show them. If you have 20 members and only 4 have video enabled for the meeting it will only show those 4 with video." This approach makes sense to me, since most people on a call are sitting around picking their noses or have their video turned off anyway. Teams isn't the "party" channel, it's to stay focused and get **** done.