Review: Play your Xbox One on the go with the GAEMS Vanguard Black Edition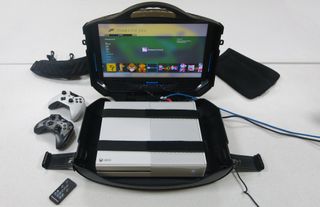 Most Xbox One owners probably use Microsoft's console at home, seldom moving it to different locations. If you do travel with your Xbox much, you'll probably want the convenience and security of a specialized bag like the CTA Digital Xbox One Case. But even that would only hold a console and a few accessories. You'd still need a monitor to actually play the console when you reach your destination.
Redmond, WA-based manufacturer GAEMS has the perfect accessory for people who want to transport a console *and* monitor. The GAMES Vanguard Black Edition is a hard-plastic case that holds not only an Xbox One or other console, it also packs a 19-inch monitor with stereo speakers – all in one unit.
The true test of the Vanguard's worth is twofold. How well does it carry and protect the console, and will the monitor's picture and sound provide a satisfactory gaming experience? Read our detailed review with video to find out!
GAMES Vanguard Black Edition contents and compatibility
Package contents
Vanguard case
HDMI cable (8 inches)
Power supply for monitor
Remote control for monitor
Foam base for console
Two accessory pouches
Compatible Consoles:
Xbox One
PlayStation 4
Xbox 360 models with HDMI
PlayStation 3 slim
External design
The GAEMS Vanguard needs to be fairly large to house both an Xbox One/PlayStation 4 and a 19-inch screen, and so it is. The case measures 19.75"W x 7" D x 16.75"H and weighs 11.5 pounds with nothing inside. Put the Xbox One without accessories inside and the weight rises to ~18.5 pounds.
Much of the reason for that weight comes from the material of the case itself: hard plastic. That plastic will protect the console and monitor inside from all reasonable bumps and jolts – far more than soft cases like the (much cheaper) CTA Digital Case. Given the $350 retail price of the Vanguard, you'd want exactly the level of protection it provides.
Aesthetically, the large front side of the case is featureless other than a big circular emblem in the center with the "G" from the GAEMS logo on it. This emblem is actually a removable piece of plastic, so you could conceivably replace it with a different design. GAEMS sells a few skins on its website which presumably include both an actual skin sticker and replacement emblem, although the product descriptions don't specify that. The designs offered are mostly garish to my eyes – it's a shame they don't offer game-specific skins or emblems.
The top of the unit houses a massive, sturdy handle made from a separate piece of plastic. Two bolts hold it in place. Beneath the handle lies a reflective metallic panel with the GAEMS logo. I'm a fan of discretion as far as console carrying cases goes, so I'd prefer there not be any advertisement that the case might hold games inside. But with a company name like GAEMS (don't get me started on the name), I suppose that's unavoidable.
The left and right sides of the case house large plastic latches that keep the case closed when secured. Both latches even have a hole for padlocks. The Vanguard's shoulder strap (called the 'PGE Sling') attaches next to the latches. The Sling is nicely padded and fairly high quality.
The back side of the case (which sits against the desk or other surface when the case is opened) has three rubber strips intended to prevent scratching the surface you put the case on. The bottom of the case (where the case rests when closed and standing upright) has two large rubber pieces to prevent scratches and perhaps absorb some shock. You'll also find a kickstand there for adjusting the monitor's viewing angle.
Interior storage
Pop open the Vanguard and you'll find the built-in monitor on one side and console storage area on the other. The console rests on a large GAEMS-branded foam base. Vanguards produced after October 2014 have a base specifically designed to fit the Xbox One. Before that, I believe the foam pad was slightly too thick to allow the Xbox One to fit beside the monitor in a closed case.
Two large black straps wrap around the foam base and will hold the console securely in place. Note that these straps each consist of a single piece. Users must slide the console under the straps in order to place it in the Vanguard. The Xbox One fits a bit snugly beneath the straps during insertion, but it will go in. After placing the console inside, you'll tighten the straps and close them using their built-in Velcro.
I made the mistake of removing the right ends of each strap from the plastic slot that holds them in place – don't do this! I had to use needle-nose pliers to fit the ends back inside. Frankly, the instructions should warn against removing the straps if they're not meant to be removed.
The spaces at left and right of the console are intended for accessory storage in combination with two soft storage pouches included with the Vanguard. You'd put the cables and a single controller inside of these pouches, place them beside the console, and close the case during travel. The softness of the pouches should theoretically prevent them from scratching the monitor.
Of course, that design relies on users not filling the pouches in such a way that a sharp edge could inadvertently protrude. It doesn't seem like a common issue, but I found at least one Amazon review in which accessories stored inside the pouches did, in fact, scratch the monitor. A removable protective liner placed between the monitor and case contents seems like a better solution to me.
Carrying Xbox One accessories
Xbox One users won't have to worry about accessory-related scratches because GAEMS recommends against storing the pouches beside that particular console at all. Instead, they suggest you store the accessories and/or pouches in a separate bag or backpack.
The reason Xbox One accessories don't fit inside the case well is, of course, the size of the console itself. The 'Bone takes up more space than other supported consoles, leaving less room for extras. Its bulky power supply simply won't fit inside without hitting the monitor, and that applies to controllers too. You could fit the actual Vanguard monitor's smaller power supply in there, but pretty much nothing else.
All this means you'll have to store the essentials for Xbox One use (at least one controller, the power supply, and likely the Vanguard's power supply and remote) in a different messenger bag or backpack when traveling with the Vanguard. If you wanted to tote more controllers, an external hard drive, or a headset around, those would need to go in the extra bag as well.
The Vanguard has been around since 2013, receiving a minor update with the Black Edition the following year. It makes sense that the case wouldn't be specifically designed around Microsoft's extra-large console (which launched in late 2013). But the need to carry all of the console's accessories in an extra bag is a minor hassle that Xbox One users will want to keep in mind.
Vanguard monitor
The best reason to buy a GAEMS Vanguard is its built-in 19-inch monitor. When open, the monitor's viewing angle defaults to 102 degrees. A kickstand on the bottom of the case adjusts the angle to 90 degrees – better for someone looking at the monitor from a lower position. The Xbox One and other consoles will not block the bottom of the screen, thankfully.
The monitor's stats won't prove overly exciting in this full HD era. It boasts a 1366 x 768 resolution – essentially 720p. The refresh rate is 10 ms, which is acceptable for gaming but nothing special. The main strength of this screen is its size. Most notebook users tote around 15- or 17-inch screens, which the Vanguard's monitor certainly outclasses in terms of pure visibility. You can sit a few feet away from this thing without missing out on important visual details.
I have to admit I'm a bit spoiled by 1080p screens and the sharpness they bring. Xbox One games look very good on the Vanguard, but they certainly don't look as sharp as what a 1080p monitor could provide. Still, the viewing angle is good enough that a couple of players can share the screen without issue. And playing my console of choice wherever I like more than makes up for a slightly weaker monitor.
Controls, ports, and speakers
The Vanguard's triangular control buttons rest directly below the monitor. These include Power, Volume Down and Up (pressing both simultaneously will mute), Brightness Down and Up, and Menu.
A tiny remote control included with the Vanguard has those same buttons plus Mute and direction buttons. Oddly, the power button on my remote simply does nothing. I have to hit the power button on the Vanguard itself. The remote uses a CR2025 battery, by the way.
Beneath the monitor's control panel, you'll find a single HDMI input, two 3.5mm headphone jacks, and the monitor's power jack.
Two speakers occupy the space outside of the controls and ports. The speakers are larger than the shoddy ones typically included with computer monitors. No, of course they don't sound as nice as a good headset or surround sound speakers. But they do sound as good as anyone could reasonably expect from a portable entertainment system like this. And if you'd rather use a nicer headset, you can always take advantage of the Vanguard's jacks or the Xbox One controller's.
Portable gaming environment
GAEMS bills the Vanguard Black Edition as a 'portable gaming environment,' which certainly fits the bill. Nobody carries monitors around with them (although GAEMS also sells 15- and 24-inch standalone portable monitors (opens in new tab)). But with the Vanguard, you actually can do that without standing out too much or fearing damage to the monitor.
Where would you use this thing? Well, it's TSA complaint, so you can bring it on flights as carry-on. Breaking out the Vanguard at a coffee shop or bar will make waiting for a flight far less painful. You could also take the Vanguard to hotels, LAN parties, friends' houses, and more. The Vanguard has made toting my Xbox One to the office much more convenient, and I hear Windows Central's own Daniel Rubino has used it at events as well.
There are a couple of changes I'd love to see in the next portable gaming environment from GAEMS – namely a 1080p monitor and a larger case designed to accommodate Xbox One accessories in addition to the console itself. Still, this product is truly one of a kind (other than the smaller GAEMS Sentry). Not everybody needs such a thing. But if you do, a GAEMS case is a must-have item.
If ~$340 is too rich for your blood, but you still crave portability, the GAEMS Sentry G155 is essentially the same product as the Vanguard but with a 15-inch monitor. It's also Xbox One and PlayStation 4 compatible and costs much less, so perhaps a Sentry would better fit your budget.
Paul Acevedo is the Games Editor at Windows Central. A lifelong gamer, he has written about videogames for over 15 years and reviewed over 350 games for our site. Follow him on Twitter @PaulRAcevedo. Don't hate. Appreciate!
Sounds very useful for travelers. If my door to door used helicopter business gets up and running, I may need one of these.

Mark and I use one of these when we do E3. Super cool, but as noted, don't remove the internal straps. Huge PITA to get back in. Monitor and sound were quite good considering the whole package. Great for going away for the weekend.

Still not wii u compatible.
Yeah would be nice if they at least supported upto 1200 or 1440 as theres lots of portable monitors on the market now ncixus.com. I remember some of the remotes shipped didn't work had to be rma'd

I don't go out and about a ton so no real use for me, but it is a clever idea. I agree, those other custom designs are quite gaudy and unappealing. And the case alone costing $350 plus the $400 console and accessories and games you're also lugging around in there, you'd like it to be as inconspicuous as possible.

I have one and have used it on multiple business trips. You can safely store the power brick and 1 controller inside the case easily. I seem to remember being able to put 2 controllers in safely but I am not 100% sure on that. Mac spoofing comes in handy with wired hotel internet. Overall an absolute blast and great product, however if you are flying make sure you do not have to check the bag. I doubt it will make it out in one piece. Posted via the Windows Central App for Android

I wouldn't mind having one of these just in case I needed it one day, never know when it could come in handy.

Didn't know, HD ready would still exist...baah, I'd never buy that, especially if I can stream games...

An xbox 1 mini would be perfect.

That is fucking dumb, just take the board out and make a proper Laptop, I've taken mine apart, throw the DVD drive away, put a flatter cooler on there and stick a SSD drive to the board... simples.

Don't be obtuse. No one is saying we don't already have a solution for PC gaming on the go. This is for console gaming on the go.

Hmm. I'm thinking a DIY and suffing an Xbox One in a Pelican Case with a better monitor/TV in the lid would be a worthy competitor. And you can luggage check a Pelican Case.

A lot more trouble and expense, but that would certainly be an option for people who can afford it. :)

Useful for someone that takes their X1 around a lot. Mine stay at home and never really move so I don't have much use for something like this. Great review and video.

I took my X1 with me once in a lether bag with the smoothest, softest lining inside and it still ended up looking like a cat was using it as a scratching post. I'm sure this won't be too different

The top and front of the Xbox One certainly scratch way too easily. The only scratchable part of the console that will actually touch anything in this setup is the top under the straps, but at least they don't touch much of the 'Bone surface.

Impressive if only I could convince my boss to let me play on the job.

I'll never buy one of these until they make it to where it powers the console as well.

That would be just about impossible. Gaming laptops only get 1-3 hours of juice and they need a lot less power than an Xbox One.

The xbook or whatever had a concept baby where it powered it but would be too heavy and bulky to carry. Technically possible but not realistically feasible

There you go. That's what I meant. :)

Looks cool. However I can't imagine lugging my X1 around anywhere.

Don't know how much I would use one of these since I never travel, but it looks like useful product for many others nonetheless.

Setup vpn to your house and stream...

Streaming to Windows 10 is a cool option, but that introduces lag and it's no where near the same experience when playing from a remote location.

Wow great review but way too pricey is it worth the $$ ?

Thanks dude! I think it's worth it (because I use it a lot), but the Sentry is a good choice for people who don't want to spend so much.

I have the sentry. Solid product. However, I mostly use it for carrying as where I go there is *usually* an nice 1080p tv. But when there isn't, I have my own rig ready to roll.

what about heat? If you know what i mean?

I talk about that in the video but couldn't fit it in the written review. The straps of the Vanguard partially cover the Xbone's vents, but only a tiny part of them. IMO because most of the events are not blocked, the console can still ventilate properly. And no reported issues of them overheating with the Vanguard so far, either.

Awesome! Posted via the Windows Central App for Android
Windows Central Newsletter
Get the best of Windows Central in in your inbox, every day!
Thank you for signing up to Windows Central. You will receive a verification email shortly.
There was a problem. Please refresh the page and try again.