CTA Digital Multi-Function Carrying Case for Xbox One review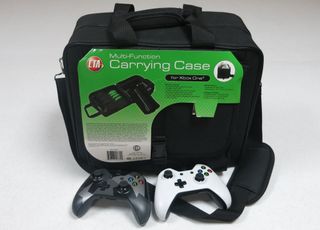 Carrying around consoles can be a pain. If you just walk around with one in your arms, you'll get robbed. Put it in a plastic bag and you'll scuff up or damage the console due to lack of protection. And suitcases are just overkill. That's why you need a console-specific carrying case.
New York-based accessory manufacturer CTA Digital has just such a solution for Xbox One owners. The Multi-Function Carrying Case for Xbox One is a messenger-style bag that can hold an Xbox One, a Kinect, and a few accessories. Of course, one of the big questions with any console carrying case is just how much storage it offers.
Will the CTA Digital Carrying Case actually fit everything you need to transport with your console? Read our detailed review with video to find out!
Exterior design
The CTA Digital Carrying Case is an all-black nylon messenger bag with no visible branding. Although I wouldn't mind a CTA Digital logo on there, I'm glad the exterior doesn't mention Xbox One or consoles in general. The last thing you want to do when transporting a console is advertise what you're carrying. That's just asking for trouble.
The bag has two hand straps that close together by Velcro. Packaged inside the case you'll also find a 48-inch adjustable shoulder strap. Given that the console alone weighs seven pounds and the power supply and other accessories will add several more, most of us will generally prefer to shoulder the case rather than carrying it by hand.
The bottom of the bag has four sets of plastic spike studs. These create some traction that could prevent the case from slipping over when standing upright. They could also potentially protect the case and its contents from shock or mild quantities of liquids.
Outside pockets
The front side of the CTA Digital Carrying Case contains two external pockets. The outermost pocket opens and closes via zipper. It can hold a single Xbox One controller very tightly, but that won't protect the controller's analog sticks very well. The pocket is most suitable for cables or thinner items like a few game cases.
That outermost pocket can be lifted up by opening the plastic snap that holds it flat against the bag. Beneath it lies a much larger open pocket with no zipper. This larger pocket can hold at least three Xbox One controllers comfortably. Alternately, it fits the Xbox One power supply fits quite well – that's where I store it.
Interior compartments
Unzip the main bag along its body and you'll find two sides: one for the console and one for accessories. The Xbox One system fits snuggly within its compartment. Four Velcro straps hold it tightly when fastened and prevent movement. Note that although my photos and video show my Xbox One facing up inside the case, I recommend facing it the other way to minimize the chance of scratches from accessories.
In the interior accessory storage half of the case, you'll find a separate long black bag attached by Velcro. This bag is intended to store the Xbox One Kinect. It can also be used to hold the Xbox One power supply in case you'd rather keep controllers in the larger outside pocket. Since the inner bag is removable, you can leave it behind if you have no use for it or carry it along separately in order to make more room inside the main case.
The remaining interior storage offers two pockets at top and five disc slots on the bottom. Although the Blu-ray discs used for retail Xbox One games are scratch resistant compared to CDs and DVDs, I don't recommend transporting them via disc slots. Too much of a gamble.
The top-right compartment can comfortable hold a single Xbox One controller with 2-3 inches to spare. The pocket on its left is too small to hold a controller, but it can at least store an HDMI cable and perhaps a tiny accessory like the Xbox One Stereo Headset Adapter.
The interior controller and accessory pockets are the only real design flaws I can find with CTA Digital's Carrying Case. If the pockets had simply been divided evenly, you could fit a controller in each one. Instead, the controller pocket is too big, wasting space and limiting the utility of the other pocket.
Headset storage and more
We all knew this case would carry around an Xbox One and a controller or two. I don't think anybody was asking to tote their Kinects around, but it even supports that. The real question is whether this thing can carry a nice headset. You might want to play some Xbox Live multiplayer wherever you take your Xbox One, after all.
As you might expect, the Carrying Case is more than capable of carrying the standard disposable headset that comes with the Xbox One. You could put it in either outside pocket without hassle.
The interior of the case also happens to have a fair deal of room for a headset, provided you remove the Kinect bag. The area where the bag typically goes is so roomy, in fact, it can even hold the official Xbox One Stereo Headset. I wasn't expecting that! The official headset is pretty large and just fits inside. A larger headset might prevent the bag from zipping up.
That spacious area is also perfect for storing an external hard drive – even a big one like the Western Digital MyBook.
Protection and build quality
CTA Digital's Carrying Case houses a thin layer of padding along most of its sides, with the console compartment and bottom side having slightly thicker padding. This should provide a fair degree of protection and shock absorption for the Xbox One system. The console could probably survive a drop of a couple of feet without harm, but you wouldn't want to drop it any further than that for fear of damaging the system's internal hard drive.
This bag retails for $29.99 (Amazon currently sells it for slightly cheaper), so you can't expect an amazing degree of protection. I can imagine the carrying straps or shoulder strap eventually wearing out after a few years of regular use. Again, that's perfectly reasonable for a product in this price range. I wouldn't mind a $60+ bag that screams durability, but I doubt those would fly off of store shelves.
If you're looking for a carrying case built specifically for Xbox One, CTA Digital's Multi-Function Carrying Case is the cream of the crop. Its design looks neutral enough not to tip people off to its contents, it can hold a truly respectable number of controllers and/or a Kinect, and the price is very fair. I do wish the interior accessory pockets had been designed symmetrically, but hardly anyone will want to carry more controllers than this bag can handle.
If you prefer a backpack-style console case, CTA Digital sells a Universal Gaming Backpack that can hold an Xbox One, PlayStation 4, or Wii U. CTA also offers messenger bags similar to the one in this review but tailored for PlayStation 4 (and 3) and Xbox 360.
Get the Windows Central Newsletter
All the latest news, reviews, and guides for Windows and Xbox diehards.
Paul Acevedo is the Games Editor at Windows Central. A lifelong gamer, he has written about videogames for over 15 years and reviewed over 350 games for our site. Follow him on Twitter @PaulRAcevedo. Don't hate. Appreciate!