How to expand Xbox One storage with an external drive
You can easily add loads of storage to your Xbox One with an external drive.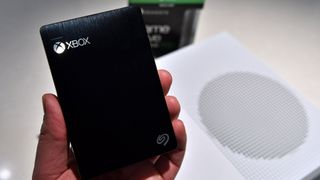 (Image credit: Future)
Games are getting bigger than ever, but the internal hard drive in your Xbox One is not. The majority of Microsoft's Xbox consoles now ship with 500GB or 1TB hard drives, unfit for a sizeable library, which makes it increasingly necessary to expand your Xbox One storage.
External drive support comes baked into Microsoft's Xbox One consoles, now a fast and affordable method to add more storage. It's relatively simple, boasting plug-and-play compatibility across most off-the-shelf USB hard drives and solid-state drives (SSDs) on the market. That increased capacity means less time stressing about free hard drive space and more time playing video games. You get more space for the biggest blockbusters out there, and with the right drive, you can also expect a drastic reduction in load times.
The most popular video game releases now decimate any Xbox One drive space, with top franchises like Call of Duty, NBA 2K, and Halo all north of 100GB on consoles. While you can juggle your favorite titles, uninstalling and redownloading as desired, that's hardly feasible with large file sizes. External hard drives are the remedy, hugely expanding your virtual shelf for games, and incredibly affordable, too.
The Xbox One family mandates that all games be installed on internal storage, a change from the previous Xbox 360 generation, which allowed games to be played directly from the disc. The same now applies whether you buy physical discs or digital downloads, and with file sizes steadily growing, hard drive space is now a valuable resource.
Hooking up an external hard drive is one of the best ways to expand your Xbox One console when running low on storage space. While internal hard drives cannot be replaced or upgraded without voiding your warranty, external USB storage is simple and hassle-free.
External hard drives don't require extensive setup, with plug-and-play support across current consoles. They work with all games available on Xbox One, a luxury that doesn't translate to expanding Xbox Series X|S storage, making the process incredibly simple and affordable.
The result is additional space for Xbox games, allowing you to install more titles or make room for larger file sizes. It also helps counter the rapidly swelling file sizes across top franchises, regularly surpassing 100GB. You may also see improvements in loading time and performance, depending on the drive you choose.
Xbox One hard drive and SSD requirements
Xbox consoles support most modern hard drives on the market, including the most popular models from top brands like Seagate, Western Digital, and more. The baseline requirements include USB 3.0 support, now standard among even budget USB external hard drives. USB 3.0 support ensures data will transfer between your console and drive at a relatively fast rate. Compatible external drives work with all Xbox One, Xbox 360, and original Xbox games, unlike the limitations imposed on some games designed for the new Xbox Series X|S consoles.
When choosing a drive, your first consideration should be storage space. Drives must also be at least 256GB to work with Xbox consoles, eliminating some entry-level capacities. The consoles also have a 16TB limit on external storage, far beyond the reasonable storage capacity of most drives on the market. For most, 1TB externals provide a welcome boost, ideal for those on a budget. Making an upgrade to 2TB offers more flexibility, while 4TB and 8TB prove overkill for many.
Hard drive speed should also be considered, roughly estimated by the drive's revolutions per minute (RPM). Theoretically, the faster the drive, the quicker games will install, load, and save. For example, 7,200 RPM drives are faster than entry-level 5,400 RPM drives, while 10,000 RPM drives provide a further boost. For those demanding the best storage speeds, solid-state drives (SSDs) lead the pack, delivering unrivaled performance on Xbox One, albeit at a higher price.
It is worth noting that all consoles, including the Xbox One X, pack a 5,400 RPM internal hard drive. However, limitations of the console's "SATA II" interface mean its full potential is rarely used, making any external 5,400 RPM drive faster than the internal drive in most situations. As for the Xbox One X, which uses high bandwidth "SATA III," internal load times are also improved over Xbox One S. While SSDs deliver consistent improvements over the stock internal drive, some external hard drives can also bring measurable gains with load times.
How to choose an Xbox One external hard drive
When choosing a drive, your first consideration should be storage space. The console has a 16TB limit on external storage size, making most drives compatible. For most, 1TB externals provide a welcome boost, ideal for those on a budget. Making an upgrade to 2TB offers more flexibility, while 4TB and 8TB prove overkill for many.
While countless external drives meet the requirements for Xbox One consoles, we have our favorites. Overall performance, value, and reliability are crucial to choosing the right hard drive or solid-state drive. Our guide to the best Xbox One hard drives and SSDs provides a full in-depth breakdown, including more sizes and price ranges.
Entry-level 1TB and 2TB drives are an excellent upgrade for first-time buyers. You're getting a sizeable upgrade that dominates the base 500GB hard drives in many consoles, providing ample room for new releases. They're also ideal when on a tighter budget, with prices starting below the cost of a new video game.
We've rounded up a few of the best-value picks right now, which also join the lineup of best hard drives for Xbox Series X and Series S, should you choose to upgrade at a later date.
Budget drive
Toshiba Canvio Basics 1TB portable external hard drive
An affordable upgrade to your Xbox One storage

Toshiba's 1TB Canvio Basics drives are simple, compact, and among the cheapest Xbox-compatible drives. Tripling storage of entry-level Xbox One consoles, it's the perfect upgrade to pair with internal storage.
More for your money
Seagate Expansion 2TB external hard drive
For those with more games than storage

Leap to 2TB with this Seagate drive, delivering a low-cost storage upgrade for a few extra bucks. It's barebones, cutting surplus software, so it's ideal for simple plug-and-play with Xbox One.
Upgrading to an SSD isn't for everyone, with the best options often demanding a hefty premium over their slower hard drive counterparts. The Samsung T7 lineup is currently a leading option for Xbox One, with high speeds and starting prices on the lower end. It's also the best SSD for Xbox Series X and Series S over a USB connection, with reduced load times even more apparent on these new consoles.
Need for speed
Samsung T7 500GB portable SSD
Go faster than light with this SSD companion

While Xbox-compatible SSDs aren't cheap, Samsung's T7 500GB external drive packs top-tier speed for less than $100. It doubles the base Xbox One's storage so that you can offload your most-played titles for that extra boost. Encased in a shock-resistant metal finish, it fits stealthily beside any console.
How to use an external hard drive on Xbox One
With an Xbox-compatible hard drive in hand, it's now time to connect it to Xbox One. Microsoft has made the process effortless over the years, with concise on-screen instructions throughout the setup process.
Connect the drive to a vacant USB port using the included cable. Once automatically detected, follow the on-screen prompts, permitting the drive to be formatted. By using the external hard drive on Xbox One, all prior data is erased.
Connect your external hard drive to an Xbox One USB port. An on-screen pop-up will display.
Select Format storage device.
Enter a name for the drive using the on-screen keyboard.
Select Install new things here to automatically install future games on this drive.
Select Format storage device. This will delete all data on the device.
Now configured for Xbox One, future games, and apps automatically install to your external drive. You can also add additional drives to your Xbox One console, using the same setup process.
How to move Xbox One games to an external hard drive
With your external drive installed and formatted, existing game installations can be moved. This allows games to take advantage of performance benefits without redownloading over Xbox Live. We recommend transferring all but the lowest-priority games.
Open the Settings app on Xbox One.
Navigate to the System tab.
Select Storage.
Scroll over to the right to select the drive to move content from.
Select Transfer.
Select items you plan to transfer. If moving all items, choose Select all.
Choose Move selected to move the items between the console and drive.
Choose the external drive.
Press Move to initiate the transfer.
After you're done moving your games, the "My Games & Apps" menu will now display the total combined free storage and percentage of used storage on the left side of the screen.
Get the Windows Central Newsletter
All the latest news, reviews, and guides for Windows and Xbox diehards.
Matt Brown was formerly a Windows Central's Senior Editor, Xbox & PC, at Future. Following over seven years of professional consumer technology and gaming coverage, he's focused on the world of Microsoft's gaming efforts. You can follow him on Twitter @mattjbrown.