Galaxy Explorer app for Microsoft HoloLens released as open source project on GitHub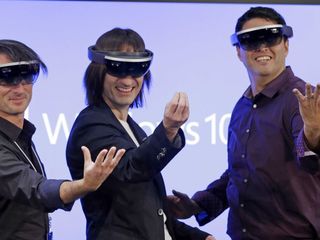 After less than two months of development, Microsoft has released its Galaxy Explorer app for the Microsoft HoloLens augmented reality headset as part of its Build 2016 conference. The app is available to download from GitHub as an open source project to help developers make their own HoloLens apps.
The concept for Galaxy Explorer was voted on as the most popular idea for the HoloLens during a contest held earlier this year It allows users to view a version of the Milky Way Galaxy in a full 3D model via HoloLens, along with Earth's solar system. Microsoft began officially shipping the $3,000 Microsoft HoloLens Developer Edition this week.
Download Galaxy Explorer app for Microsoft HoloLens at GitHub
When he appeared on the stage I thought joe belfiore is back after his vacation and has gone slim .!! XD

Had you never seen him before?
Windows Central Newsletter
Thank you for signing up to Windows Central. You will receive a verification email shortly.
There was a problem. Please refresh the page and try again.