Samsung's Galaxy Fold woes validate Microsoft's Surface Andromeda caution
Samsung's Galaxy Fold was hit by early display issues and is now delayed — was Microsoft wise in not playing its foldable pocket PC Surface Andromeda card so soon?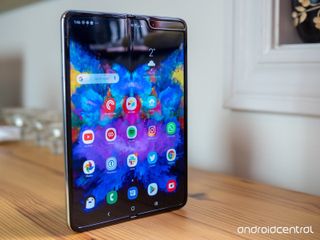 (Image credit: Android Central)
Microsoft's rumored Surface Andromeda pocket foldable PC is the dream device of many a Windows phone enthusiast. But the nightmare Samsung is enduring thanks to the early failures of its $2000 Galaxy Fold proves that some dreams are better deferred.
I have been writing about Microsoft's inking focused pocket PC dreams since 2015. Skeptics, wary of Microsoft's commitment to mobile initially dismissed this analysis. Over the years various leaks, Microsoft patents, the canceled Microsoft Courier and a leaked internal Microsoft email last year have confirmed not only Microsoft's interest in pocketable folding mobile technology, but its work toward bringing such an innovative device to market that "blurs the lines between mobile and PC."
Microsoft's Surface Andromeda folding pocket PC was expected to debut last year but, to the dismay of Microsoft enthusiasts, was unceremoniously put on the back burner. Considering the failures Samsung's Galaxy Fold is enduring as the company pioneers folding displays, Microsoft may have dodged a PR bullet related to tech that just may not be ready for prime time.
New folding tech, new challenges
In March of 2018 Qualcomm's Product Manager of Display Technology Salman Saeed, warned in an interview with TechRadar that folding display tech was not ready for market:
Electrodes power the individual pixels we see on our displays and according to TechRadar Saeed asserted that they "are not flexible enough today." This may or may not be what is contributing to some of the issues early reviewers are experiencing with the Samsung Galaxy Fold.
Samsung Galaxy Fold has issues
To date there seem to be three distinct issues that have been reported:
Reviewers like Marques Brownlee and Mark Gurman removed or began removing the thin plastic film they mistook as the removable screen protector found on many electronic devices with screens. This film is actually a necessary part of the Galaxy Fold's technology, removal of which causes the device to malfunction.
PSA: There's a layer that appears to be a screen protector on the Galaxy Fold's display. It's NOT a screen protector. Do NOT remove it.

I got this far peeling it off before the display spazzed and blacked out. Started over with a replacement. pic.twitter.com/ZhEG2BqulrPSA: There's a layer that appears to be a screen protector on the Galaxy Fold's display. It's NOT a screen protector. Do NOT remove it.

I got this far peeling it off before the display spazzed and blacked out. Started over with a replacement. pic.twitter.com/ZhEG2Bqulr— Marques Brownlee (@MKBHD) April 17, 2019April 17, 2019
In another case, foreign matter or a portion of the hinge mechanism that enables the device to fold began protruding through the screen causing damage.
https://twitter.com/backlon/status/1118573836226658304
Finally CNET's tech editor Steve Kovach saw the display begin to malfunction, flickering after one day of use.
https://twitter.com/stevekovach/status/1118571414934753280
Could the third failure be a manifestation of the electrodes susceptibility to damage as a result of folding that Qualcomm's Saeed warned about? We don't know, but Samsung's indefinite hold on shipping the device suggests the company is taking the time to find out what is causing the problems that seem to be inherent to the tech or related to design.
Though the news of the Galaxy Fold's failures is high profile, the impact for this yet-to-be-released-to-market device on consumers is minimal; unlike the "firestorm" caused by the Samsung Galaxy Note7.
Andromeda issues
Image 1 of 2
Numerous factors contributed to Microsoft's decision not to launch Surface Andromeda. Without developer support, and a relatively paltry app ecosystem practical limitations as a pocketable mobile device was likely the chief motivation. Without the fruits of its Progressive Web App (PWA) investments and a less than optimal tablet UI, like the app-deficient Windows Phone and Windows 10 tablets, it would have had a sub-par mobile experience for most users. Thus, even with a unique inking focus, Microsoft pushed the project back because it had difficulty positioning this unique device for even a niche market.
Furthermore, Windows Core OS, with its context and form conforming CShell was not ready for a 2018 or 2019 Surface Andromeda launch. So, the challenges of Windows, though powerful on a pocketable form factor would have been robust, but the UI across pocketable, tablet and desktop scenarios (think Continuum) may not have been optimal.
The success of Microsoft's folding device, under ideal circumstances would have brought advantages to the table that android- and potentially iOS-based devices couldn't offer. These Windows Core OS and CShell UI advantages, the PC power Windows brings for PC mode and being part of a unified platform were cut short by a weak app ecosystem and late arrival of Core OS which is only just about to debut on HoloLens 2.
Watch, wait and iterate?
Image 1 of 14
Folding tech has various manifestations such as folding inward like the Samsung Galaxy Fold (protecting the screens) and folding outward (exposing the screens) like the Huawei Mate X. Despite the patents we've seen we don't know for sure what Microsoft's folding device would have looked like and what hardware challenge it would have faced.
Whether Microsoft ultimately goes back to Surface Andromeda remains to be seen, but for now, like Apple's strategy, it has the advantage of watching, waiting and iterating. Microsoft may quietly invest in the tech while rivals make the public mistakes, take the PR heat, and perhaps having dodged the bullet, ultimately release a device that advances the tech and offers a better and unique use case. That's the ideal scenario.
At the very least even if Microsoft had followed the "HoloLens model" and executed a tailored, methodic launch of Surface Andromeda in various enterprise contexts, Samsung's Galaxy Fold's issues suggest it may have dodged a PR nightmare for risky tech that may not be ready for market.
Get the Windows Central Newsletter
All the latest news, reviews, and guides for Windows and Xbox diehards.
Jason L Ward is a columnist at Windows Central. He provides unique big picture analysis of the complex world of Microsoft. Jason takes the small clues and gives you an insightful big picture perspective through storytelling that you won't find *anywhere* else. Seriously, this dude thinks outside the box. Follow him on Twitter at @JLTechWord. He's doing the "write" thing!