Microsoft's MIA Surface Andromeda pocket PC could have advantages over folding phones
As high-profile folding phones enter the market, Microsoft enthusiasts can't help but wonder "what could have been" if Microsoft had launched its foldable Surface Andromeda pocket PC.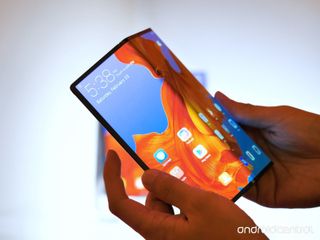 Microsoft's pocketable mobile device saga lives on in the hearts of passionate enthusiasts though Microsoft's passion seems to have waned. That is not to say Microsoft has no pocketable device ambitions. Surface Andromeda, a rumored foldable, inking-focused pocket PC running Windows Core OS (originally Andromeda OS, now possibly Santorini), has been the focus of what could have succeeded Windows phones.
Sadly, Microsoft has pushed Andromeda into the background as it invests in less risky endeavors (i.e. Surface Centaurus). Still, the primary challenge to Microsoft's Surface Andromeda is also a challenge for Samsung's Fold and Huawei's Mate X: What advantage do folding devices offer users?
Microsoft couldn't determine a sufficiently compelling positioning strategy for Andromeda, so it placed this Windows-based Pocket PC on the back burner. Samsung, Huawei, and others plowed forward with exciting Android-based foldable phones which are (for now) more proof-of-concept than practical solutions to users needs. The companies are investing in market, developer and user feedback to bring refinements to subsequent generations of these phones to make them more appealing and affordable. Microsoft's Surface Andromeda, as a digital journal-focused pocket PC, would have been a different type of device in this pocketable folding device space; and even with its challenges, it may have had advantages over Samsung's and Huawei's offerings. From an internal Microsoft email: "It's a new pocketable Surface device form factor that brings together innovative new hardware and software experiences to create a truly personal and versatile computing experience."
Growing pains
Like Samsung's Fold and Huawei's Mate X Surface Andromeda would have been a first gen device in a new category. Its target market would have been niche, and untested, and the goal would have been to build awareness and support for the category going forward. Simply put, Surface Andromeda in 2019 would have been the beginning of a long-play for a pocket PC category Microsoft would have hoped to mature over several generations, of OEM support and a supporting ecosystem. Anyone watching Samsung and Huawei can see this strategy in action for the folding phone category in which they're striving.
Both devices are a techies dream, but at $2000 or more and few compelling use case advantages, they're far from practical for consumers or business professionals at this price point. The large displays, powerful processors, ample storage and memory, notable cameras and more are impressive. And the extra real-estate for gaming, media consumption or browsing the web when unfolded into a tablet is useful. Still, if the main pitch is that the phone "gets bigger" to do more of the same when unfolded, then folding though useful, is not compelling enough.
Surface Andromeda, CoreOS, CShell advantage
Image 1 of 2
I concede Microsoft's Surface Andromeda is missing-in-action while Samsung and Huawei have real devices coming to market. Still, if Microsoft had launched Andromeda, I think this pocket PC would have had advantages over Samsung's and Huawei's folding phones.
I believe Windows offers a more robust platform across desktop, tablet and pocketable form factors. As form-shifting devices go, Surface Andromeda was expected to be capable of desktop scenarios when docked (think Continuum), be used as a tablet when unfolded and function as a handheld or phone when folded as well as operate as a digital journal.
OneCore ensures that Windows across all form factors has the same foundation. With Windows CoreOS Microsoft is starting from its robust Windows PC position and "chiseling" Windows down to fit mobile (Santorini), and tablet contexts while retaining some desktop strengths. Combined with CShell, which conforms the Windows UI to different screen contexts, I think Surface Andromeda would have "folded" with greater purpose than merely providing more real estate.
More than a fold
With Microsoft's rumored Andromeda, the software, or UI was expected to "become" what the hardware becomes. Simply put, when the device unfolded into a tablet, the UI was expected to become a tablet UI ideal for tablet use; when folded it would become a handheld UI, and when docked a desktop UI would initiate. Windows OneCore, via Windows CoreOS, allows Microsoft to work back from a more complex OS, retain some of those desktop strengths for desktop mode while lightening the OS for mobile contexts as well.
Conversely, Samsung's and Huawei's folding phones use Android, a mobile-focused OS with a tablet experience that has been less than ideal, and a desktop experience that is worse. Android (and iOS) are moving from a lighter, less complex mobile UI trying to accommodate more complex computing. Simply put, as these devices shift from phone to tablet, they're still phones and for now, trying to be a desktop isn't even a realistic goal.
Microsoft's Andromeda would have had its shortcomings, namely an app and developer deficit that would make its handheld (phone) experience as poor (or worse) as its defunct Windows phone experience. Still, Microsoft's approach across handheld, tablet, desktop and digital journal contexts with one device is broader and likely would have benefited from a more uniform OS base and more flexible and context-appropriate UI.
The "HoloLens Model"
For now, folding phones are proofs-of-concept with no clear target market. Ideally, they will be for everyone in time as companies discover what does and doesn't work, software matures and developers devise creative ways to optimize apps for folding devices. I'm convinced that will happen. So what should Microsoft have done instead of pushing Andromeda into the shadows?
Andromeda is a digital journal targeted at creatives: people like researchers, educators, journalists, marketing managers, artists and more. Like HoloLens, Microsoft should have released Andromeda within specific sectors and developed the software and hardware methodically across various uses cases. Its digital inking and collaborative focus within Microsoft's Surface environment, supporting services like Microsoft 365, Dynamics 365, AI, Paint 3D, White Board, Teams, Skype, Cortana and more could have been tailored for workers across various industries.
I recently shared Microsoft's three mobile visions: cross-platform support, Surface Andromeda (also Always Connected PCs) and HoloLens; and they can all coexist. It would have been great to see Surface Andromeda, even if just in the enterprise for now, following the HoloLens model.
Get the Windows Central Newsletter
All the latest news, reviews, and guides for Windows and Xbox diehards.
Jason L Ward is a columnist at Windows Central. He provides unique big picture analysis of the complex world of Microsoft. Jason takes the small clues and gives you an insightful big picture perspective through storytelling that you won't find *anywhere* else. Seriously, this dude thinks outside the box. Follow him on Twitter at @JLTechWord. He's doing the "write" thing!