These are Microsoft's three ambitious visions for mobile
Microsoft's smartphone-focused mobile efforts failed, but it's not done in mobile. Here are three areas where Microsoft is pursuing a mobile presence.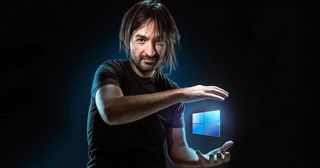 Microsoft's smartphone efforts failed, but its still pursuing three distinct mobile strategies. Smartphones and mobile, though used synonymously are not the same. Simply put, all smartphones are mobile devices, but not all mobile devices are smartphones. The evolution of the smartphone model including the slate-shaped hardware, app-based ecosystem, carrier-dominated communication, financial and distribution infrastructure and entrenched consumer and developer base lead many to believe this particular manifestation of mobile is immutable and enduring.
The reality, however, is that technology and the social, economic and cultural structures in which it's intertwined are ever-changing while core things we do with it remain unchanged. For example, communication, entertainment, and simplifying tasks are central to technologies from the telegraph, CD Player and banking that were replaced first by telephones, MP3 players and ATMs and then (to some extent) by smartphones and apps. The technology changed but what we do with it in its evolving forms has not. Technology is the medium, not the focus, by which tasks are accomplished.
Consequently, Microsoft is pursuing three, non-smartphone, areas it hopes will support its mobile presence in the communication-computing space where collaboration, entertainment and getting things done is the focus. Cross-platform apps are the current approach, foldable mobile devices are its post-smartphone investment, and mixed reality is its long-term vision.
Now: Cross-platform apps and cloud
Founded on Azure Microsoft is aggressively pursuing a platform-agnostic strategy that pushes its first-party apps and background services on various mobile, web and desktop platforms. Microsoft's goal is to make Azure the world's computer. Mobile OSes running Microsoft apps, are connected to Microsoft Graph and Cortana and are integrated with Windows 10 via Your Phone, Timeline and Sets are meant to be the "user interface" to Microsoft's cloud "computer."
Microsoft achieved some success with this strategy as Office, Outlook, Microsoft Launcher and other Microsoft apps have been downloaded millions of times on Android and iOS, and its cloud services have continued to grow.
Though the full realization of Microsoft's strategy to turn competing platforms into "front-ends" to Microsoft's cloud is a long way off and the outcome uncertain, the company is unrelenting in this current approach to mobile.
Next: Folding technology and Project Andromeda
Image 1 of 6
Foldable devices that are "pocket-friendly" when folded and provide needed real estate for more complex computing when unfolded is where many companies are investing to escape the limitations of the rectangular slab smartphone. The inherent hardware and software limits to the current mobile OS-based smartphone model are becoming clearer as demands on "mobile" computing have increased.
Furthermore, the line between mobile and traditional (desktop) computing is eroding. The evolution of cloud computing combined with mobile broadband (LTE and 5G) and context-conforming 2-in-1s and always-connected PCs that transition from desktop to tablets has made computing "transient." Additionally, people who are doing what were once desktop-centric tasks on their smartphones are looking to do even more.
This is why smartphones are getting bigger and why Microsoft and others are trying to make folding devices relevant. Software is key to making a device fold with a purpose; that enables users to do what non-folding devices will not.
Microsoft's rumored Surface Andromeda pocket PC is expected to benefit from OneCore, Windows CoreOS and CShell, to have the power (and utility) of desktop computing and a UI that transitions between desktop, tablet and mobile states (think Continuum). Though hampered by a poor app ecosystem, this long shot does have advantages over mobile OSes that are trying to do more desktop-like computing. Surface Andromeda's expected debut has been pushed out a couple of times as Microsoft strives to make a case for this post-smartphone attempt at mobile.
Folding phones: The end of slate-shaped phones
Future: HoloLens and mixed reality computing
Image 1 of 11
Microsoft's CEO Satya Nadella sees mixed - augmented (AR) and virtual (VR) - reality as computing's future. Apple's Tim Cook, Facebook's Mark Zuckerburg, Google's Sundar Pichai, ODG's Ralph Osterhout (who supplies wearable tech to the military), agree. HoloLens creator Alex Kipman even said "smartphones are dead" and Windows Insider Chief Dona Sarkar argued looking down at screens is unnatural.
HoloLens and Windows Mixed Reality are Microsoft's foundation for the computing model it envisions will be our future medium for communication, entertainment and getting things done. Microsoft's methodic four-year deployment and evolution of Hololens in the enterprise, education and private sectors is a strategic technology-, platform- and infrastructure-building investment toward where it believes mobile is headed. We're a long way from a consumer-ready Hololens, but ODG's R8 and R9 smartglasses and Microsoft's recent smartglasses patents signal the tech is moving in the right mobile-friendly direction.
Additionally, in 2017 we learned Microsoft scrapped HoloLens version 2 to focus on an earlier, 2019, release for "version 3". This, according to the report, would be a generational versus an incremental technological advance. A debut of this next-gen HoloLens at MWC 2019 may reveal how near Microsoft is to its ambitious, "screenless" and "smartphone-less" vision of the future.
HoloLens 2 could represent Microsoft's next step in mobile
Future focused: mobile synergy
Image 1 of 2
Nadella admitted his focus on the future contributed to Microsoft's failure in smartphones (which impacts current and future developer and consumer support).
As we envision Microsoft's mobile future, its mobile "present," by necessity and design, is cloud-based and cross-platform. And folding devices and mixed reality fill out its future mobile roadmap. The benefit of this multi-faceted strategy is that the approaches, if successful, can coexist and meet users' shifting computing needs.
Get the Windows Central Newsletter
All the latest news, reviews, and guides for Windows and Xbox diehards.
Jason L Ward is a columnist at Windows Central. He provides unique big picture analysis of the complex world of Microsoft. Jason takes the small clues and gives you an insightful big picture perspective through storytelling that you won't find *anywhere* else. Seriously, this dude thinks outside the box. Follow him on Twitter at @JLTechWord. He's doing the "write" thing!