ODG's augmented reality smartglasses hint at consumer-grade HoloLens
HoloLens represents all that's cool about augmented reality (AR) and a wearable AR headset to Microsoft fans. Yet at half the price, sporting the Qualcomm Snapdragon 835 processor, ODG's R8 and R9 AR and virtual reality (VR) smartglasses may have some fans doing a double-take.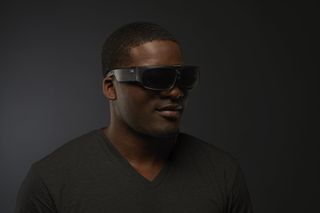 Ever since Microsoft demoed HoloLens in 2015 techies have coveted that cool wearable Holographic computer. But at $3000 and an enterprise focus our excitement has been tempered by Microsoft's business strategy that does not yet include consumers.
Still, even with reports of an actual field a view (FOV) that's much smaller than the immersive holographic environments Microsoft likes to demo, we still want an AR headset now.
Well, at $1000 Osterhout Design Groups (ODGs) more affordable consumer-focused, Android-based R-8 AR smartglasses, may tempt even the most Windows-focused fans. For those with $1800 to spare and don't want to wait until 2019 or beyond for a consumer version of the HoloLens, ODG's "light business" or prosumer R-9 smartglasses represent the best the company has to offer.
ODG's smartglasses are AR and VR devices, unlike HoloLens' strictly AR focus. With mounting competition, it's clear that Microsoft's mixed reality efforts don't exist in a vacuum.
Microsoft's AR strategy is the most comprehensive in the industry
Windows Mixed Reality (the spectrum from AR to VR), which powers Microsoft's AR and VR experiences, is part of Windows 10. As a prolific and established development platform, HoloLens creator Alex Kipman says Windows 10 lets anyone, anywhere develop for it. Kipman outlined several other advantages of Microsoft's Mixed reality investments over rivals:
Microsoft's mixed reality efforts benefit from the contributions of the billion dollar company's other strengths. Apple, Google, and Facebook also acknowledge that AR represents a coming shift in personal computing. Microsoft CEO Satya Nadella seems determined not to let Microsoft miss AR like it missed smartphones.
As such Microsoft has focused on a methodic and comprehensive, albeit slow, market approach which has solidified diverse partnerships in the enterprise and resulted in the development of tailored applications for HoloLens and AR, in health care, education, the military and more.
Introduction of consumer-focused R-8 smartglasses.
Major drawbacks to Microsoft's approach, however, have been the company's deliberate delay in addressing consumers, the headsets $3000 price tag and a design that's aesthetically unappealing for public use. ODG addresses these challenges with AR smart glasses that are consumer-focused, look like high-quality (yet bulky) sunglasses and are a third of the price of Microsoft's HoloLens.
Osterhout Design Group (ODG) is no AR novice
ODG has been around since 1999 and has been quietly contracted to supply non-weapon tech to the US military. ODG is led by CEO Ralph Osterhout who has over 2000 different products and hundreds of different product lines under his belt.
He has developed products for the government, startups and Fortune 500 companies. In 1984 he developed the PVS-7 Night Vision Goggles.
ODG's AR vision.
In his over 30 years of developing head-worn tech, the R-8 and R-9 culminate nine generations of smartglasses.
As a testimony to ODG's value as a legitimate player, a year before it introduced HoloLens, Microsoft bought 150 million dollars' worth of intellectual property (IP) from ODG. The smaller company remains a virtual David, competing with the Redmond Goliath on the AR front.
It's about the infrastructure, not just the glasses
The R-8 and R-9 smartglasses are the first mobile devices to use Qualcomm's Snapdragon 835 processors. The company hopes to gain footing in the consumer smartglasses space with its $1000 R-8 model. Osterhout stated:
Swipe to scroll horizontally
| Category | R-8 | R-9 |
| --- | --- | --- |
| FOV | Over 40 degrees | Over 50 degrees |
| Aspect Ratios | 16:9 | (Cinema wide) 22:9 or 16:9 |
| Screen Resolution | 720p | 1080p |
| Apparent Screen size | 90" ten feet away | 120" ten feet away |
| Cameras | Dual 1080p Stereo | 13 MP front-facing - 4 at 6-fps to 1080p at 120 fps |
| Qualcomm Snapdragon 835 Processor | Yes | Yes |
| Storage | 64GB | 128GB |
| Weight | <4.5 oz | <6.5 oz |
| Price | $1000 | $1800 |
ODG is building a supporting infrastructure around its devices. For instance, the company has the support of 21st Century Fox which invested $58 million in the company. Fox is also collaborating with a virtual reality firm in LA which will ultimately bring high-definition content to ODG's smartglasses.
The R-8 and the R-9 are also the first THX-certified smartglasses. This simply means they have cinema-quality displays that present content consistent with how the producer of a film intended for it to be seen.
In partnership with China Mobile's content and service provider subsidiary MIGU, ODG is bringing its smartglasses to the world's largest market with access to over 800 million users of China Mobile's vast wireless and distributed network. MIGU's library of books, music, video and education content will be brought to ODG's devices via this partnership.
The tech behind ODG's smartglasses.
It's not all fun and games, however. Like Microsoft's HoloLens and Google's Glass ODG's strongest play has been and will likely remain the enterprise for the immediate future.
ODG has also partnered with Citrix to bring a user's workspace, or desktop and productivity apps to these Android-powered smartglasses.
Greener pastures?
Unlike HoloLens which has gaze, voice and gesture controls, ODG's smartglasses navigation is limited to a small button on the device.
ODG's smartglasses are based on Reticle OS, a non-Google version of Android. Like Amazon, ODG is using Android Open Source Project (ASOP) to build an ecosystem for its products. The company has released an SDK and made APIs available to developers in an attempt to garner support for apps designed for AR glasses. Just as HoloLens can run any Windows app, ODGs smartglasses can run any Android app but they are not optimized for the smartglasses form factor.
Microsoft's AR ecosystem is progressing, but with just 150 HoloLens-specific apps in the Windows Store, progress seems slow. Most Microsoft watchers are keenly aware of the poor response developers have had to Microsoft's Universal Windows Platform (UWP). The UWP is critical to the success of Microsoft's Windows 10 device vision which includes HoloLens. ODG's fledgling app store, Reticle App Center, is currently in beta and faces its own challenges.
The field of view (FOV) of the HoloLens is the most criticized of its attributes. This is likely due to the expectation set by Microsoft's demos rather than an inherently poor experience. Those who have used ODG's smartglasses feel that the 50-degree FOV of the R9 model (40 degrees in the R8) is better than that provided by the HoloLens.
Also unlike HoloLens, ODG's smartglasses don't track their environment. An add-on will be available to add this capability, but will also add to the devices bulkiness.
Wrap up
It's easy for Microsoft fans to get trapped in a bubble and miss what's happening outside of the boundaries of their primary area of interest. But to understand where tech is going, and what forces are moving the industry, keeping one's eye on the broader picture is not only a matter of curiosity but a means to better understand Microsoft's strategy.
Microsoft's purchase of $150 million worth of IP from ODG reflects that Microsoft obviously sees the company as a valuable player in the AR field. ODG's venture into the consumer space before Microsoft, with smartglasses that are around the cost of a high-end smartphone, is a move that many Microsoft fans likely wish Redmond would do with HoloLens. Osterhout even has the addition of telephony in view.
Ralph Osterhout.
Could Microsoft pare down HoloLens' specs, forsaking some of the higher-end features, and bring consumer-focused AR glasses that are comparable to ODG's in both specs and price to market? I think it can. The question is, "is such a move on Microsoft's roadmap." If not, with rising competition from Apple, Google, Facebook, ODG and others perhaps it should be.
Get the Windows Central Newsletter
All the latest news, reviews, and guides for Windows and Xbox diehards.
Jason L Ward is a columnist at Windows Central. He provides unique big picture analysis of the complex world of Microsoft. Jason takes the small clues and gives you an insightful big picture perspective through storytelling that you won't find *anywhere* else. Seriously, this dude thinks outside the box. Follow him on Twitter at @JLTechWord. He's doing the "write" thing!