ODG's augmented reality smartglasses hint at consumer-grade HoloLens
HoloLens represents all that's cool about augmented reality (AR) and a wearable AR headset to Microsoft fans. Yet at half the price, sporting the Qualcomm Snapdragon 835 processor, ODG's R8 and R9 AR and virtual reality (VR) smartglasses may have some fans doing a double-take.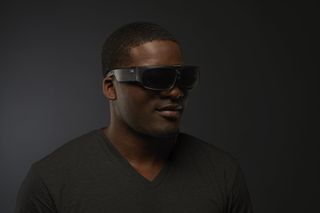 Ever since Microsoft demoed HoloLens in 2015 techies have coveted that cool wearable Holographic computer. But at $3000 and an enterprise focus our excitement has been tempered by Microsoft's business strategy that does not yet include consumers.
Still, even with reports of an actual field a view (FOV) that's much smaller than the immersive holographic environments Microsoft likes to demo, we still want an AR headset now.
Well, at $1000 Osterhout Design Groups (ODGs) more affordable consumer-focused, Android-based R-8 AR smartglasses, may tempt even the most Windows-focused fans. For those with $1800 to spare and don't want to wait until 2019 or beyond for a consumer version of the HoloLens, ODG's "light business" or prosumer R-9 smartglasses represent the best the company has to offer.
ODG's smartglasses are AR and VR devices, unlike HoloLens' strictly AR focus. With mounting competition, it's clear that Microsoft's mixed reality efforts don't exist in a vacuum.
Microsoft's AR strategy is the most comprehensive in the industry
Windows Mixed Reality (the spectrum from AR to VR), which powers Microsoft's AR and VR experiences, is part of Windows 10. As a prolific and established development platform, HoloLens creator Alex Kipman says Windows 10 lets anyone, anywhere develop for it. Kipman outlined several other advantages of Microsoft's Mixed reality investments over rivals:
Microsoft's mixed reality efforts benefit from the contributions of the billion dollar company's other strengths. Apple, Google, and Facebook also acknowledge that AR represents a coming shift in personal computing. Microsoft CEO Satya Nadella seems determined not to let Microsoft miss AR like it missed smartphones.
As such Microsoft has focused on a methodic and comprehensive, albeit slow, market approach which has solidified diverse partnerships in the enterprise and resulted in the development of tailored applications for HoloLens and AR, in health care, education, the military and more.
Introduction of consumer-focused R-8 smartglasses.
Major drawbacks to Microsoft's approach, however, have been the company's deliberate delay in addressing consumers, the headsets $3000 price tag and a design that's aesthetically unappealing for public use. ODG addresses these challenges with AR smart glasses that are consumer-focused, look like high-quality (yet bulky) sunglasses and are a third of the price of Microsoft's HoloLens.
Osterhout Design Group (ODG) is no AR novice
ODG has been around since 1999 and has been quietly contracted to supply non-weapon tech to the US military. ODG is led by CEO Ralph Osterhout who has over 2000 different products and hundreds of different product lines under his belt.
He has developed products for the government, startups and Fortune 500 companies. In 1984 he developed the PVS-7 Night Vision Goggles.
ODG's AR vision.
In his over 30 years of developing head-worn tech, the R-8 and R-9 culminate nine generations of smartglasses.
As a testimony to ODG's value as a legitimate player, a year before it introduced HoloLens, Microsoft bought 150 million dollars' worth of intellectual property (IP) from ODG. The smaller company remains a virtual David, competing with the Redmond Goliath on the AR front.
It's about the infrastructure, not just the glasses
The R-8 and R-9 smartglasses are the first mobile devices to use Qualcomm's Snapdragon 835 processors. The company hopes to gain footing in the consumer smartglasses space with its $1000 R-8 model. Osterhout stated:
Swipe to scroll horizontally
| Category | R-8 | R-9 |
| --- | --- | --- |
| FOV | Over 40 degrees | Over 50 degrees |
| Aspect Ratios | 16:9 | (Cinema wide) 22:9 or 16:9 |
| Screen Resolution | 720p | 1080p |
| Apparent Screen size | 90" ten feet away | 120" ten feet away |
| Cameras | Dual 1080p Stereo | 13 MP front-facing - 4 at 6-fps to 1080p at 120 fps |
| Qualcomm Snapdragon 835 Processor | Yes | Yes |
| Storage | 64GB | 128GB |
| Weight | <4.5 oz | <6.5 oz |
| Price | $1000 | $1800 |
ODG is building a supporting infrastructure around its devices. For instance, the company has the support of 21st Century Fox which invested $58 million in the company. Fox is also collaborating with a virtual reality firm in LA which will ultimately bring high-definition content to ODG's smartglasses.
The R-8 and the R-9 are also the first THX-certified smartglasses. This simply means they have cinema-quality displays that present content consistent with how the producer of a film intended for it to be seen.
In partnership with China Mobile's content and service provider subsidiary MIGU, ODG is bringing its smartglasses to the world's largest market with access to over 800 million users of China Mobile's vast wireless and distributed network. MIGU's library of books, music, video and education content will be brought to ODG's devices via this partnership.
The tech behind ODG's smartglasses.
It's not all fun and games, however. Like Microsoft's HoloLens and Google's Glass ODG's strongest play has been and will likely remain the enterprise for the immediate future.
ODG has also partnered with Citrix to bring a user's workspace, or desktop and productivity apps to these Android-powered smartglasses.
Greener pastures?
Unlike HoloLens which has gaze, voice and gesture controls, ODG's smartglasses navigation is limited to a small button on the device.
ODG's smartglasses are based on Reticle OS, a non-Google version of Android. Like Amazon, ODG is using Android Open Source Project (ASOP) to build an ecosystem for its products. The company has released an SDK and made APIs available to developers in an attempt to garner support for apps designed for AR glasses. Just as HoloLens can run any Windows app, ODGs smartglasses can run any Android app but they are not optimized for the smartglasses form factor.
Microsoft's AR ecosystem is progressing, but with just 150 HoloLens-specific apps in the Windows Store, progress seems slow. Most Microsoft watchers are keenly aware of the poor response developers have had to Microsoft's Universal Windows Platform (UWP). The UWP is critical to the success of Microsoft's Windows 10 device vision which includes HoloLens. ODG's fledgling app store, Reticle App Center, is currently in beta and faces its own challenges.
The field of view (FOV) of the HoloLens is the most criticized of its attributes. This is likely due to the expectation set by Microsoft's demos rather than an inherently poor experience. Those who have used ODG's smartglasses feel that the 50-degree FOV of the R9 model (40 degrees in the R8) is better than that provided by the HoloLens.
Also unlike HoloLens, ODG's smartglasses don't track their environment. An add-on will be available to add this capability, but will also add to the devices bulkiness.
Wrap up
It's easy for Microsoft fans to get trapped in a bubble and miss what's happening outside of the boundaries of their primary area of interest. But to understand where tech is going, and what forces are moving the industry, keeping one's eye on the broader picture is not only a matter of curiosity but a means to better understand Microsoft's strategy.
Microsoft's purchase of $150 million worth of IP from ODG reflects that Microsoft obviously sees the company as a valuable player in the AR field. ODG's venture into the consumer space before Microsoft, with smartglasses that are around the cost of a high-end smartphone, is a move that many Microsoft fans likely wish Redmond would do with HoloLens. Osterhout even has the addition of telephony in view.
Ralph Osterhout.
Could Microsoft pare down HoloLens' specs, forsaking some of the higher-end features, and bring consumer-focused AR glasses that are comparable to ODG's in both specs and price to market? I think it can. The question is, "is such a move on Microsoft's roadmap." If not, with rising competition from Apple, Google, Facebook, ODG and others perhaps it should be.
Jason L Ward is a columnist at Windows Central. He provides unique big picture analysis of the complex world of Microsoft. Jason takes the small clues and gives you an insightful big picture perspective through storytelling that you won't find *anywhere* else. Seriously, this dude thinks outside the box. Follow him on Twitter at @JLTechWord. He's doing the "write" thing!
Thanks for reading folks!!! So what are your thoughts. Does ODG's offering provoke thoughts of what a consumer HoloLens can be? LET'S TALK!!!

There's also Meta Ar headset priced at 949$, you should check that one as well https://www.metavision.com/ http://www.businessinsider.in/People-are-already-replacing-their-desktop...

Hi techiez, yeah I checked those out too. If I'm correct I believe those need to be tethered though. (Correct me if I'm wrong.) But the experience does look pretty good. Thinking about doing a piece looking at a few of the popular options. I saw several and have them in my notes. But if you know any others that seem interesting shoot me a link maybe if I do that piece I'll include them. Thanks!😎

Thats correct, the users need to remain tethered, but its good as a first gen, which also means MS does need to look over its shoulder, and probably thats why they dropped the V2.0 and accelerated 3rd gen Hololens, I sincerely hope they dont screw this up like mobile and I see they are well positioned in this space to stay ahead.

Hololens is not even targeted towards consumer yet every other device is compared to it in consumer space! Hololens is and will remain the only self contained device until HL 2.0 is released in 2019. What should be focused upon is the platform and devs. Trust me in AR market less the devices better the experience. This is where ARkit shines and Android fails even after achieving everything 1 year ago! Mixed Reality platform can only be killed by the neglegance of the platform due to the popular ARkit. And who knows and cares about ODG AR glasses. I am yet to see a normal consumer using it. All i have seen is the pictures or at the tech showrooms. To think about the aspects of next version hololens people don't need ODG, they know what they gonna wear on the face and it should be regular Goggle;")

Both ODG and Meta are targetted towards enterprises as well primarily and hence makes sense to compare to hololens

Hi Arjun its true you haven't seen anyone with ODGs consumer focused glasses because the consumer versions, R-8s are not on the market yet.🙂 As I pointed out in the article ODG does have a deal with the largest carrier in the world China Mobile with 800 million people that will carry the device. Who knows how well will do, there a plenty of challenges but the company seems to being trying to put all of its ducks in a row. Also, the R-9 and the smart glasses before these latest iterations have been and are enterprise-focused. Thanks for jumping in!😎

These glasses are about small enough to wear with my half helmet. If I had a pair of HLs' like these, with a small hand control that I could mount to my bike, I could view navigation, also use eye tracking in Windows 10 to switch tracks in Groove,,, keep both hands on the handle bars more often. This would present an excellent opportunity for MS to express interest in motorcyclist safety, and other areas where SG's could make environments, and task safer.... if only MS would come on with it this millennium.

You could also look for the closest garage, and oil retailer as well! Oh...don't forget assless chaps stores for all your piratey riding clothes...ha ha ha! Just kidding before you get all snowflaky! I agree...need this implemented into full face helmets!

When a new product category is going to take the market there are two approach:
-Make it first
-Make it better Microsoft did the first with tablet and smartphone(killed by ipad and iphone). Now I think they are trying to emulate Apple with the hardware (as we can see with surface studio/book/laptop). And they are going to wait the technology is mature enough to bring the best product they can instead of bring an immature product and then improve it at each iteration. Apple never bring immature technologies in their product, Microsoft trying to emulate Apple in hardware space will do the same. Hololens is not on the market, is a devkit, like ARKit the only purpose is to bring companies and devloper to create content before the actual product will be on the market. I'm not saying is the right strategy, it could fail, but it is their strategy.

The form factor is nice, unless wearing glasses? I don't think there is enough space for glasses under those. Without tracking, it's more like 3D HUD. Like Pokemon Go AR without gyroscope :) Could MS expand Mixed Reality to Android? I'm thinking they should. Millions of VR-capable devices (phones) available now + devices like these.

I began to think Microsoft only planned to sell Hololens to arcades at Disney and businesses all along. The cost of this was never intended for the consumer market which is why we don't have it. Time to move on from this idea for the consumer market and look to another provider.

V interesting and good article. How does the actual hologram experience compare with the ODG v Hololens? Most consumers are not lucky enough to have seen anything holographic. Just VR..

Hi Andy, great question!😎 Check out the first video in the piece. There's a brief comparison there. Tell me what you think!

I hope we will get a Windows 10 version too.

To do what with it on windows crap 10? with no apps....I hope there won't be any win10 version, they should not embarrass themselves so much to use that mediocre MS platform.

To play games in a virtual 100 inch monitors? Blue Ray Personal Cinema? Unlimited amount of virtual monitors for multi screen setup for designers, investors?

A lot to pay for not much. I don't mean to talk down to a product that is a technical marvel at 2017 but you don't get much for your money. Clunky navigation by button and low resulotion. Still this is heralding what to come in a couple of years. The technology is not yet here but very close.

If 7 or 8 years away is very close, then sure, very close.

Comprehensive, ROLF. Atleast release the product! It has been years I have been hearing about the product.

Hi Crypto, Nadella stated in 2015 that this would be a five year journey as it focused on getting the product into the hands of developers and partnerships' with enterprise. So yes it has been years, only two out of the five we were told it would take. It's been "released" in various partnerships like NASA, auto industry, Lowes, education sector, healthcare, entertainment and more. Microsoft was clear that its oath to the mass market would begin with the enterprise before coming to consumers. Thanks for the comment!🙂

Zuckerberg is planning on 2024 before this category/technology actually becomes close to mainstream for consumers. It's nowhere close to ready.

An interesting note is the distance from the wearer's eye to the screen on which it's projected. Obviously this moves the focal point, but I'm curious to know how that plays into percieved image quality (think Apples Retina concept), FOV, and a sense of immersion.

If I were going to spend $1800 on something like this i would just add the other $1200 and get the HoloLens. Something like HoloLens with full gesture support, full Windows and ability to make phone calls but with a less geek helmet form factor, could be the "Surface Phone" we are looking for. Hint: Any wall in front of you is a Surface if you pin a holographic display to it.

Hahaha we could have a full surface phone in HoloLens lol..

Why would you want to make phone calls with a large pair of sunglasses?

I'm not saying hes right or anything (it is a clever thought) but from a tech standpoint, of love to have a "video chat" device like that. I can't say how many times it would've helped to see what they see while talking on the phone. Just a case where it would be nice to make a call on glasses.

Probably because of the sheer amount of babes that would be swarming you for being so awesome.