Game DVR for PC games and more coming to Xbox Windows 10 app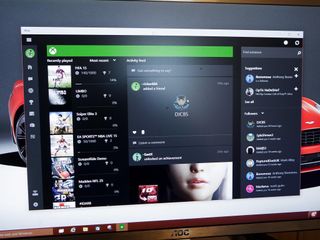 Microsoft will be adding a bunch of new features to the Xbox app for Windows 10 Technical Preview users, including the long-awaited Game DVR feature. The update will be released sometime later this month.
Here's what's will be included in the April Xbox Windows 10 app preview:
"Game DVR for PC games – The Game bar lets you record game clips of your favorite Windows games. With an upcoming Windows Insider update (build 10061 or higher), you will be able to record game clips for Windows PC games* using the new Game bar available on Windows 10. To bring up the Game bar, press Windows + G. Click the "Record that" button to save the last 30 seconds of gameplay, or just press Windows + Alt + G. Additionally, you can manually start and stop recording a game clip by clicking on the "Record" button on the Game bar or pressing Windows + Alt + R. The length of a recording, including the maximum length, can be changed in Settings > Game DVR in the Xbox app. There are also a few key settings within the Game bar itself. Get started by turning on "Record game clips and screenshots" in the Xbox app. Once enabled, there are options for background recording, video and audio quality. After enabling game DVR, you may need to sign out of Windows 10 and back in for the Game bar to appear."
"Screenshots – Take screenshots of Windows PC games by pressing Windows + Alt + PrtScr. Just as with Game DVR, you can also do this by clicking the "Screenshot" button on the Game bar."
"Live Tiles – The Xbox tile on your Windows 10 start menu can now welcomes you back, showing off your gamerpic and letting you know when you have new messages and activity alerts. To turn this on, go to Settings > General > Live tile."
"Avatar app – A new app is available in the Windows Store to customize your Xbox avatar's appearance and outfit your avatar with a vast collection of items. In the Xbox app, click the icon for your profile or your friends' profiles to see their Xbox avatar. You can download the Avatar app from the Store on Windows 10. Also, there is a new Avatar sub-forum on the Xbox Feedback site, here."
"User profile – You can see another gamer's bio, location, reputation, tenure, and other information in the more info page, including their animated avatar. You can also view their showcase items, including favorite achievements or game clips they added to their profile on their Xbox One."
"Real name sharing – Similar to the features we brought you in the March update on Xbox One, you can now choose to share your real name on the Xbox app with all of your friends or with everybody. Click on the "…" at the top of your profile page, then choose Name sharing settings to view and update these settings."
"Xbox One Now Playing and media controls – The games and apps you've used most recently on your Xbox One are now displayed when you connect the Xbox app to your console. You can also use the Xbox app to pause, fast forward and rewind."
"Live TV streaming and PIP (picture in picture) support – For preview members with an Xbox One Digital TV Tuner (in 16 European countries and Australia) or a Hauppauge 955Q TV Tuner (available in the U.S. or Canada) attached to their Xbox One, you can now stream live TV within your home from your Xbox One to Windows 10 PC running the Xbox app. This feature is also available in Xbox One SmartGlass on Windows 8 PCs, Windows Phone 8, iOS, and Android devices. The OneGuide on mobile devices now also provides PIP (picture in picture) support, so you can continue to stream and watch TV while you are using the OneGuide."
"Xbox controller drivers – The drivers for Xbox controllers are now included with Windows 10, so you no longer have to download and install controller drivers on Windows 10."
When the update does go live in the Windows Store for the Xbox app, the new version number will be 4.4.9014.0 or higher.
Source: Microsoft (opens in new tab)
Game streaming? From xbox one

Not yet, but hey, controller support is oddly what I'm excited about, haha.

Soo much excited about the animated avatars in our profiles, at least my avatar won't be hidden anymore. Will this also be coming to our profiles on the console?

Who needs this app...
Hey Microsoft WTF, where's Media Center

I need this app... Wtf media center

lol for? to record your game.

Yeah, I am pretty much looking for the game streaming for preview members at this point

Microsoft do something for windows phones too, we lack gaming experience on windows phones alot compared to IOS(idiot OS) and lagdroid :'(

Seems like Windows 10 Build 10061 is coming today, as the Video showes that this Build requiered for some new Features of the Xbox App

And DJCBS just got famous.

But he has a PlayStation, I guess.

Let's wait for him to confirm...

"Live TV streaming and PIP (picture in picture) support" Why limit it to Xbox One Digital TV Tuner or Hauppauge 955Q TV Tuner? Why not enable it for people using Homeworx's set-top box? What's the difference? Live TV is live TV. Allow us to stream it to SmartGlass.

I really want that too ... I don't know if there's a way to plug my tv decoder directly in the 955Q. To be able to stream tv to my pc or smartglass.

This beats the pants off the other solutions out there. Most of them you can either have one of the pinnacle tuners and pay for a upgrade to share it across other devices, you can pay for a WinTV upgrade that lets you share with other devices aswell. There was one last solution that was essentially a networked tuner, but it was really pricy (~$300?) New solution is have an xbox one, buy a tuner, and share with anything that you can install the Xbox App to, which will be windows phones and pc's.

Just give us the goddamn receiver for the wireless controller.

"Xbox controller drivers – The drivers for Xbox controllers are now included with Windows 10, so you no longer have to download and install controller drivers on Windows 10." What does this mean exactly? We will not have to plug our controllers into our consoles to update them? Or we will be able to use our Xbox controllers on any machine that supports bluetooth?

I thnk it means that you no longer need to manually install drivers on your PC to connect Xbox controllers.

If you can use this for all games including x86 that will be a fun feature

We need also support xbox achievement on window games !

i only use my x1 for xbox fitness, but with all these monthly improvments it puzzle me how ps4 comes on top every month
Windows Central Newsletter
Thank you for signing up to Windows Central. You will receive a verification email shortly.
There was a problem. Please refresh the page and try again.