Gaming on a laptop — how it compares to desktops and should you buy one?
I've finally taken the time to seriously sit down with a "gaming" laptop and see just how good these portable rigs really are. Here are my thoughts.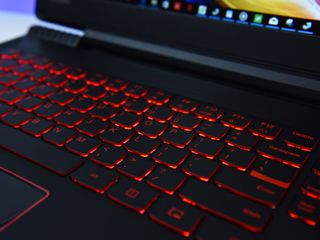 I'm big on PC gaming. And that means desktop PC gaming. I've owned the an Xbox One since launch, but I rarely play games on the machine — you could even go as far as to say it's "like new". My record is even worse when it comes to gaming laptops, but I decided to really take some time out with the MSI GT83VR to see just how good gaming on the go can be.
Impressive spec tables
Gaming laptops aren't designed to be lightweight, portable and of such a size that they're easy to carry around on journeys and whatnot. They're built to contain as much power as possible in such a tight space with limited cooling and available power. Early releases years back suffered from awful battery life and heat issues, not to mention thermal throttling on units I tested out. Fast forward to 2017 and things look to be a whole different kettle of fish.
New gaming laptops are more compact than older units. They are also more efficient, which helps in prolonging the amount of game time before having to dig out the outlet cable from the travel bag. What's more is they're packing the latest in graphics processing technology, namely the new Nvidia GTX 10 series. You can snag a capable laptop today with a GTX 1080 locked away inside. If that's not a true sign of power then I don't know what is.
On paper, things certainly look impressive, with anything up to 64GB of RAM, SSD storage, powerful seventh-gen Intel processors, and more. In fact, I'd say some of these machines pack more power than many PC gamers have installed in their actual desktop gaming rigs. Throw in the GTX 10 series GPUs and now we're entering VR territory, which is now plastered on the marketing material of many gaming laptops.
Gaming on a laptop is a strange experience. Even with a built-in mechanical keyboard with genuine CherryMX switches, it's still bizarre having all this power inside such a compact chassis. The performance with an Intel Core i7-7920HQ, GTX 1070 (SLI), and 64GB RAM is unsurprisingly good. Like, really good. The Witcher 3? No problem. Rise of the Tomb Raider? Handles it like a boss. It's difficult to throw a game at the GT83VR that it struggles with, which will be the case with most laptops rocking GTX 10 series of GPUs.
Not so portable
The only problem is battery life. Manufacturers have made improvements over the years, but all these powerful components are thirsty for electricity and even the biggest reasonable battery cells won't last long. I found myself needing to have it plugged in more than not, but it was possible to open it up near the beach and play through some Stellaris. A good thing with this laptop, in particular, is the 1080p display, which isn't as taxing as 1440p or 4K.
The main problem is portability, as aforementioned. The thing I hate the most about these gaming laptops is the bulkiness. These things are heavy and are certainly noticeable, even in a backpack. That said, even with measurements more than doubling that of Ultrabooks, they're not quite as big as one might expect.
The GT83VR takes up a fair amount of space on both your lap and on a table or desk. I'd not recommend the former for these machines though. They're meant for a flat supporting surface. It depends really on which laptop you go for. The more powerful the internals, the bulkier the exterior will be to house it all and additional cooling. The good thing about the new GTX GPUs is that it's possible to pick up a GTX 1060 laptop and have enough power for most games at solid settings without sacrificing too much on portability.
Where these things really shine is at hotels or relatives hwere access to your main gaming rig is restricted.
That price tag though
Ready to get into gaming on the go and pick up a powerful laptop? Perfect, just be prepared to part with upwards of $6,000 for the luxury. That's for a laptop with an insane amount of RAM, GTX 1080, Intel i7 processor, and a stunning whole package of internals. This is the main downside of gaming laptops and why they're out of reach for most consumers. The last thing you want to do is settle for a unit with less power.
But should you have the funds available, have the need to game when not at your main desktop rig and wish to invest in something that can be dragged around and perform productivity tasks just like a laptop, then one of these may well be right up your alley. If you are going to have a look around, don't go for an older model. Make sure your purchase has a GTX 10 chip inside.
Get the Windows Central Newsletter
All the latest news, reviews, and guides for Windows and Xbox diehards.
Rich Edmonds was formerly a Senior Editor of PC hardware at Windows Central, covering everything related to PC components and NAS. He's been involved in technology for more than a decade and knows a thing or two about the magic inside a PC chassis. You can follow him on Twitter at @RichEdmonds.