There are some flaws to it, but EA Sports FC 24 is one of the best soccer titles EA Sports has released in many years. The addition of HyperMotionV makes for some great gameplay changes, even if some modes like Career Mode and Ultimate Team remain quite stale.
Pros
+

HyperMotionV results in incredible animations and gameplay

+

Presentation remains the best of the best

+

VOLTA Football is a ton of fun
Cons
-

Heavy reliance on microtransactions still cloud Ultimate Team

-

Lack of big changes in Career Mode
Why you can trust Windows Central Our expert reviewers spend hours testing and comparing products and services so you can choose the best for you. Find out more about how we test.
The year 2023-24 is a huge one for the world of video game soccer. Following the conclusion of EA's partnership with FIFA, the company is officially entering new territory in the form of EA Sports FC 24, the next annual entry in its long-running soccer series. While the name itself is entirely brand new, EA Sports FC 24 will feel very familiar to those used to the long-running FIFA series.
While the overall complaint with the soccer series has been that change is slow to come, EA Sports' latest release actually feels surprisingly refreshing. Smaller changes to gameplay often feel a lot bigger in the game, and slight tweaks to some core modes make the game feel better than it has been in the past. Alas, there are some familiar drawbacks here that keep the game from reaching its peak form.
Disclaimer: This review was made possible by a review code provided by EA Sports. The company did not see the contents of the review before publishing.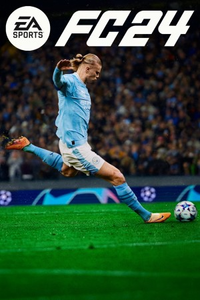 The EA Sports FC series is the (technical) first step forward in a new franchise of soccer games for Electronic Arts. The game is back from years past with some minor changes that result in big steps forward.
Buy at: Amazon (Xbox) | Xbox Store
EA Sports FC 24: What's good
The first thing to discuss when talking about EA Sports FC 24 is one of the first things you'll notice when playing, and it's just how great the game looks. Like any other of the best Xbox games out there, EA Sports FC 24 is a beautiful game to look at, and does a nearly perfect job at mirroring the real game of soccer (or football) for fans.
The game is without a doubt the best-looking soccer title EA Sports has put forward, which isn't too shocking considering we are now years into the lifespan of powerful consoles like the Xbox Series X. Presentation also remains top-notch here, with pre-game cutscenes playing out just like you were watching a Premier League game on the television most of the time.
Players step out onto the pitch to a loud roar, run off to grab a quick ball for a throw-in, or react to a harsh slide tackle, all like they would in real life. As was the case last year, the broadcast and commentary in the game are also stellar, and remain some of the best in any sports title.
EA Sports FC 24
Developer: EA Vancouver, EA Romania
Publisher: EA Sports
Genre: Sports
Install Size: ~59 GB
Playtime: ~40 hours
Release date: September 29, 2023
Price: $69.99
Platforms: Xbox Series X|S, Xbox One, Windows PC (Steam), Nintendo Switch, PS5, PS4
Reviewed on: Xbox Series X
Presentation changes also carry over in the form of some much-needed upgrades to how players navigate EA Sports FC 24. Previous games have always felt a bit clunky in getting from menu to menu and in how you get into certain game modes. Thankfully, that's no longer an issue.
EA Sports FC 24 has seen a pretty massive overhaul in its menus and UI, with a much sleeker and faster responding system replacing the old one. This includes overhauls to stat pages and other in-game offerings, and while it might not seem like a lot, when you're playing the game over and over, the general experience of getting through menus is a big one.
Of course, fans aren't going to be happy with just changes to menu design and graphics when it comes to a title like this. Fortunately, EA Sports — and the development team at EA Vancouver and EA Romania — have pushed the game franchise forward with the inclusion of HyperMotionV.
Fans of the former FIFA series will likely know the word "HyperMotion," as it's been one of the guiding technologies in the franchise's gameplay for some time. This year, a big upgrade to the tech arrives in the form of HyperMotionV, which EA Sports says takes in a ton of volumetric data from real-life competitions to recreate the authentic motions of players on the pitch.
While it's impossible to say exactly what it does, the result in the game is undoubtedly a huge boost. Past titles in the series have felt almost arcade-like in how they operate, but EA Sports FC 24 feels just a tad slower. Not enough to ruin the feel of the game, thankfully, but enough to real like you're playing a more "real" game, in a sense.
Aside from changes to animations, EA Sports claims that HyperMotionV also uses artificial intelligence to recreate real-world body movements and ball physics. Shockingly, this is another bold claim that does kind of feel like a real thing. The way the players move up and down the pitch, and the subtle changes to things like passing and ball movement, do make the game feel significantly better than it has in the past.
This year, things like deep through passes, perfectly timed crosses, and a hard hit pass down the pitch all not only feel more rewarding, but a bit more earned. In year's past, it was easy to find players who could simply spam the same sets of plays or movements over and over again, and while that isn't completely gone from the game, it has been addressed thanks to these changes.
Outside of pure gameplay, EA Sports FC 24 also introduces players to the concept of PlayStyles. These new abilities act as specific boosts and abilities that aim to complement a player's stats. For those who have played EA Sports' Madden NFL series, think of them like X-Factors. PlayStyles are split into six different categories: Shooting, Passing, Defending, Ball Control, Physical, and Goalkeeping.
Man City's Kevin de Bruyne, for example, has six PlayStyles: Pass Into Space, Bullet Pass, Lob Pass Expert, Outside Foot, Whipped Crosser, and Set Piece Specialist. These abilities allow him to make sharp, accurate passes on crosses, while also being able to deliver pinpoint passes while in the open space, much better than a player without any PlayStyles might be able to.
In another surprising turn, the introduction of PlayStyles is genuinely game-changing in EA Sports FC 24. While star players like de Bruyne will see massive boosts, PlayStyles also helps make other, less notable players control way better.
In past games, getting the ball to a non-superstar player sometimes felt like a total gamble. However, now players might have a specific PlayStyle perk that makes them a necessary addition to the lineup, which speaks volumes about just how great of an addition PlayStyles is.
Outside of the bigger changes to gameplay and animation, things remain mostly the same in EA Sports FC 24, albeit with some minor tweaks here or there. The biggest changes are likely to be found in two of EA Sports FC's longest-running modes, Ultimate Team (known as FUT to fans), and Pro Clubs. These two modes are by far the most popular in the game, and did get some much-needed tweaks in this latest iteration.
After years of asking for it, FUT has changed the way players are able to build up their team, making things a lot easier than in the past. Gone is the wasted time of having to use Position Change cards to swap a players position. Instead, players will automatically switch to secondary positions, making things a lot smoother when trying to construct the perfect team.
New "Evolution" cards are also in FUT, allowing players to take certain players and level them up by completing various in-game objectives. The changes aren't exactly the best thing to ever happen in the series, but are welcome change of pace that makes playing the game more fun.
Other small but meaningful changes come in the Clubs mode of EA Sports FC 24. Formerly known as Pro Clubs, Clubs is now a much smoother experience overall. Players will still be able to team up with friends and get into online games to climb up the ranks of an online league, things are a bit different now.
Unlike in past years, Clubs now features seasonal content, allowing players to get through League, Promotion, and playoff phases within a shorter amount of time, all while earning rewards in the process. Gameplay wise, Clubs is motly the same as it always has been, and is a great time if playing with friends. The same can be said with FC's Volta Football mode, which remains an incredible take on arcade soccer that is very easy to lose several hours in.
Perhaps the biggest change, though, is that FUT — and various other modes in EA Sports FC 24, including Clubs — features all mixed-gender gameplay. Female and male players both occupy the same pitch in FUT and Clubs games. There's no real benefit or drawback to using the players, either, a great choice that gives everyone the chance to play with whoever their favorite footballer might be.
EA Sports FC 24: What could use some work
Unfortunately, while some game modes have seen some necessary tweaks to make them more enjoyable, one of the mainstays of EA Sports FC hasn't. The game's Career Mode — which lets you create a player or coach and run through a career — has been around nearly forever, and sadly remains mostly the same as it ever has been.
Whether you're a player or a coach, there simply hasn't been enough change to a mode that still has a very strong group of people playing it. It's easy for the mode to get lost in modes like FUT or Clubs, and without any meaningful changes year in and year out, that feels even more true as time goes on.
Perhaps the biggest letdown is how little enjoyment there is to be playing through Career Mode as a custom player. In a sport that features so many leagues, titles, and opportunities, the Career Mode in EA Sports FC 24 traps you in a cycle of constantly playing games and assigning personality points to your player. It's something that has been long overdue for a fix, so here's hoping next year the mode gets the love it deserves.
Of course, it's hard to talk about the drawbacks of EA Sports FC 24 without talking about microtransactions. For years now, the EA soccer title has been one of the biggest culprits of being heavily reliant on microtransactions. The issue got so big that it was even the basis of a now infamous lawsuit in 2021, which argued that EA's tactics surrounding microtransactions in FIFA games (specifically FIFA 21 at the time) were deceptive and manipulative to fans.
Thankfully, EA Sports FC 24 does a lot in the way of fixing some long-running problems. In year's past, game modes like FUT were near unplayable if you weren't paying some form of real-life money to get better cards.
Now, EA Sports has made it so that players can grind and put in "no money spent" hours into the game and still field a great time, a huge step forward for the franchise.
Unfortunately, though, the simple fact is that microtransactions are still a large part of FUT, and if you want to put a lot of time into it, you're bound to run into players who will simply have a better team than you due to dumping a lot of money into the game.
EA Sports FC 24: Should you play it?
When all is said and done, EA Sports FC 24 is a major step forward for the franchise as a whole. In a year when EA Sports had to make a name for itself outside the FIFA license, it delivered a game with just enough changes to feel different from previous entries.
If you were expecting a totally new way to play soccer, you won't find it here. However, EA Sports FC 24 does something that past games simply haven't, and that's improve in small and meaningful ways that leave you hopeful for what's next. Changes to FUT, Clubs, and the continued support of Volta make the game a genuine joy to play with friends, as well.
On the flip side, no changes to Career Mode, and the constant pressure to spend real-life money in game modes like FUT, continue to drag this franchise further down than it should. At the end of the day, though, the game remains the best soccer simulation on the market.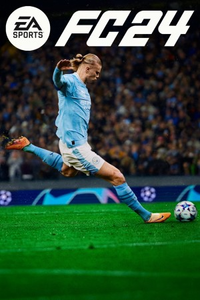 The EA Sports FC series is the (technical) first step forward in a new franchise of soccer games for Electronic Arts. The game is back from years past with some minor changes that result in big steps forward.
Buy at: Amazon (Xbox) | Xbox Store
Anthony Nash has been writing about games and the gaming industry for nearly a decade. When he's not writing about games, he's usually playing them. You can find him on Twitter talking about games or sports at @_anthonynash.